At the African National Congress (ANC) national conference in Bloemfontein this week, policy makers decided to exclude provisions for nationalizing mines from party documents. Instead, the world's fifth-largest gold producer compromised with more radical party elements and agreed to impose greater taxes on mining companies. The ANC previously hasn't had an official position on nationalizing mines, but supporters have remained active since the end of Apartheid.
With a backdrop of deadly labor disputes, state involvement in the mining sector, and relentless calls for nationalization among some factions, many foreign miners have elected to dig elsewhere. Canadian gold miners, for example, have found better opportunities in places like Burkina Faso, Niger and Senegal. A threat of new taxes could hinder investment by foreign companies in South Africa, which already has lost ground to the likes of Nigeria and Angola. To make matters worse, Moody's and S&P have downgraded South Africa's debt, noting slower growth and political pressure to increase spending.
Opening the conference on Sunday, President Jacob Zuma was adamant in maintaining South Africa as a "mixed economy" and sought to "dismiss the perceptions that our country is falling apart". Zuma's intended audience no doubt was broad-based and not meant to excite potential foreign investors.
A dose of reality was offered by ANC economic policy chief and Member of the Easter Cape Provincial Legislature Enoch Godongwana. He warned, "Unless we do some radical transformation, we'll create fertile ground for an uncontrollable revolution". Godongwana, who began his activist career as a 22-year-old shop steward in a metal trades union, has been a long-time political operator, eventually becoming Deputy Minister of Economic Development before resigning earlier this year. He speaks to a more local audience than Zuma and is frank with respect to the political realities of private mines in South Africa.
In a December 20 local ANC interview, Godongwana maintained that there is a "requirement for increased state involvement in the strategic sectors, where appropriate on the balance of evidence". He also stated that state-owned mining companies would be strengthened, while the government would "continue to capture rent to increase redistribution". In addition, "foreign land ownership is to be restricted".
This does not bode well for South African mining interests. Companies such as AngloGold Ashanti (NYSE:AU), Gold Fields (NYSE:GFI) and Harmony Mining (NYSE:HMY) have markedly diverged from the SPDR gold fund (NYSEARCA:GLD) since February 2012. The following chart is revealing:
ANGLOGOLD ASHANTI (PRICED IN GOLD)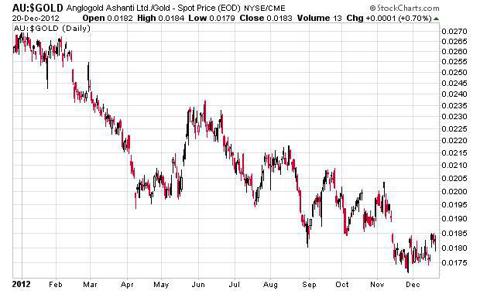 Some might consider the climate toward private mining in South Africa "priced in" to the respective equities and even conclude that there is value to be found. But reasons to be optimistic about relations among mine owners, labor and government are few and far between. In a country with over 25 percent official unemployment, South Africa's influential unions have demanded lower interest rates and higher government spending. If this is agreed to, then it further imperils South Africa's credit rating and Rand. If not, then increased labor action is almost certain.
The future of gold miners in South Africa will depend largely on how global and local economies perform. Lack of favorable progress and a depreciated Rand could embolden proponents of nationalization as the price of gold in local terms would be proportionately higher. Parliament has yet to approve any measures, and factions and smaller parties might prove stubborn in either direction.
With terms like "redistribution" a staple of South Africa's political lexicon, continued deterioration of that nation's economy can only lead to further labor disputes, greater calls for nationalization and increasing civil unrest. South African gold miners are walking Godongwana's tightrope.
Disclosure: I have no positions in any stocks mentioned, and no plans to initiate any positions within the next 72 hours. I wrote this article myself, and it expresses my own opinions. I am not receiving compensation for it (other than from Seeking Alpha). I have no business relationship with any company whose stock is mentioned in this article.