So we had the biggest two day rally in the Dow Jones since 1987. There is a hope that Citigroup (NYSE:C) is going to be the last big bank rescue. This has led to some seasonal cheer in stocks. Added into the mix the prospect of a $700bn New Deal style fiscal stimulus and the vista of Fed rates at 0% (ZIRP). But the question remains how to finance all this fiscal largesse and profligacy. Add it all up. The numbers are simply staggering.
The rest of this week will see a battle royal between:
Hedge funds that are faced with another round of redemptions. They are likely to be forced sellers of equities and
plain vanilla fund managers with their tricky month end portfolio rebalancing to do. They are forced buyers!
As I explained yesterday this is due to market moves which have left them underweight stocks and overweight bonds versus their benchmarks. Famed stock analyst Barton Biggs is calling for the mother of all bear market rallies on the crossover in the dividend yield on stocks versus bonds I mentioned in my comments the other day!
Today's Market Moving Stories
Not to be outdone, the EU Commission is set to propose stimulus measures of their own. These would include UK-style temporary VAT cuts and calls for the ECB to slash rates boldly. All sounds very Anglo-Saxon to me. What next? People on the Continent might end up borrowing money to buy their own homes.
The U.S. Treasury and Fed will today unveil a new lending program to shore up the consumer finance market. Also, a busy Treasury said it would extend its emergency scheme which guarantees $3trn in money market funds until April 2009. But the central and core problem with the U.S. and indeed world economy is captured in one single chart i.e. the spiralling cost of credit to corporates globally (no matter how well rated).
Rating agencies' reaction to developments at Citigroup overnight saw Fitch cut them 1 notch on the credit rating totem pole to A+ and S&P and Moody's put them on review for a downgrade. Though the Government has told Citibank to cut risk and trim down the head count further, the fact remains that they have $1.2trn in off balance sheet assets. The risk is that the taxpayers' cheque book will be called upon again shortly a la AIG(reed). There are those who argue that this is the template for any future bank rescues. I still think the public got hosed and it's a lousy deal for Joe the Plumber. Note that the credit card business and overseas lending are not covered by the bailout and both are chunky.
The musical chairs in Irish banking continued apace (at last) with the Mallabraca consortium (Carlyle, JC Flowers and two Gulf Sovereign Wealth Funds) saying it would lend to small and medium sized businesses €60bn over the next 5 years if it got its mitts on Bank of Ireland (BoI) or a combination of BoI and Irish Life and Permanent. Sounds very appealing from a political perspective and the government are under enormous pressure but do they really want to sell BoI to private equity? Or do they have any choice? Will we see massive asset stripping as private equity is not noted for their charity work?
There was disappointment in some circles that tax cuts don't seem to be part of President-elect Obama's plan to extract the U.S. economy from the mire. Not everyone is that enamoured with his pick for the Treasury, Tim "The Enchanter" Geithner.
In a sign of the times BHP Billiton (NYSE:BHP) scrapped its $66bn offer for fellow mining giant Rio Tinto (RTP) on concerns about the continued deterioration in global demand.
The World Bank has cut its growth forecast for China to 7.5% (from 9.2% previously) projecting the slowest pace of expansion since 1990.
Crude oil rebounded a tad as OPEC President Chakib Khelil, and more predictably the Iranians, talked about production cuts.
Data Today
Shoe-horned into the shortened week will be yet more horrible economic news as we get back to reality. The deluge of data kicks off today at 13.30 GMT with the final GDP numbers (-0.5%). Then we will see the Case Schiller house price survey at 14.00 GMT (16.9%) and later at 15.00 GMT, consumer confidence (38), Richmond Fed Index (-26) and the house price index (-0.7%).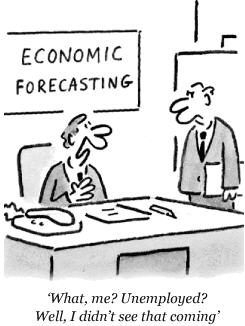 Disclosures: None