There was no "Plan B" for Boehner and now Democrats in Congress need Boehner to seek bipartisan plan to avert more than $600 billion in tax-and-spending changes starting in January. The market tumbled on Friday and NASDAQ led the loss with 0.96% decline, followed by S&P's 0.94% drop and Dow Jones' 0.91% loss. SPY, DIA, and QQQ all managed to close above their 50-day MA with QQQ barely hanging above its major 200-day MA support at $65.09. All sectors were down on Friday with consumer non-cyclical led the loss with 1.10% decline.
The market is currently driven by greed with Fear & Greed Index at 58, lowered from yesterday's 66. As reported by CBOE, the total put/call ratio for Friday was 1.05, and the index put/call ratio was 1.43. The equity put/call ratio was 0.71, and the CBOE volatility index (VIX) put/call ratio was 0.73. In the following, top stock had been identified through our daily options scanning process, with the scanning criteria where the daily call volume ratio was above 2.00 (2x of the average call volume) with a call volume above 10,000.
| | | | |
| --- | --- | --- | --- |
| Name (Ticker) | Call Volume | Average Call Volume | Daily Volume Ratio |
| Micron Technology Inc. (NASDAQ:MU) | 36,443 | 12,356 | 2.95 |
Source: Schaeffer's Research
Micron Technology Inc.
MU is a global manufacturer and marketer of semiconductor devices. The company had been expanding from traditional random-access memory, DRAM, into the NAND flash market by buying out its partnership with Intel (NASDAQ:INTC). The Company also increased its share in the NOR flash market through 2010 Numonyx acquisition and upped its DRAM scale with the purchase of Elpida in 2012. MU's long-term profitability will be limited by tough competition and cyclical disparities between supply and demand as memory chips are traded as a commodity.
Q1, 2013 Earnings
On Dec. 20, MU reported Q1, 2013 earnings with a wider loss. As reported, "Computer-memory chip prices fell 11 percent on average from the prior quarter, Micron said. The drop came amid a projected decline in PC shipments for 2012, the first annual contraction in more than 10 years, according to IHS ISuppli." The net loss for the quarter widened to $275 million, or 27 cents per share, which was higher than 19 cents a year earlier and more than analysts' average estimate of 20 cents (from Bloomberg). Micron has reported losses for six straight quarters, and analysts project that will continue for two more quarters.
Buy on Weakness
Analyst Betsy Van Hees of Wedbush said, "While FQ1 was a tough quarter for Micron, we believe the worst is likely behind the company." As DRAM and NAND markets improve, Wedbush thinks MU is poised for a return to profitability in 2013 and recommends investors to take advantage of any potential weakness in the stock today.
Key Stats
MU currently has an enterprise value of $7.61B and has a market cap of $6.43B. The current price is below MU's book value per share of $7.57. MU has a total cash of $2.56B, mrq, and has an operating cash flow of 2.11B, ttm, with levered free cash flow of 285.75M, ttm. MU current has a Forward P/E of 17.2 with a PEG ratio of 1.7.
Technical Analysis
MU closed at $6.32 with a 6.92% loss on Friday. The volume was 2.4x of 30-day average. MU had been trading in the range of $5.16-$9.16 in the past 52 weeks. The MACD (12, 26, 9) indicator turned bearish yesterday. RSI (14) showed a declining buying momentum and moved toward near neutral at 50.74. MU broke its major support at 200-day MA of $6.39 on Friday, as seen from the chart below.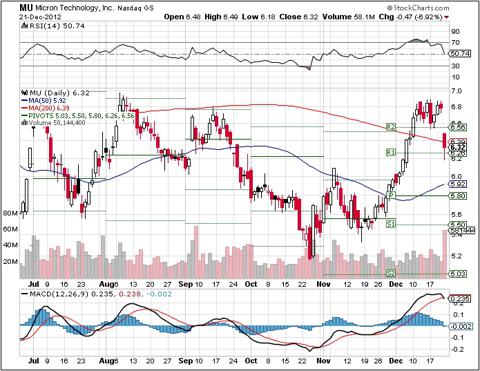 Source: StockCharts.com
The Case for Bulls
The current price of $6.32 is below its book value of $7.57.
The Company still generates positive levered free cash flow of 285.75M, ttm.
Analysts expect MU's profitability to improve in 2013. Buy on dip.
The Case for Bears
MU just broke its major support of 200-day MA at $6.39 with disappointing Q1, 2013 report.
Concerns on declining PC shipments.
Weakened global economy.
Unusual Call Activity
On Friday, the most active call was Jan. 18, 2013 call at the strike price of $7.50 with a volume of 15,667 and an open interest of 80,736. The implied volatility is 53.2, and the chance of breakeven is 10.13. The historical volatility for MU is 28.07 for 1 month, 39.25 for 3 months, and 43.55 for 1 year. For bullish traders, a credit bull spread capped at $7.5 (MU's book value is at $7.57) could reduce the cost compared to outright call. For bearish traders, watch out for MU's next major resistance at 50-day MA, which is currently at $5.92.
Note: All numbers/prices are quoted from the closing of December 21, 2012 with the data provided from Barron's, MorningStar, Schaeffer's Investment Research, Inc., Google Finance, and Yahoo! Finance. Investors and traders are recommended to do their own due diligence and research before making any trading/investing decisions.
Disclosure: I have no positions in any stocks mentioned, and no plans to initiate any positions within the next 72 hours. I wrote this article myself, and it expresses my own opinions. I am not receiving compensation for it (other than from Seeking Alpha). I have no business relationship with any company whose stock is mentioned in this article.