Every so often, a sell-side note is published that makes me pause. This time, it was a recent note stating that China Internet search growth may have peaked. While I admit that I was unable to read the full note because I do not have access to the full publication, the headline that crossed the wires was clear. The note was about Baidu (NASDAQ:BIDU), a Chinese Internet search company that has seen its U.S. listed shares decline by 15% this year.
There are numerous reasons for the decline. However, the main one I would argue is the overall weakness in the Chinese equity market, and secondary are concerns over continued growth prospects for Baidu in the face of competition from the likes of Qihoo 360 (NYSE:QIHU). However, with 80% of the search market in China and strong demographic trends as it relates to Internet usage, I find it interesting that a sell-side firm would publish a note containing the above-mentioned claim. (Source: Qihoo Looks to Cut Into Baidu's Market Share).
Judging by how the shares traded the day of the release, it seems that investors are not taking the note too seriously either, having finished the day almost 2% higher. While it is almost certain that Baidu will see slower growth in the quarters and years ahead due to the "law of large numbers", at 16x forward earnings and the most conservative growth estimates coming in at 20%, the risk/reward is attractive at this current price level.
The Big Picture: Demographics
The chart below shows Internet usage as a percentage of the total population over the last 20-years, courtesy of World Bank and Google (NASDAQ:GOOG) public data.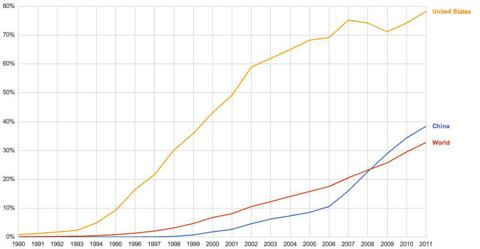 Click to enlarge
Source: World Bank and Google Public Data
In the United States, Internet usage as a percentage of the total population increased from 43% in 2000 to 78% at the end of 2011. This compares to the World, which grew from 7% to 33% over the same period. When it comes to China, Internet usage grew from 2% to 38% between 2000 and 2011.
While the rate of growth in Chinese Internet usage is bound to eventually slow going forward, there is still plenty of room for continued growth as more and more Chinese citizens become active Internet users.
This next chart provides more detail on the number of Internet users as a percentage of the total population.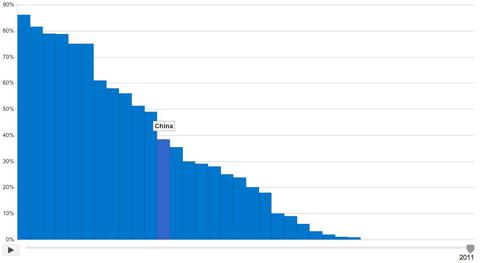 Click to enlarge
Source: World Bank and Google Public Data
(Click Here for Interactive Version)
Bottom Line...
What these two charts show is that the rate of Internet usage among the Chinese population is still growing. While these statistics do not pertain directly to Internet search usage, I feel comfortable assuming that growth in Internet usage means growth in search.
Concerns Over Mobile: What's the Big Deal?
I find investors concerns over a company's ability to monetize mobile interesting. We saw it with Facebook (NASDAQ:FB) earlier in the year, only to see the stock jump nearly 50% after investors quickly realized that their fears were overblown as Facebook's mobile efforts yielded results. The same will be the case for Baidu.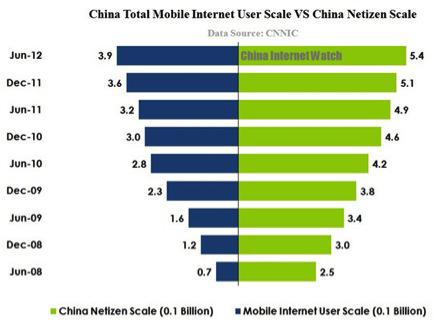 Source: China Internet Watch
Chinese total mobile internet usage has grown substantially from 0.7 million users in 2008 to nearly 400 million in the middle of 2012. This type of growth is consistent with Baidu reporting triple-digit growth in mobile search traffic compared with last year (Source: China Daily). It is also consistent with a report from China Internet Watch:
In the second quarter of 2012, China Mobile App ad platform's revenue is 1.06 billion yuan, up by 135.6% compared with that in 2011. The performance mainly comes from the growth of impressions, advertisers and average ad input. Under the influence of macro-economy, the bursting point of Mobile App advertising will delay to 2013. (Source: China Internet Watch)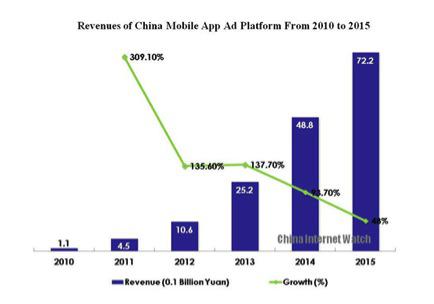 Source: China Internet Watch
On September 3rd, 2012 Baidu officially launched a website application platform where companies and individuals can easily convert their current website into a mobile friendly, WebApp. According to Tencent News and a recently published article on China Internet Watch, the Baidu Site App Platform is the 1st online web app builder in China and can provide website developers with integrated services such as WebApp delivery, netflow and user importing. (Source: China Internet Watch)
What this demonstrates is that Baidu is taking the growth in mobile seriously, and creating a platform to profit from going forward. It also shows that investors have not given Baidu a chance to prove that it can actually make money on mobile.
More recently, Baidu priced $1.5 billion in notes to help fund more ways to take advantage of growth in mobile. Given the size and growth of the Chinese mobile market, even if Baidu is marginally successful (Internal or External), it would be a huge win for the company and investors. (Source: Press Release)
Buy-Do or Buy-Don't?
The answer is, Buy-Do. From my experience, the best time to buy is when concerns over growth and competition take shares of a market leader to trough valuations, sell-side and investor sentiment is negative and there are strong demographic trends in place to support continued growth.
The Chinese Internet search market is still growing and will continue to grow for some time. Even if Baidu maintains its current positioning or loses a bit in market share, they will still be able to grow as the overall market grows. I am also confident in Baidu's ability to innovate and stay on top of the latest Internet trends. This is evident by the recent rollout of their WebApp developer's platform.
The best time to buy was a few weeks ago when the stock was trading at $90/per share. However, 10% later at $100/per share the risk/reward remains compelling as I believe the stock is poised to double over the next 12-18 months. Investors have a rare opportunity to get in on the ground floor of what currently is a tremendous growth opportunity in both Chinese mobile and traditional internet search and advertising.

Disclosure: I am long BIDU. I wrote this article myself, and it expresses my own opinions. I am not receiving compensation for it (other than from Seeking Alpha). I have no business relationship with any company whose stock is mentioned in this article.