Peru will help Southern Copper Corporation (NYSE:SCCO) move forward with its Tia Maria project, formerly delayed by community protests. The government will set up community consultation groups as it assesses the environmental impact of Southern Copper's project next year. Bloomberg's Friday report cited the Energy & Mines Minister, Jorge Merino, in Lima.
At issue is the water supply for the proposed $1 Billion project. Southern plans to submit a new environmental impact study for Tia Maria, which will produce 120,000 metric tons of copper annually by 2015. Protest by local farmers, concerned about the mine tapping their water supply, halted the project. The new study proposes the use of seawater to satisfy the mine's needs.
In the spring of 2010 farmers and their supporters blocked roads and burned busses leading to the site located near the community of Islay 640 miles south of Lima. In April of 2011, just before the national elections, three died and over 30 were wounded, as protesters clashed with police.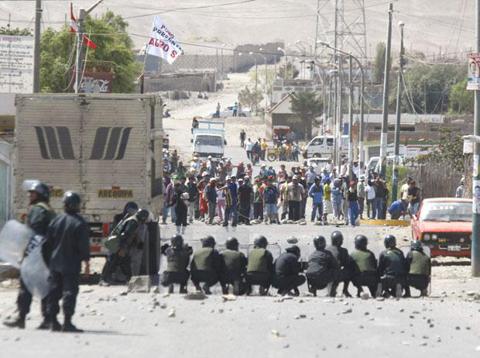 Photo by Manuel Barrios of La Republica.
President Ollanta Humala was elected on pledges to tighten state control over natural resources. However, he is now courting private investment in the mining industry. The employment and revenue produced will further the aims of social spending programs for the infrastructure, education and nutrition programs. Monthly meetings between business leaders and government officials have resumed after Humala's government initially distanced itself from investors.
Southern Copper, registered as a Phoenix, Arizona corporation, has its operational headquarters in Lima. It is 80% owned by Grupo Mexico, a Mexican natural resources and transportation conglomerate. The firm's 146 billion pounds of copper reserves at year-end 2011 ranked as the largest in the world. Its low production cost, due to the richness of its ore deposits, gives it an advantage. It ranks among the top 10 copper miners, the larger firms being Freeport-McMoRan Copper & Gold (NYSE:FCX), BHP Billiton (NYSE:BHP), Rio Tinto (NYSE:RIO) and Xstrata (XTA). In 2011, Southern Copper produced 1.3 billion pounds of mined copper as well as gold, molybdenum and zinc.
Increasing demand in China, customer for over 40% of the world copper supply, is the driving force in the copper market. Amidst all the negative news of a China slowdown, the country increased its use of copper 4.8% in 2012 and will increase it another 5.5% in 2013.
Global production has lagged below consumption since 2010. If the issues are resolved at Tia Maria, this mine will come into production at a time of continuing tight supplies. This should increase the firm's growth in the future and is positive for the stock, which closed at 37.61 on Friday.
Southern Copper trades on the NYSE and has a market capitalization of $31.8 Billion. Some data providers do not take into account that SCCO's recent yield figures included a special dividend; therefore reported yields of 28% (Yahoo Finance, Seeking Alpha, and Bloomberg) do not reflect an ongoing reality. The November dividend was $2.75, however, a more usual dividend might be $0.50, which annualized would give a yield of about 5.4%.
I believe that this 7-year graph from F.A.S.T. Graphs and the table below it give an accurate picture of the firm as it exists now. They also provide a history of the dividends. The FinViz price chart of the stock, below these, shows an upward trend in an ascending channel.
All of this is positive for Southern Copper.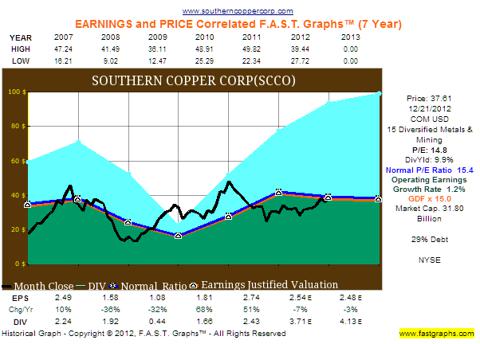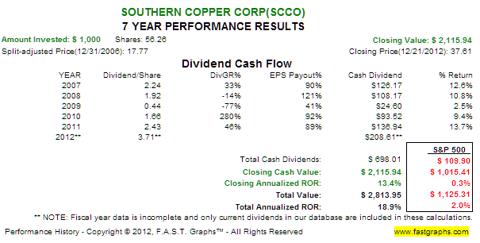 .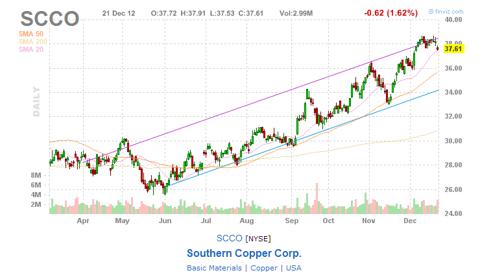 Good luck in your stock choices for the New Year!
Related Articles:
How to Buy Mining Stocks and Profit
The Price of Copper, a Matter of Supply and Demand
All That Glitters is not Gold, Demand, Supply and the Price of Copper - Part I
Disclosure: I am long BBL. I wrote this article myself, and it expresses my own opinions. I am not receiving compensation for it (other than from Seeking Alpha). I have no business relationship with any company whose stock is mentioned in this article.