By: Jayson Derrick
Research In Motion (RIMM) reported quarterly earnings on Thursday after the bell. To no one's surprise, the numbers were a disappointment - again. While there were some positives reported, the fundamentals remain challenged. Q3 trends remained weak, with device sales down 60% year over year. Service revenues were showing early signs of strain, down 3% from the previous quarter and the subscriber base was down for the first time ever. The company lost approximately 1 million users, as the current user base stands at around ~79 million down from ~80 million at the end of the prior quarter. The declines were isolated to North America, as management pointed out, however North America always sets the trend for the world to follow. As a result of the weak numbers and an uncertain future, investors punished the stock. Bank of America Merrill Lynch set a $7 target on the stock, sending it down over 12%. The results and transcript from Thursday's conference can be read here.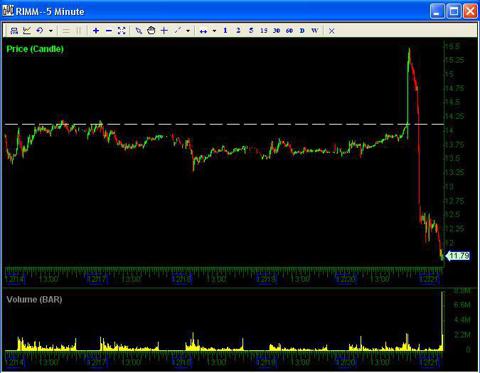 Selling pressure began in after hours trading on Thursday and resumed on Friday's pre market trading session and in to the opening bell.
BB10 To Pressure Service Revenue
Management disclosed that the new operating system will bring with it significant reduction in service revenues. Currently, RIM receives approximately $6-$7 per enterprise user. Under the new model, enterprise subscribers will be able to choose the level of service they require. This new "tiering" of services is likely to pressure service revenues as users not requiring 'the full package' that they are currently paying for translates to the company receiving less or no service revenue from many users. Modest impacts to the revenue stream could have a major impact on profitability. RIM's ~30% gross margin is extremely unsustainable if service revenues start to decline. RIM is also using lower service pricing as a way to fight off the increased competition in the enterprise segment. Investors are left dreaming of the good old days when RIM was the only player in the service industry, as services makes up over 80% of RIM's profits.
Making Up Lost Ground With BB10?
BB10 appears to remain on track for a January 30th launch event. Consumers should be able to buy the new products "shortly after". BB10-based devices are currently being tested in over 150 carriers worldwide. At the same time, BES10 tests (the operating system for enterprise email and device management) are underway at over 120 companies.
Fiscal Year 13 sales in the U.S., U.K. and Canada are tracking to 73%, 46%, and 59% declines from peak levels, respectively. Revenues from the U.S. continued to decline down 19% from Q2, and revenue continued to remain flat for the third straight quarter. Sales from outside these regions- notably emerging markets- are on track to a 40% decline in FY13. RIM is likely to be aggressive with BB10 promos, absorbing the bulk of marketing costs, pricing incentives and extra bill of material costs. With a limited apps selection compared to its competitors and not to mention a poor ecosystem, these actions are unlikely to reverse the early signs of erosion in the subscriber base, according to some analyst reports.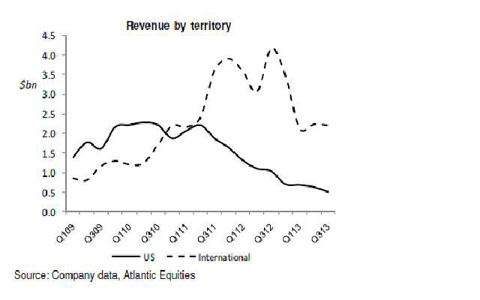 There Were Some Positives
Gross margin expanded ~320bp quarter over quarter and it appears that device gross margin improved during the quarter. This improvement was driven by cost efficiencies according to management. Promotional activities were reduced, however the question of the pullback in marketing as a driver of the weaker subscriber trends remains to be discussed.
Cash generations was very impressive, with free cash flow of $645 million and the company's net cash and investment increasing to $2.9 billion (~40% of the market capitalization). Working capital was a $425 million source of cash during the quarter, with inventory declining by $328 million as the company sold off the stock of its tablet (Playbook) and more tightly managed its supply chain.
Stay Far Away From This Stock, Or Short It
RIM's long-term outlook seems unlikely to improve and its strategic options are diminishing. Investors that think that RIM is at a good value at current prices need to take a step back and realize that 1) RIM's ability to improve its positioning in developed markets is met with stiff competition from Google's (NASDAQ:GOOG) Android and Apple's (NASDAQ:AAPL) iPhone, 2) There is huge risk to gross and operating margins from increased product costs and higher investment spending, and 3) RIM's ability to support current rich ASP structure given growth in emerging markets is a concern. Investors with a higher risk tolerance profile should evaluate initiating a short position in the company. At the end of last month, short interest reached a peak of 113.7 million shares, the highest level since January 2004. That would put short interest for the stock at about 22%.
Disclosure: I have no positions in any stocks mentioned, and no plans to initiate any positions within the next 72 hours. I wrote this article myself, and it expresses my own opinions. I am not receiving compensation for it (other than from Seeking Alpha). I have no business relationship with any company whose stock is mentioned in this article.