Kinder Morgan Energy Partners (NYSE:KMP) is a proven security for income investors. The master limited partnership (NYSE:MLP) units have gained 14.7%, on average, over the past 15 years. This beats the SP500 annual returns, which have averaged 2.5% per year over the same period. For Kinder Morgan Energy Partners unit holders, the income growth has increased 700%. The units are part of the Kinder Morgan (NYSE:KMI) complex. Kinder Morgan Energy Partners has proven to be a steady income security for income investors.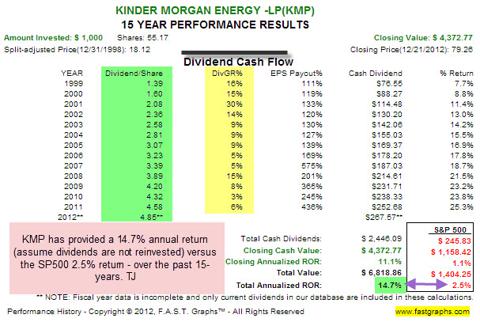 Click to enlarge
The historical Kinder Morgan Energy Partners' distribution growth is highlighted in this chart: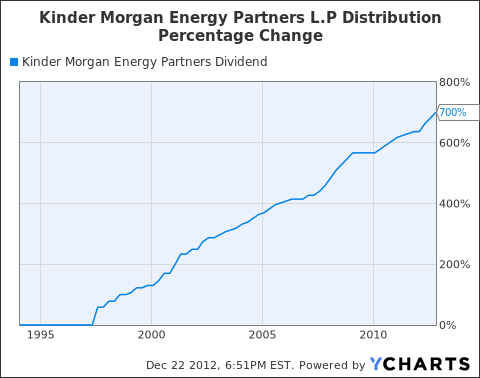 KMP Dividend data by YCharts
Quarterly Distribution Growth
Over the past 15 years, Kinder Morgan Energy Partners has increased quarterly distributions 42 times.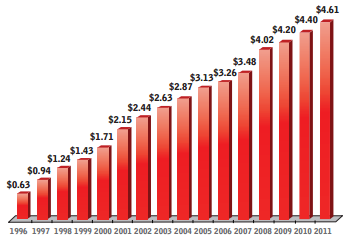 As the chart above shows, annual distributions have increased steadily from $0.63 in 1996 to $4.61 in 2011 and $4.85 in 2012.
In 2012, Kinder Morgan Energy Partners increased distributions quarter on quarter from $1.16 to $1.20 to $1.23 to $1.26, for a total of $4.85 which was 8.9% higher than distributions in 2011
Based on its latest distribution of $1.26, Kinder Morgan Energy Partners has an annualized distribution of $5.04 which gives its units a yield of 6.3% with shares trading at $79.26 as of December 21, 2012.
Looking ahead, Kinder Morgan Energy Partners expects to deliver cash distributions of $5.28 per unit in 2013, a 5.2% increase over 2012.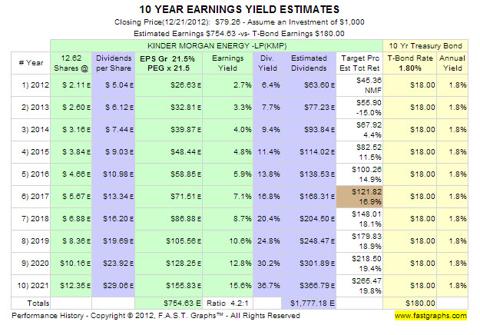 Click to enlarge
Background
Kinder Morgan Energy Partners is a leader in midstream energy services in the U.S. as the largest independent transporter of petroleum products (1.9 million barrels per day), the second largest transporter of natural gas and CO2, the second largest oil producer in Texas (over 50,000 barrels of crude oil per day) and the largest independent terminal operator (with liquids capacity of 111 million barrels). Kinder Morgan Energy Partners operates assets that are core to North America's energy infrastructure and generates stable cash flows, with a large portion of its cash distributed to unitholders. The company's growth strategy focuses on actively pursuing expansions, joint ventures and acquisitions of cash flow positive, complementary businesses. In 2012, Kinder Morgan Energy Partners completed its 15th anniversary as an MLP.
Units
Between 1996 and 2011, Kinder Morgan Energy Partners units delivered an average annual return of 26% to unitholders, well above a peer MLP index and handily above the S&P 500 (see graph below).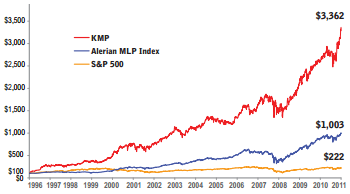 Over the past year, Kinder Morgan Energy Partners units have traded between $74.15 and $90.60, with unit prices exhibiting high volatility and a down-trend through the year. As of December 21st, 2012, units closed at $79.26.
Express-Platte Stake Sale: More recently, unit prices dropped because of Kinder's decision, on December 11, 2012, to offload its equity stake in the 1,700 mile Express-Platte pipeline system connecting Canadian oil sands to refineries in the Rocky Mountain region and the Midwest. The sale, to Spectra Energy, generated $380 million for KMP in exchange for roughly $15 million of annual cash flow, primarily as interest on debentures. In addition to Kinder Morgan Energy Partners, all the other partners in the pipeline system also sold their stakes to Spectra Energy. Skeptics, however, saw this as a cry for cash and were concerned that Kinder Morgan Energy Partners was willing to divest valuable assets in exchange for cash.
Quarterly Financials
For its quarter ended September 30, 2012, Kinder Morgan Energy Partners reported total revenues of $2.3 billion, up 26% over the earlier quarter and up 10.5% relative to the year ago quarter. Higher revenues reflect the company's acquisition of a 50% stake in El Paso Midstream Investment Company LLC (which focuses on natural gas gathering, processing and treatment in Utah and in Eagle Ford shale in South Texas) and its August 2012 acquisition of full ownership in the Tennessee Gas pipeline system in a drop down transaction from Kinder Morgan, Inc.
Operating expenses were up 29.8% sequentially and 2.3% year over year, and resulted in operating income of $598 million which was up 16.1% sequentially and 44.1% relative to the year ago quarter. The company reported an operating margin of 25.6% of revenue.
Third quarter net income of $379 million was up 147.7% sequentially and 76.3% relative to the third quarter of 2011, driven largely by higher revenues.

Click to enlarge
The company has five reporting segments: Products Pipelines, Natural Gas Pipelines, CO2, Terminals and Kinder Morgan Canada. The tables below show segment-wise contributions to revenue and earnings.

Click to enlarge
Natural gas pipelines were the highest contributor to revenue with $1.1 billion, up 60.6% sequentially and 1.8% over the year ago quarter due to significantly higher natural gas demand from power production customers. Overall, natural gas pipelines contributed 47.7% to consolidated revenues. CO2 was the next highest contributor with $420 million in revenue, up 1.7% sequentially and 12.9% year over year. Revenue from terminals saw a modest decline of 2.3% sequentially but was up 2.1% year over year to $334 million.

Click to enlarge
Increase in earnings at the Products Pipelines business was driven by expansion at its Carson, California, facility, by two acquisitions in the southeast and by a large increase in throughput volumes of refined products and biofuels. Earnings also benefited from higher volumes through the Cochin Pipeline and a favorable transmix of gasoline and diesel prices. Natural gas liquids (NGL) volumes were up 40% on the Cochin Pipeline system compared to the year ago quarter.
The Natural Gas Pipelines segment benefited from Tennessee Gas and El Paso acquisitions, contributions from Eagle Ford assets and a ramping up of contracts. This segment saw significantly higher throughput as power operators consumed more natural gas. Overall, segment transport volumes were up 11% in the quarter compared to the same period last year.
The CO2 business underperformed projections but still saw growth driven by strong oil and NGLs production and higher oil prices that were partially offset by lower NGL prices that will likely be about 21% lower (for the full year) than earlier projections. NGL production volumes continued to see gains and were up 12% over Q3 2011.
The Terminals segment is on-track to meet projected growth of 8% from a balanced mix of capital expansion projects and acquisitions. Internal growth benefited from strong export coal volumes through terminals (up 32% year over year) which was offset by lower overall coal transport throughput. Strong earnings from liquids terminals and new contracts boosted results.
Kinder Morgan Canada benefited from a 2012 toll agreement on the Trans Mountain pipeline system and continued good results from the Express-Platte pipeline (which was recently divested by the company).
Balance Sheet: At quarter end, Kinder Morgan Energy Partners had cash and cash equivalents of $532 million, net property assets of 19.3 billion (up 23.9% from the beginning of the year due to acquisitions made) and total assets of 33.6 billion, up 39.4% year-to-date.
Over the nine months of 2012, the long-term debt increased 36.8% to $16.7 billion due to sizable debt issuances. Kinder Morgan Energy Partners capital was $11.1 billion, up 45.4%.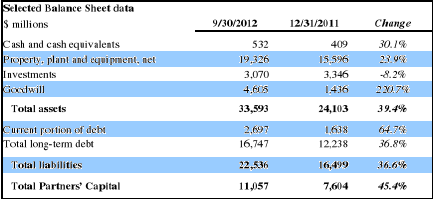 Cash Flow: For the first nine months of 2012, the company generated $2.3 billion in cash from operating activities, up 16.6%. It spent $4.8 billion on investment activities (acquisitions and capital projects), up significantly from $1.8 billion spent in the comparable period in 2011. Financing activities generated $2.6 billion (from heavy debt and moderate equity issuances). After accounting for exchange rate changes, the company generated net cash of $123 million, down 13.4% from $142 million generated in 2011.

Recent News
In November 2012, Kinder Morgan Energy Partners completed the sale of its Kinder Morgan Interstate Gas Transmission system and related assets and treating facilities to satisfy FTC (Federal Trade Commission) divest demands ahead of its El Paso acquisition. The company received $1.8 billion in cash from the transaction.
And, as mentioned earlier, in December 2012, KMP sold its equity stake in the Express-Platte pipeline system for $380 million, which skeptics with suspicion.
Summary
Kinder Morgan Energy Partners is a solid franchise. Units have exhibited a downward trend through the year, with high volatility. Future distributions, while solid, appear to be growing at a slower pace than earlier with projected 2013 distributions growing 5.2% compared to an 8.9% increase in 2012.

Click to enlarge
Per the above Kinder Morgan dividend reference, the general partner dividends grow at more than twice the partnership distribution growth rate.
Disclosure: I am long KMI. I wrote this article myself, and it expresses my own opinions. I am not receiving compensation for it (other than from Seeking Alpha). I have no business relationship with any company whose stock is mentioned in this article.