While a bit lumpy overall, 2012 was a pretty good year. The S&P is up approximately 14% year-to-date, and a number of names I personally own did quite well too. Admittedly, there were a few losers in the bunch, notably with Tronox (NYSE:TROX) dropping 25% within a matter of weeks after my recommendation, but it has bounced back lately and was recently touted in Barron's as a solid pick for 2013 (I am sure because they read my article on it). Generally, though, it is impossible for even the best investors to pick winners 100% of the time.
Personally, I develop a thesis on why a stock is cheap and will outperform. They are written up here much of the time. The problem is, there are far too many un-knowables in this world, and unforeseeable events can wreck even the most well thought out stock thesis. As I am looking at longer-term investments, I usually consider quarterly fluctuations to be mostly noise as long as the thesis is intact.
So, let's get to the portfolio. Below is list of all stock recommendations made on this site. Ala Barron's comparison technique, I illustrate the average performance of my names against a purchase of SPY's on the same date. Dividends have been factored into SPY's and the recommended stocks.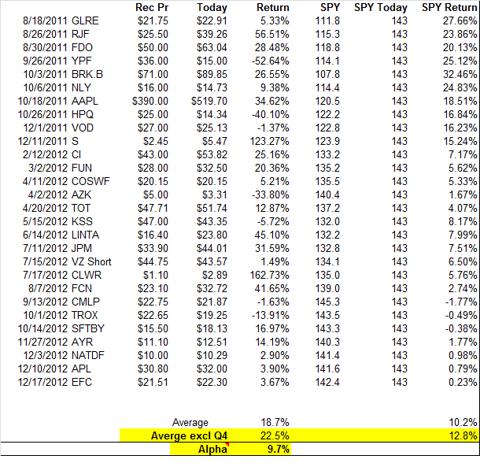 Since I am not a short-term trader, but rather a longer-term investor, I excluded recommendations made in this quarter (from TROX down to EFC), as it really is too early to assess how they will perform. Although it seems, so far in the quarter, these few names are up 5% on average Vs. SPY's up 50 bps.
Conclusion
Looks like over this time frame (the August 2011 through the Sept 2012 recommendations), this portfolio returned 22.5% Vs. the market up 12.8%. That is a hair under 10% of alpha. Understand that these are not exactly year-to-date figures, as the average investment time is probably around April, i.e. effectively this is an 8-month outperformance figure.
Last year, I wanted to hit home the point of using stop losses, and I think stop losses are still critical. This year, I instead wanted to talk about why buy and hold (the winners at least) is the better strategy today.
Buy and Hold?
My favorite investing philosophy today is time arbitrage (I heard Joel Greenblatt say that at a conference last year). If you have $2TT of hedge fund money and high frequency traders, who likely comprise 50% or more of the trading in the stock market, then the best strategy seems to be to buy and hold. I know, I know, buy and hold is so passé.
But honestly, the best investors do this. Even David Einhorn's Greenlight held onto a money losing short in Allied Capital (NYSE:AFC) for years waiting for the music to stop, which eventually it did. I highly recommend his book too by the way, A Long Short Story.
Hedge fund returns have, on average, been quite dismal post the crisis. I suppose that using leverage and a fair bit of stock-picking prowess worked up until 2008. But since then, macro fears, growth trumpeting value, over-trading, and just too much darn capital chasing the same ideas have all led to subpar returns.
What this means is that, for the long-term investor anyway, time arbitrage can really work. The stocks that look like dogs for the next twelve months likely will never hit their screen. I hear the phrase dead money all the time, and when I bought Sprint a year ago at $2.45, it was considered the deadest of dead money. It also suffered from hedge funds buying in too early, in the $4 range, then piling out when things looked bleak. These are the ideas we should look for.
Truth be told, I hold almost all of the names above, unless they have either 1) reached a target price that makes sense, like Sprint (NYSE:S), or Liberty Interactive (LINTA), or 2) seen a substantial change in the thesis to the story that makes it less compelling. I also still stop loss myself on names that are down 15%. This includes AKZ for example, whereby I recommended investors sell above $4, as well as Hewlett-Packard (NYSE:HPQ) which essentially was a stop loss sale for me at a good price.
Interestingly, the returns generated off of the recommended list seem to be meaningfully better than the market, without even using a stop loss.
Thesis Issues?
Some stocks have seen changes in the environment, and therefore the thesis, that make for some debate. Apple (NASDAQ:AAPL) is a great example.
The stock seems quite oversold today, but I have less confidence in its growth going forward. It's cheap, but honestly, I would be out at $600-650. In my mind, the primary profit generator of the company (iPhones) will see margin compression as competitive phones clearly have equaled the Apple product. I generally have felt that AAPL had a good two-year roadmap of success after Jobs, but that two years is coming to an end. Given that the market has already penalized Apple for this, it is probably worth hanging onto at these levels. But I have zero visibility to earnings beyond the next 3-6 months, and far less faith in future products without Jobs.
Greenlight (NASDAQ:GLRE), essentially an investment in Einhorn's hedge fund, has suffered not because of weak returns, but the fact that the insurance side has been losing money. The thesis with GLRE depends on flat underwriting profits, so as to create some "free" leverage into a Greenlight hedge fund investment.
The reality is that the Combined Ratio has crept above 100, with losses from 2 trucking insurance policies now eating into returns. Recommended at 1.05x book, now the stock languishes just under book value, quite close to its historical valuation low reached in 2009. It seems ripe for a bounce, but if the underwriting losses do not disappear by mid next year, it will be time to revisit the appropriate P/B upside potential. That said, I still have faith in the investment side, and owning it below book seems attractive.
Annaly (NYSE:NLY) is probably okay today, but frankly, I sold most in the mid 16s on average. The Fed continues to flatten the yield curve, which means dwindling ROE's and dividends. On the plus side, prepayment speeds last week surprisingly came in lower than expected, and a 45c dividend announcement was a sigh of relief. NLY is probably a sell over 16; generally, I give the nod to Ellington Financial (NYSE:EFC) today, as they are invested in non-Agency paper which is benefiting from falling delinquencies and rising home prices.
Energy names seem to be suffering lately somewhat. In all likelihood, energy will end up being the worst performing sector so far this year in the S&P, and with MLPs pulling back on tax gain harvesting and fears of re-writing the MLP tax code, energy MLPs possibly look good for 2013.
Top Pick for 2013
As a contrarian, I began my search in the energy sector, given that it has performed the worst this year. Among energy names, it didn't take long to decide that coal was likely the bottom of the barrel, so to speak. An aggressive investor might pick a highly levered coal name, such as Arch Coal (ACI) or Alpha Natural (ANR), but I am far more conservative and not enamored with their higher cost mines that lead to cycles of bigger losses during tough times.
That led me to pick Alliance Resource Partners (NASDAQ:ARLP), an MLP with production predominantly in the Illinois Basin. Among coal names, it has the highest margins, highest ROEs, a generous 7.5% yield, and trades at only 9x 2013 earnings (pretty much its historical low P/E ratio). These high returns on equity have been generated with only 1.6x leverage (debt/EBITDA) too. Even better, production is expected to grow by 12% next year, while most of the rest of the country likely produces less coal.
Management here is top notch, with Joe Craft, the founder/CEO, owning 72% of the parent/GP, Alliance Holdings (NASDAQ:AHGP) and hence, indirectly 30% of ARLP. With GP incentive distribution rights, it's effectively much higher. (You could invest in AHGP, but it's outperformed ARLP over the past two years, and is more levered to IDRs than the LP, i.e. a riskier bet).
In the US last year, the warm winter, collapse in natural gas prices, and subsequent coal to gas switching put a significant dent in coal demand and pricing. However, according to the EIA, coal consumption should increase by 5% next year. At the same time, domestic coal production, given the weak markets in 2012, is forecast to fall another 1% in 2013. Indeed, higher natural gas prices have already caused utility switching back to coal. According to Peabody Energy (BTU), coal's market share of US electricity is now 39%, up from a low of 30% during Q2 of 2012.
Not only that, but coal, unlike natural gas, is an exportable commodity, namely to India and China whose growing appetite for power is being fed mostly by coal-fired power plants. This is a good chart I found here: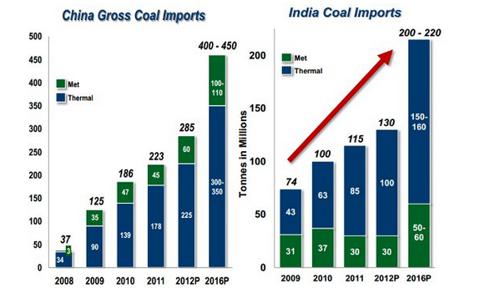 Finally, regarding regulatory concerns, if coal plant closures continue without replacement facilities in the US, current thermal coal demand may fall from 870mm in 2013 to say 740mm tons, or down 15% over the next 5 to 10 years. However, a 130mm ton decline in demand in the US will easily be offset by 125-185mm in additional import demand by China and India over the next 3-4 years.
At a normalized 11 times $6.80 in 2013 earnings, the stock could easily reach $80 per unit, including $4.35 in distributions, over the next 12 months (from $58 today). That is 37% upside. There is a lot more to the story, I consider this just a teaser, but it's worth doing the work on it. Good luck.
Disclosure: I have no positions in any stocks mentioned, and no plans to initiate any positions within the next 72 hours. I wrote this article myself, and it expresses my own opinions. I am not receiving compensation for it (other than from Seeking Alpha). I have no business relationship with any company whose stock is mentioned in this article.
Additional disclosure: I am long almost all of these names including ARLP.