Upon selecting December 27th as the payment date for National Beverages' (NASDAQ:FIZZ) $2.55 special dividend, CEO Nick Caporella stated:
"We, fortunate enough to be called Americans, must profoundly engage to 'lighten' her heart - 'ignite' her torch - and 'soothe' her soul, giving evil and stress . . . the final eviction notice! That should be our ultimate gift of choice this Christmas and forever - All of Us!"
To say that Caporella is a CEO with a uniquely inspiring viewpoint would be an understatement. Yet the charismatic prose for which Caporella has become known is subtle compared to the market leading returns that his company, National Beverage has quietly generated for investors over the past 20 years.
"...A leader in the development and sale of flavored beverage products in the United States, offering the widest selection of flavored soft drinks, juices, sparkling waters and energy drinks. The philosophy of our creative and dynamic team is to provide quality products that meet the demands and changing lifestyle of the most discriminating consumer"
The company has been in the news quite a bit over the past month due to the announcement of its substantial ($2.55, or 17% of the pre-announcement price) special dividend. I anticipated this special dividend in this article, and was delighted to see that the company followed through with this logical, pro-shareholder move (see here).
Yet as the news of National Beverage's special dividend filtered into the media, I noticed something peculiar. The substance of the story was being viewed through the mainstream media's cynical, distorted lens which so often seems to make down, up, and up down.
Rather than being content to report the unvarnished facts, the National Beverage dividend story was woven into a sardonic narrative which suggested that special dividends are somehow underhanded or harm minority shareholders. Quite frankly, reading these biased screeds (whose purpose seemed to be to tap into misdirected resentment and financial misunderstanding) burned me up.
My intent is to make this article the start of what I hope to be a series. The purpose will be to highlight under-followed companies that have excelled at serving their customers and their long term investors - and whose stock is currently trading at a reasonable price. For those of you who know me for my technical and short-term trading strategies , the best place to go for that is my site.
Let's start our analysis by examining the returns that this company has generated for stockholders over the past 10 years.
On January 1, 2003, National Beverages stock price closed at $5.31
As of December 27th, National beverage will have returned $8.86 in special dividends to shareholders, or a 167% dividend-only return based on the starting 2003 share price.
Total, dividend-adjusted return to shareholders over the past 10 years has been 349%
Over the past 20 years, investors in National Beverage who reinvested dividends have compounded their investment at an average rate of 18% a year, for a total return of 2,600%. Very few investments of any kind can match this track record.
Let's view National Beverage's shareholder returns in the context of two larger competitors: Coca Cola (NYSE:KO) and Monster Beverage Corp. (NASDAQ:MNST). The first chart compares the 20 year total return of owning Coca Cola vs. the 20 year return of owning National Beverage.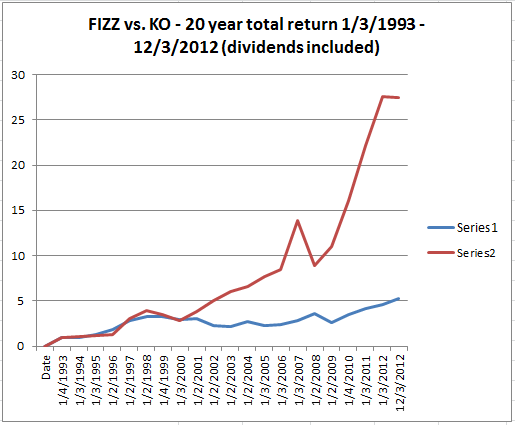 The next chart displays the total return of owning Monster Beverage vs. the total return of owning National Beverage. Most people who follow the stock market are aware that Monster Beverage has been a phenomenal growth story and a momentum investor favorite. Yet as of right now, the 10 year return of owning National Beverage has been almost identical to the 10 year return of owning Monster Beverage Corp!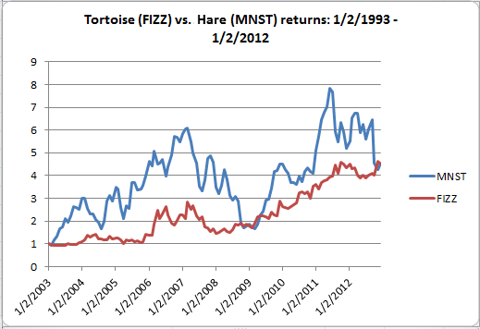 From an investor's perspective, the good news is that this is not a company that is "tapped out" or has reached its full potential. This is not an overvalued "bubble stock" that simply rode a hot trend and is now vulnerable to an implosion. As we will get to later, I believe National Beverage is just now beginning to harness its full potential as a premier consumer beverage company.
The 2.55 special dividend benefited investors in a number of significant ways:
It "pulled forward" a few years' worth of free cash flow so that it could be paid out to investors at today's certain, low tax rates
The dividend is being paid for with cash on hand and borrowings being financed at an effective interest rate that is below the current inflation rate. (Details on the credit facility are documented in the current quarterly report)
National Beverage is passing on the benefit of its creditworthiness in a way that allows investors to benefit from Bernanke's ultra-low interest rate, easy money policies
In all, this special dividend created wealth for investors and is not dissimilar to what private equity firms routinely do to return value to shareholders. (For a more detailed analysis of how special dividends can create wealth, see here)
In the coming quarters, I predict that the reduced balance sheet equity will highlight to investors what a solid cash-flow producing business this really is. It has been precisely the sound economics of this business that have allowed it to pay out 164% of its start-of-period (2003) share price in dividends to investors while at the same time doubling earnings per share. I anticipate that National Beverage will rapidly begin to pay down the credit facility, as my reading of Caporella suggests that over the long term he prefers to run National Beverage with a more conservative capital structure.
As suggested above, the massive special dividend payments have not come at the expense of earnings growth. During the 2003-2012 period, earnings more than doubled, growing from .38 per share to .95 per share. This has been achieved through relatively modest incremental sales growth combined with a real operational discipline which has contained administrative costs.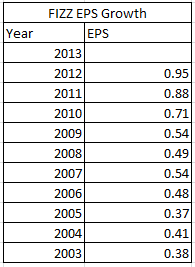 My review of the company's financial statements indicates that 2006 was a breakout year for the company. After a multi-year flat period, both sales and earnings broke out above recent levels and have not looked back. During this renewed growth period, the company has steadily repositioned itself away from highly discounted "commodity like" beverages, and moved towards the development of brand images and products which create an emotional connection with broad consumer segments - while still delivering on a value-based pricing strategy. In fact it is here, at the product level, that I am most excited about the National Beverage story.
Let me provide a personal anecdote that highlights the success of one of National Beverages premier "Power-Brand" products, LaCroix sparkling water. On a recent Saturday I took my family (Two children under 3 years old and wife) to the Whole Foods Market (NASDAQ:WFM) in Lincoln Park, Chicago. This is a wealthy area with primarily higher-end shoppers. The first thing I noticed upon parking was a woman loading up brightly colored cases of LaCroix sparkling water into a brand new BMW SUV. Once inside the store, I discovered part of the reason for this: A giant LaCroix water display was positioned in a prime high-traffic area in the middle of an aisle. As we walked through the store, I noticed more than a few LaCroix cases in shopping carts.
While in line to pay for our lunches, I looked at the two women behind me and noticed they each had individual cans of LaCroix water on their food trays. I looked to the right of the register and noticed that LaCroix was the most prominent individually-sold beverage in the display-cooler.
Once upstairs in the dining area, I spotted three additional women who were drinking LaCroix water products with their lunch. To say that this beverage has hit a chord with the trendsetting "Yoga pants crowd" (Health-conscious women who spend a fortune at places like Lululemon and Whole Foods) would be an understatement. I believe this is significant because upper income groups tend to be trendsetters for the rest of the population. I myself started drinking LaCroix when I decided to cut back on my caffeine consumption. It has just the right amount of carbonation and a subtle, pleasant taste which makes it easy for forgo a third cup of coffee.
My personal observations on the brand's success are confirmed by statements contained in the most recent (2012) annual report, which states:
"LaCroix has been outpacing the growing sparkling water segment that is fast becoming the alternative to traditional carbonated soft drinks. Containing no calories, sodium or caffeine, LaCroix has benefited from the support of major national chains and is the number one selling canned sparkling water in the U.S. as well as the number one domestically produced sparkling water. With new packages being designed for non-traditional distribution channels, we believe LaCroix is uniquely positioned to continue expanding its national footprint."
The most recent quarterly report also highlights that National Beverage has been reformulating even its standard pop-type beverages to contain fewer calories. As a National Beverage shareholder, I am heartened to see that the company is positioned to catch what I believe will be an enormous consumer trend that will only be accelerating in the years to come.
Caporella states that, "Our Company is in transition from a style / culture that created its original framework, to a more aggressive development mode. Also, the timing may initiate opportunistic innovations and alliances that will cause that curve to continue." I will take him at his word on this.
For this reason, I believe that using the prior four years as a template for future growth is a good target benchmark. This means that in four years, earnings have the potential to move from .95 to around $1.84 per share. Using the present price/earnings multiple (which has been fairly stable over time) this would mean that in four years, the stock price should be around $26.7. This would equal a compound return of about 16% a year.
A more conservative benchmark would be to use an 8% EPS growth rate (My estimate for 2013's earnings growth) which would lead to a share price of 19.72 within four years. On the downside, I am confident that the current valuation means that even if neither of these growth rates is achieved, successful cash flow generation will mean that there is unlikely to be much risk of downside loss. On the upside, if earnings growth does continue at the current five year average pace (or accelerates), over time the stock will be revalued in the marketplace and trade with a higher earnings multiple.
I see the number one risk to National Beverage's future shareholder returns as the potential for rising raw material costs that the company is not immediately able to pass on to consumers. However, the company does have a hedging program that to some degree can mitigate this risk.
The potential inflation threat was one reason why I suggested that National Beverage might want to consider taking on some longer-term debt. As preeminent deal-maker John Malone has said, "Inflation lets you raise your rates and devalue your liabilities" and as such creates an inflation hedge. Of course, this should only be considered if long-term debt is available at terms that are favorable relative to other alternatives.
National Beverage shares are mostly owned by insiders, and as such the stock has a small float. As a result of this small float, the stock tends to have quite a bit of short-term "noise," or price gyrations that do not correspond with any known news. My buying strategy for this stock is to scale limit orders around recent swing-low levels that are also at or below my estimate of the stock's fair value. At a current market price of around $14.5, I believe the National Beverage is moderately undervalued.
Over the longer term, this company could very well end up being purchased at a premium price by a larger company, or it could be taken private by its controlling shareholder. Both of these circumstances would likely create a short-term windfall for current investors.
National Beverage and the corporate message crafted by Nick Caporella are a powerful antidote to the cynicism that has gripped all too many investors since the start of the financial crisis. After reading years' worth of Caporella's writings to shareholders, it is hard not to want to find a mountain to climb, reach the summit and then pump your fists in the air. National Beverage is fairly valued for long term appreciation. Our current strategy is to initiate positions on dips and to hold for the long term.
Disclosure: I am long FIZZ. I wrote this article myself, and it expresses my own opinions. I am not receiving compensation for it. I have no business relationship with any company whose stock is mentioned in this article.