With its huge selection, low prices, and quick delivery, Amazon (NASDAQ:AMZN) probably does more to spread holiday cheer than even jolly old St. Nick himself. And like the big guy it seems to be more focused on customer satisfaction than on making a profit. Case in point is its continued spending on distribution centers, the scale of which is so large that one might assume at least part of it presumably went towards building one near the north pole as well.
Hey, why not compete head to head against Santa, they've already taken dead aim at other equally formidable rivals like Apple (NASDAQ:AAPL) and Netflix (NASDAQ:NFLX), selling tablets below cost and spending billions building their own streaming platform only to give away some of the content for free to Prime customers, who already also benefit from having their shipping costs subsidized by Amazon as well.
All kidding aside, Amazon's valuation remains one of the most hotly contested issues on this site. Bulls say the company's dominance in online retail will allow them to enter adjacent markets and lead to a revenue juggernaut. However, it is a fallacy that just because a company dominates a market place it deserves a huge market cap. Companies should only garner an outsized market value if they can turn those sales into actual earnings.
Take the highly competitive grocery space, where two of the top dogs, Safeway (NYSE:SWY) and Kroger (NYSE:KR), have a combined market cap of less than $20B despite combined sales of over $140B. Heck, even struggling SUPERVALU (NYSE:SVU) has a market cap of less than a measly billion with sales of over $30B. Before you scoff and ask how I could compare a dying company in the highly competitive, low margin grocery business to mighty Amazon, you might want to note that SVU actually had higher earnings this year.
Also, all three grocers have similar gross profit margins and higher operating margins than Amazon. Granted, Amazon has much brighter future prospects than any of these companies, but probably not so much better to warrant a market cap six times larger than all three of them put together with about one third the sales. Who's to say that online retail, the tablet market, and streaming video won't always be just as competitive as the grocery business?
If Amazon's gross margins stay fairly constant at around 25% as they have recently, their future profitability comes down to the relationship between revenue growth and operating expenses. Since they only turn a quarter of their sales into gross profit, revenue growth has to be greater than increases in operating expenses to generate any additional operating profit.
Unfortunately, even their stellar revenue growth has not outpaced their ballooning infrastructure spending lately. I have plotted gross profit versus operating expenses over the past several years to illustrate how expenses have overtaken gross profit despite Amazon's remarkable revenue growth: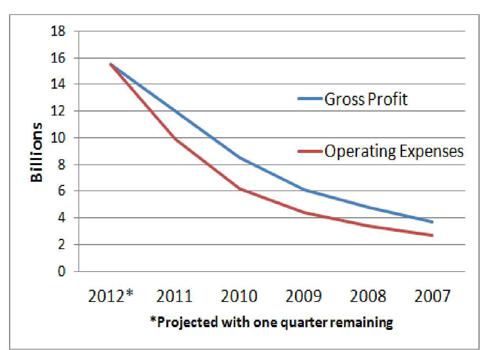 Clearly this trend does not bode well for future probability. So how much would revenue have to increase or expenses have to slow to regain profitability worthy of their current lofty valuation? Assuming they'll complete most of their infrastructure spending next year, including the billion dollars they'll be spending on their new corporate headquarters, we might hope that expense growth will peak and we'll finally see the parabolic spending growth flatten out.
However, as fellow Amazon skeptic Paulo Santos points out, the company probably can't dial back spending on fulfillment centers that much if it wants to continue increasing revenues. Let's assume that Amazon can rein in spending somewhat and operating expense growth stabilizes around the 30% rate of several years ago rather than the current rate of almost double that. Projecting revenue to continue to grow at the consensus analysts' estimate of around 27.5%, we get the following relationship between revenue and operating income: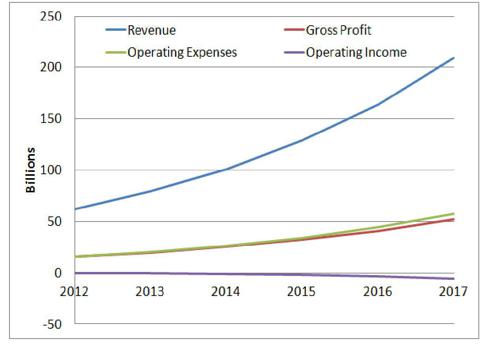 Could Amazon actually continue to lose money with sales of over $200B? Absolutely, if spending increases merely continue to grow at even half the current rate, they will outstrip revenue growth. It's true you have to spend money to make money, but you eventually have to spend less if you actually want to keep any of that money as earnings. We can see that eventually operating expenses will have to be curtailed without affecting revenue growth if Amazon ever wants to become as profitable as many bulls expect.
Given that the company has demonstrated no evidence of ever having achieved this and certainly shown no inclination recently to make it happen anytime soon, investors would probably be prudent to avoid the stock unless they are counting on significantly higher revenue growth, markedly less spending, or just the greater fool theory of people who would probably buy stock in Santa's workshop if it was going up.
Disclosure: I have no positions in any stocks mentioned, and no plans to initiate any positions within the next 72 hours. I wrote this article myself, and it expresses my own opinions. I am not receiving compensation for it (other than from Seeking Alpha). I have no business relationship with any company whose stock is mentioned in this article.