PPL Corporation (NYSE:PPL) is one of the best-diversified large cap utility companies. With its current 5% dividend yield and 10 PE and a projected organic CAGR of 7.6% from 2012-2016., it is also one of the more undervalued utilities.
PPL has operations in both the United States and United Kingdom. PPL US assets are mainly in Pennsylvania, Montana and Kentucky. The Company operates in four segments: Kentucky Regulated, International Regulated, Pennsylvania Regulated and Supply Segment. Over 70% of projected 2012 EPS comes from regulated businesses.
The Kentucky Regulated Segment
PPL has a substantial amount of planned capex over the next 5 years in Kentucky. The base CAGR for this segment is estimated to be 8.4% through 2016. PPL also has a $1.8 billion Environmental Cost Recovery plan approved by the state, with a 10.1% return on equity. Kentucky, one of the more coal friendly states, has allowed PPL to recover the costs of environmental regulatory upgrades to its coal-burning power plants with a reasonable rate of return.
International Regulated
This segment for PPL is composed primarily of its UK assets under its Western Power Distribution [WPD] subsidiary. It has a highly attractive rate-regulated business, with regulator approved revenues, and including future capex and O&M adjustments for inflation. WPD has earning over $185 million in annual performance awards over the past 8 years.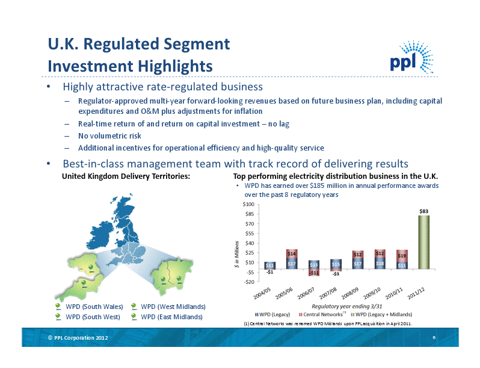 Pennsylvania Regulated
The Pennsylvania regulated segment is projected to have a 22.3% CAGR in its transmission rate base growth through 2016, driven by improvements in aging infrastructure. A projected 6.5% CAGR distribution rate base growth is expected for this segment.
Supply Segment
This segment for PPL is a mix of low marginal cost nuclear and hydro facilities, efficient supercritical coal units and gas-fired assets that capture market opportunity and backstop base load unit availability. Also included in this unit are low marginal cost coal and hydro units in Montana. PPL has been able to cut about $700 million in capital spending in this segment since 2010 due to managing of lower commodity costs.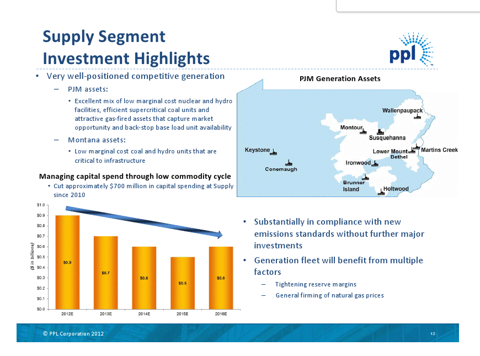 For the first nine months of 2012, earnings from ongoing operations were $1.13 billion, or $1.93 per share, compared with $1.1 billion, or $2.02 per share, for the first nine months of 2011. PPL adjusted its FY 2012 forecast range to $2.30 to $2.40 per share in earnings from ongoing operations. The previous forecast range was $2.15 to $2.45 per share. PPL's year-to-date earnings from ongoing operations reflect dilution of $0.14 per share, primarily due to the April 2011 common stock issuance to finance the WPD Midlands acquisition. Based on the current dividend of $0.36 per quarter, the payout ratio using earnings is expected to be about 63% for 2012.
One area of concern I do see for PPL is in its free cash flow. Free cash flow is expected to be negative $1.0 billion for FY 2012.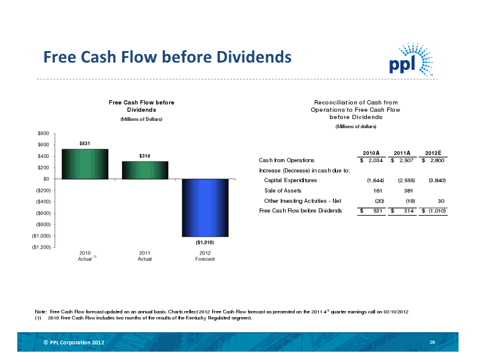 However, this is primary due to investments in capex. Capex spending should start to moderate after 2013.
This in turn should lead to an estimated 7.6 CAGR through 2016. Regulated assets are expected to reach $25.3 billion by 2016.
PPL currently offers a competitive 5% yield. Similar utilities such Duke Energy (NYSE:DUK) and Consolidated Edison (NYSE:ED) not only offer lower yields, but higher payout ratios. The outlier, Exelon (NYSE:EXC), currently has a massive 7.0% yield, however this yield is not sustainable.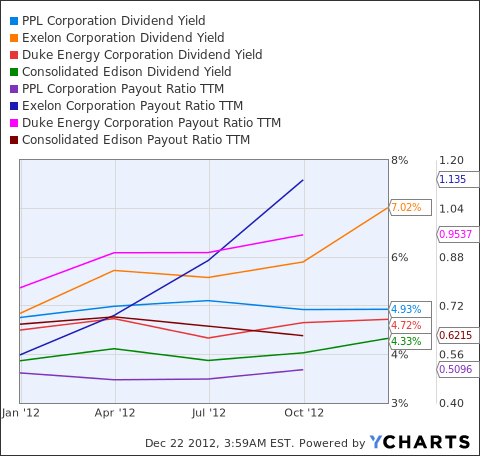 PPL Dividend Yield data by YCharts
PPL offers a great yield and a current low valuation. However, I would wait for a pullback in price to start a position. The stock is only 3.2% off of its year highs. A good entry point may be at or below $27.50, a level it reached in mid November. If I were looking to invest in a utility, PPL would most definitely be my first choice.
Disclosure: I have no positions in any stocks mentioned, and no plans to initiate any positions within the next 72 hours. I wrote this article myself, and it expresses my own opinions. I am not receiving compensation for it (other than from Seeking Alpha). I have no business relationship with any company whose stock is mentioned in this article.