Diversification has always been important to me. The most famous investor alive today, however, once quipped that diversification "is for those who don't know what they are doing."
That might be true. I do understand the sentiment. Many of us aren't pros, though. To be more politically correct about it: I think laypeople really ought to be diversified. When I first started investing in 2007, I bought three stocks in three sectors to be diversified. One of them was an industrial conglomerate, 3M (NYSE:MMM).
My thoughts on investing have changed a lot since then. I've taken lumps. Made rookie mistakes. And weathered through two market panics. I'm still long 3M, and I like it now for the same reasons I liked it then: A conservative balance sheet, a history of stable growth despite industry cyclicality, a fabled corporate culture and a serious focus on dividends. Also, I had figured, it was a "best of breed" stock that I felt confident putting my money into.
I think any good investor should be periodically re-evaluating their thesis. Sometimes a sharp axe is needed. When the situation changes, or management doesn't execute, or whatever reason really, we should always be looking to see if our "story" for a stock is still intact.
In the world of Industrial Conglomerates, it can be difficult to compare companies because conglomerates often operate in disparate industries. Let's see how 3M compares today to some of the other well-known conglomerates.
Dividend Growth History
3M is, in fact, on the top tier of many a "dividend growth" list. This is because of the company's very long history of raising its dividend every year. Even in the depths of the great recession. I compiled data from the last ten years. While the dividend growth rates may not be spectacular, they are substantial especially when you consider how hard growth is to come by these days.
| | | |
| --- | --- | --- |
| | Dividend | Annual YOY Dividend Growth Rate |
| 2002 | $1.24 | 3.30% |
| 2003 | $1.32 | 6.45% |
| 2004 | $1.44 | 9.09% |
| 2005 | $1.68 | 11.67% |
| 2006 | $1.84 | 9.52% |
| 2007 | $1.92 | 4.34% |
| 2008 | $2.00 | 4.16% |
| 2009 | $2.04 | 2.00% |
| 2010 | $2.10 | 2.94% |
| 2011 | $2.20 | 4.76% |
| 2012 | $2.36 | 7.27% |
I'm very encouraged by 3M's substantial dividend hike in 2012. In fact, I believe future dividend hikes will look more like this one. I'll explain why when we look at 3M's growth prospects.
Return on Equity, Assets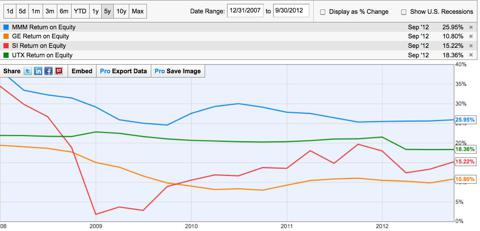 Looking at Return on Equity (ROE), we can see that 3M has a huge lead on other big conglomerates such as GE, United Technologies and Siemens.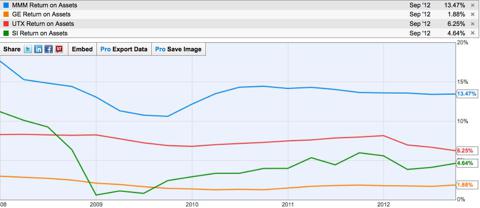 Return on Assets shows the same story. 3M has a great lead over everyone else. Much of this could be because the industries 3M have chosen to be in are much less capital intensive than the other conglomerates listed in this chart. Still, that's a choice they made that I like.
Gross Margins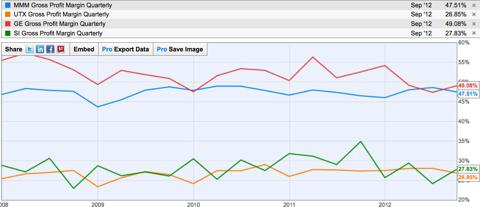 Charts by YCharts.com
While 3M's margins might be consistently edged out by GE, they are certainly top tier.
2012- 2013 Growth Outlook
Looking at five other companies, most of them fellow conglomerates, we can see that 3M's growth is slightly better than most. Amongst conglomerates especially, 3M's current forecast is the highest, albeit by a narrow margin. I believe 3M will be able to deliver on this guidance.
Siemens (SI) - Core Currency Revenue up 1%. YOY Income from continuing operations -2%. No forward guidance I could see as of yet.
Philips - Current YOY earnings growth of 5%. Goal of 3-5% comparable sales growth in 2013.
Honeywell (NYSE:HON)- Forecasted 1-3% increase in organic sales. Cash Flow From Operations to increase 6.5%. (EPS boosted by buyback.)
United Technologies (NYSE:UTX) - Expected organic sales growth of 3-5%. Hard to gauge EPS due to acquisition. EPS excluding Goodrich acquisition could be flat to down.
General Electric (NYSE:GE) - Expecting "modest" earnings growth between 2-6%. (5-9% "ex wind." What a drag.)
3M - Estimated EPS growth ex buyback: +6.34% (range of 1.58%-11%) I used the approximate midpoint for this estimate.
Sources: Siemens Q4 FY2012 Earnings Release, Philips 3Q12 Earnings Presentation,Honeywell 2013 Outlook Presentation, United Technologies 12/13/2012 Analyst and Investor Meeting, GE Works, Dec. 17th 2012 Annual Outlook Investor Meeting, 3M 2013 Outlook Meeting Presentation
Taking all these variables together, I think it's still safe to call 3M "best of breed," even if that may not mean much in this sector. Margins aren't quite the best, but are very close. ROE and ROA are the best by far. Growth prospects edge out the others by a little. Finally, 3M has raised dividends even in difficult times. Considering the company's growth forecast, we should see a 2013 dividend hike of at least 6%. There's a lot to like about 3M. Of the conglomerates, I personally like 3M the best because of its revenue mix. Unlike conglomerates such as GE, 3M isn't involved in some industries which I don't care for: defense contracting and wind turbines.
Should We Buy Now?
I normally look at the Price to Earnings (P/E) ratio when valuing a stock. Because the industrial sector is so cyclical, however, P/E ratios are not as meaningful regarding value per se. In determining 3M's value and the best time to buy, I personally like looking at the dividend yield in relation to the stock price.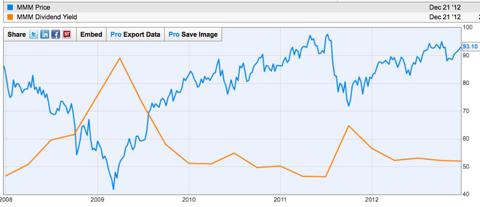 Charts by YCharts.com
The above chart shows us 3M's price vs. dividend yield. The best times to buy seem pretty clear when we look at the chart. "Spikes" in the dividend yield (orange line) vs. the price (blue line) have been the best times to buy. Obviously, early 2009 was the best time to buy 3M as well as many other stocks. We can also see that late 2011 was a great time to buy, and it was also when the yield spiked vs. the price. Those who bought at that time would have seen a nice return. However, those who bought in most other times would have seen some nasty volatility. As we can see, now is clearly not a great time to buy.
I think 3M deserves the serious consideration of anyone with a long term horizon who wants an industrial stock as the company could have a place in many a portfolio. My experience with 3M, however, is that there are right times to buy and wrong times to buy. Patience is needed, but when the time is right, the long term investor should go ahead and buy some 3M.
Disclosure: I am long MMM. I wrote this article myself, and it expresses my own opinions. I am not receiving compensation for it (other than from Seeking Alpha). I have no business relationship with any company whose stock is mentioned in this article.