Overview
Historically, the tobacco industry has been known to be a defensive sector of the market, with relatively stable revenues and cash flow even in economic turmoil. However, recently the industry has been hit hard by increasing regulations from developed markets such as in North America and in Western Europe. These concerns have been hanging over the industry for years, yet these companies have still been able to grow revenues and profitability. Another worry of dividend paying companies is the uncertainty of dividend taxation for 2013. If Washington comes to an reasonable compromise on this issue as part of a "Fiscal Cliff" deal, these companies, and other dividend paying corporations should benefit. The below listed tobacco companies have market capitalizations ranging from $15-142 Billion, have dividend yields of at least 4% and trade for less than 15x 2013 earnings estimates.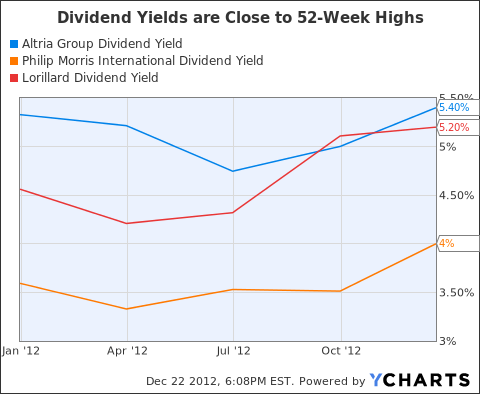 MO Dividend Yield data by YCharts
Altria Group (NYSE:MO)
Market Cap: $65 Billion
Dividend Yield: 5.4%
Estimated 2013 P/E Multiple: 13.5x
Altria is a tobacco behemoth, the company and its subsidiaries produce and market cigars, cigarettes, smokeless tobacco as well as wine. Altria is most well known for its Marlboro, Black & Mild, Copenhagen and Skoal brands. Additionally, Altria owns approximately 27% of SABMiller. Altria is targeting to grow EPS by 7-9% per annum, while maintaining a dividend payout ratio of approximately 80%. The company spends a large amount of money on its share repurchase program as well. The stock is up more than 9% in the past year.
Philip Morris International (NYSE:PM)
Market Cap: $142 Billion
Dividend Yield: 4%
Estimated 2013 P/E Multiple: 14.6x
Philip Morris International was spun off from the Altria Group in 2008, and owns the international segments of the former company. Philip Morris International is more expensive and has a lower dividend yield than the Altria Group. This disparity is largely due to the higher growth potential that Philip Morris International has relative to Altria. The company is aiming to grow currency neutral EPS at between 10-12% annually over the mid to long term. The company is very excited about potential growth opportunities present in emerging economies such as in Russia and in Vietnam. Philip Morris International's growth potential warrants a slightly higher valuation than its peers with lower growth potential.
Lorillard (NYSE:LO)
Market Cap: $15 Billion
Dividend Yield: 5.2%
Estimated 2013 P/E Multiple: 12.9x
Lorillard is by far the smallest company mentioned in this article; however, it is cheaper on a P/E basis and sports a healthy 5.2% dividend yield. In 2011, the company shipped 40.7 Billion cigarettes, and all of them were sold within the United States. The company's two leading brands are Newport and Maverick. In November, Lorillard announced that it would be doing a 3-for-1 stock split. Additionally, in August of this year the company announced a new $500 Million share repurchase program. The stock is up slightly more than 8% over the past year. As Lorillard operates in the US, it is extremely exposed to further regulation to the domestic tobacco industry, which has the potential to hurt revenues and profitability. However, as discussed before, the industry has adapted to regulation before and has managed to grow profitability, and there is little to indicate that the trend will not continue.
Disclosure: I have no positions in any stocks mentioned, and no plans to initiate any positions within the next 72 hours. I wrote this article myself, and it expresses my own opinions. I am not receiving compensation for it (other than from Seeking Alpha). I have no business relationship with any company whose stock is mentioned in this article.