By John Nyaradi
Will U.S. politicians deliver the fiscal cliff for Christmas?
With just eight days remaining in 2012 and the fiscal cliff arriving on December 31st, global financial markets begin to wonder if Santa will bring them the fiscal cliff for Christmas.
Last week was a series of bizarre political theater as the White House and Congress wrangled over the solution to the fiscal cliff. The House of Representatives fell into complete disarray with the defeat of Speaker Boehner's "Plan B," and late Friday, President Obama suggested a smaller fiscal cliff settlement before jetting off to Hawaii for Christmas vacation.
A partial settlement is a possibility, although Speaker Boehner's office rejected President Obama's proposal as not being balanced and Republican Senate Leader Mitch McConnell also said he was opposed to the new plan.
So now Washington is closed as the clock clicks down to the fiscal cliff.
Recent stock market action reflects the prevailing belief that a settlement will still happen by the end of the year or early January at latest, however, odds of going over the cliff increase with each passing day. Possible outcomes include a significant market correction as seen during the last debt ceiling standoff, another downgrade of the U.S. credit rating or a partial settlement that sets up another monumental battle over raising the debt ceiling in February or March.
On My ETF Radar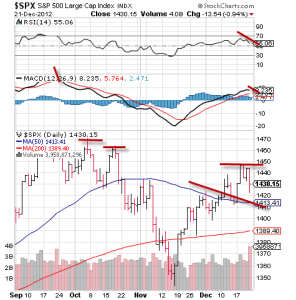 chart courtesy of StockCharts.com
In this chart of the S&P 500 (NYSEARCA:SPY) we can see how the index has stalled at recent resistance marked by the horizontal red lines. MACD and RSI in the top panels indicate declining relative strength and momentum, signaling short term weakness in the S&P 500 and the 50 day moving average continues its downward slope as the fiscal cliff approaches.
However, the S&P 500 and overall U.S. stock market ant ETFs continue to show remarkable resilience in the face of the fiscal cliff threat as major participants still expect resolution to this contentious issue.
ETF News You Can Really Use
Beyond the fiscal cliff, last week brought some positive economic news.
Durable goods rose in November, along with the Philadelphia Fed manufacturing index for December.
Existing home sales climbed as the housing market continues showing signs of recovery and consumer incomes and spending climbed. Q3 GDP was revised upward to 3.1% from 2.7% and beat expectations.
On the downside, University of Michigan December Sentiment Index dropped to 72.9, widely missing expectations, and the December Empire State Index took a sharp decline to -8.1 to stay well in contractionary territory. Read "Consumer Sentiment Falls"
Stocks and ETFs declined on Friday, however, finishing higher for the week.
For the week, the Dow Jones Industrial Average (NYSEARCA:DIA) gained 0.4%, the S&P 500 climbed 1.2% and the Nasdaq (NASDAQ:QQQ) added 1.7%.
For the week ahead, light volumes are expected as most market participants are on vacation for the Christmas holiday. U.S. markets will have shortened trading hours on Monday, closing at 1 pm. Eastern time and reopening on Wednesday. Light volume could add to volatility as news headlines regarding the fiscal cliff continue to flow.
Economic reports are very light for the week with Case/Shiller Housing Index on Wednesday, weekly jobless claims, consumer confidence and new home sales on Thursday and Chicago PMI on Friday. Analysts will also be watching early returns regarding retail sales for the holiday season.
Bottom line: The clock ticks towards the fiscal cliff, and this week we'll learn if Santa brings the fiscal cliff for Christmas. Should that occur, global financial markets will likely find a lump of coal in their stockings and a significant fiscal hangover come New Year's Day.
Disclosure: Wall Street Sector Selector actively trades a wide range of exchange traded funds and positions can change at any time.