In what was a surprisingly well timed piece, I recently recommended that investors fortunate enough to get on-board the Research in Motion (RIMM) train early take profits. The thesis was simple: after nearly 100% gains in a matter of months, the overhead supply should a negative catalyst hit would cause shares of the stock to collapse in on itself. Sure enough, the earnings report had enough negativity to cause the short-sellers to come out in full force. The stock dropped 22% in the following trading session.
Shares of Nokia (NYSE:NOK) have behaved similarly, having seen more pronounced gains from its lows, returning 144% as of the most recent closing price of $3.99. The natural inclination is to draw a parallel to RIM, as the situations are not particularly different: two turnaround plays in the smartphone market that have run up considerably on speculation that upcoming product launches would be a success.
The thesis and the conclusion here is the same: take profits on part of your position on Nokia and play with as much of the house's money as possible. I would not recommend exiting the entirety of the position as I believe that the chances of a successful turnaround for Nokia are much greater than those for RIM, especially with Microsoft as a partner.
Do Not Overlook The RIM Correlation
While it is natural to dismiss the correlation of Nokia's share price to RIM's, this is not something investors can afford to ignore. Observe the two charts: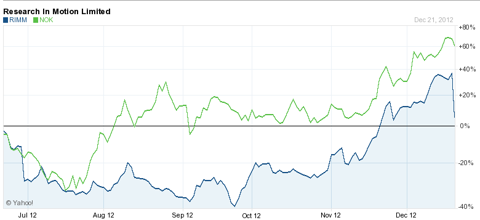 Click to enlarge
Note that off the bottoms, the trends for both companies have generally been upward. The psychology is simple: the two smartphone companies set to execute a rebound against the dominance of Apple (NASDAQ:AAPL) and Google's (NASDAQ:GOOG) legion of handset developers were now "in favor". RIM is going at it alone with its own operating system/application ecosystem while Nokia is going at it with the help of Microsoft's (NASDAQ:MSFT) new Windows Phone 8 platform.
It is my belief that long-term, Microsoft's ecosystem will be viable in the market given the firm's sheer resources and software expertise, but I would also not discount RIM just yet. In either case, Nokia is the de facto lead partner of the Microsoft ecosystem, and so a bet on Nokia is also a bet on Microsoft's ability to produce a well-received and widely adopted platform.
Nevertheless, both ecosystems are relatively unproven (although RIM had the spotlight once in this space whereas Microsoft has continued to struggle) entrants in a field dominated by two very strong competitors. This adds an element of risk that bulls of both companies need to be cognizant of. The two firms' similar situations ultimately leads to a strong correlation to one another, so if one falls, it will not take much to knock down the other (until more fundamental facts are in place for both firms, then divergence will occur).
Android Ecosystem Continues To Gain Strength
While Microsoft's stronghold in PCs (and soon tablets as the lines between the form factors blurs) will be strengthened as Windows 8 "convertible" devices gain traction, it is unclear just how well Windows Phone 8 will perform in the market. The platform itself is quite nice and the software development tools are top notch, but it is not clear that users will appreciate/accept a radically "new" phone platform en masse. While Android has taken significant share overseas, it is actually losing share Apple in the US, due primarily to the brand equity and established app ecosystem.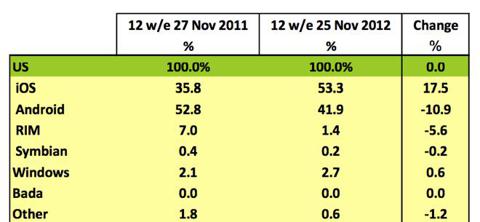 Click to enlarge
In the US, Microsoft will need to compete with both Apple as well as the legion of Android devices available. In developing nations, Android continues to be platform of choice because it is free (enabling very low cost devices), well-designed, and had a first-mover advantage. The applications ecosystem is likely richer on the Android side of things (although Microsoft's deep pockets can change that).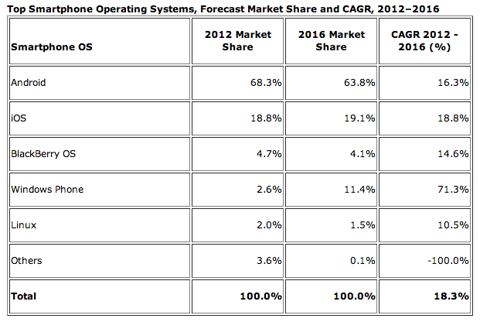 Click to enlarge
Nokia: Great Product, But Is That Enough?
Nokia faces headwinds that are primarily out of its control. The actual Lumia hardware is very, very good. The software that Nokia includes (mapping, for example) is excellent, the camera is top notch, it uses fast Qualcomm (NASDAQ:QCOM) processors and connectivity, and the reviews love it. I cannot stress this enough: Nokia is doing absolutely everything that it needs to in order to have a shot of a successful turnaround (make a great product). The question is squarely about whether it is enough.
Quite frankly, I don't know the answer to that question and neither does anybody else. Yes, the Lumia 920 is doing quite well in the US, and yes, a special version is carried by China Mobile (NYSE:CHL), but we are dealing with fashion-oriented consumer electronics. There are no true "objective" metrics (well, there are things like battery life, weight, and so on) that will really tell you about how a product will do. Just ask the legions of Android phone vendors that pack their products with all the best goods and still don't make a dent in Apple's armor in the US.
Investors just need to prepare themselves for the potential of Nokia's product to ultimately flop, even if it is excellent. Should any negative news hit, this sentiment will be amplified to an outsized degree, which leads me to my next point.
Supply And Demand Runs The Market
The price of a security is truly based simply on supply and demand. Fundamentals, sentiment, and the balance of supply/demand are all key factors in determining the returns on a given security.
Nokia's extremely bullish 6 month chart tells us that people have been buying Nokia with both hands since its 52-week low of $1.63 and this buying has accelerated significantly recently: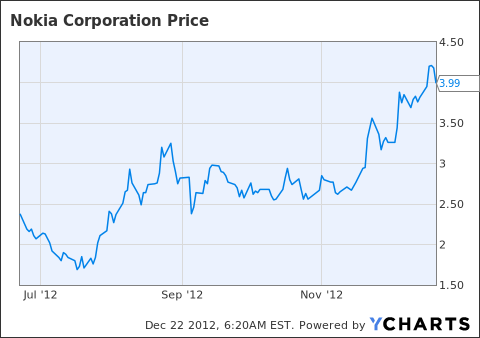 After the breakout from the $2.60 level to the $4 level, on any negative catalysts, the folks who are profitable (that's 6 months worth of buying) will want to cash out, bringing the price down, and forcing others to attempt to lock in profits before the getting gets bad.
What do I see here? A set-up for a drastic share price decline. Be wary of "bullish" analysts going into the upcoming earnings report who preach that the company will "beat" estimates based on "channel checks". Even if Nokia beats on the top and bottom lines, people will likely find something to be negative about. Perhaps margins are shrinking, or maybe mix is slightly unfavorable. What happens if Nokia's low end feature-phones continue to out-sell the Lumia?
Case in point: RIM "beat" the "pessimistic" estimates, but the chart told a completely different story. It spelled "bullishness".
So for Nokia, were the share price going into the report indicative of pessimism, then a lucrative contrarian long opportunity would be created, but in the face of what is clearly extreme optimism (the chart tells you everything you need to know), the more probable scenario is disappointment unless the beat is absolutely gigantic.
Conclusion
Sure, the stars could align and Nokia could see even more substantial upside from here. However, history tends to repeat and patterns emerge. Nokia's story is a whole lot like RIM's in every possible way with a few exceptions that make Nokia's story a tad more favorable. Learn from that example and seriously consider locking in some profits.
Disclosure: I am long MSFT. I wrote this article myself, and it expresses my own opinions. I am not receiving compensation for it (other than from Seeking Alpha). I have no business relationship with any company whose stock is mentioned in this article.