Apple Inc (NASDAQ:AAPL), with a market cap of nearly $500 billion, is the world's largest company. Currently, AAPL has over $120 billion in cash and no debt. For a long time now, there has been endless debate about what AAPL should do with its cash.
Some have called for the company to pay a massive, one time special dividend. Another more recent idea that has been rumored is an AAPL takeover of Netflix (NASDAQ:NFLX). Yet another idea that has been proposed is a major investment in its own supply chain and manufacturing capabilitites.
Another option, which has not been discussed as much, is a massive stock buyback program. It must be noted that in March, AAPL did announce, for the first time since 1995, a dividend and share buyback plan. However, the size of AAPL's current dividend ($10.60 per share per year) and buyback plan ($10 billion over three years) is relatively insignificant when considering the cash the company has and is expected to generate in the coming years.
There are three reasons why I believe AAPL should announce an aggressive buyback plan now.
1. Valuation
As shown by the chart below, AAPL is trading at historically low valuations. The current valuation means that if the buyback were to commence now, the company would be buying back stock at historically cheap valuations.
(click charts below to enlarge)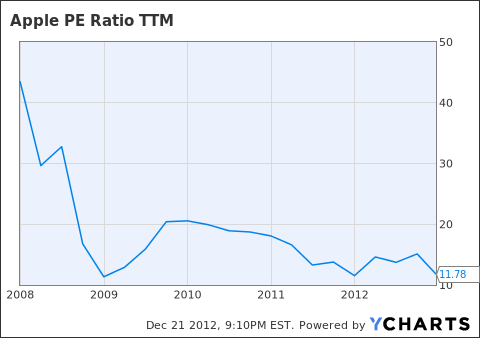 Since hitting an all-time high above $700 per share in September, as shown by the chart below, AAPL shares have fallen by more than 25% since. With this decline, I believe the market has given AAPL a golden opportunity to act by repurchasing significant amounts of its own stock. Additionally, a buyback could reverse the current downward momentum in the stock which has led to significant technical-based selling.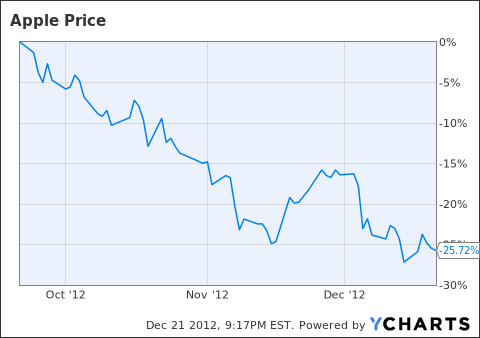 2. Increasing Tax Rates Make Dividend Inefficient
In theory, AAPL shareholders could receive the same benefit from a dividend as a share buyback. However, the expected increase in dividend tax rates makes a share buyback plan more tax efficient for shareholders. As it stands right now, the top dividend tax rate is said to rise to 43% next year. While a deal will likely be reached to avert such a steep increase, the tax rate will still likely be much higher than the current 15%. Given this scenario, a significant portion of AAPL dividend proceeds will end up with the government, not shareholders. Contrastingly, under a buyback, the "return of capital" to shareholders would happen tax free, a big advantage over a dividend.
3. Element of Surprise
It is often argued that monetary policy, such as QE announcements, are most effective when they come as a surprise. Similarly, a surprise, massive share repurchase program will likely be more effective than a predictable increase in the dividend and buyback. Right now, given AAPL's cash position, most investors are expecting AAPL to increase the annual dividend, pay a special dividend, or increase the buyback by a small amount. However, almost no one is expecting AAPL to announce, say, a $100 billion stock repurchase program. If AAPL could announce such a program, investors would likely rush to buy shares in an effort to get ahead of the massive buying program. This process could lead to a multiplier effect from the buyback. This is no different than the buying that occurs ahead of Federal Reserve buying in the Treasury and Mortgage securities markets.
Wait. Most of AAPL's Cash is Overseas What About The 35% Tax Rate?
True, the majority of AAPL's cash hoard is actually overseas right now. For AAPL to bring the cash back to the U.S. to use to fund my proposed share repurchase program, the company would be hit with a 35% tax. For a long time now, companies with significant overseas cash holdings have lobbied for a special tax repatriation holiday. So far, there has been no such event and these companies continue to hold the cash overseas. Eventually, the U.S. government will realize that it is better to have the cash brought back into the U.S. instead of being used abroad. That being said, when this realization might occur, I do not know.
What I Think AAPL Should Do
Timing is everything when it comes to a share buyback program, and now is the time for AAPL. Unfortunately, this means that AAPL cannot wait around for legislation to be passed that would allow AAPL to bring back its cash at a reasonable tax rate. In the meantime, what AAPL should do is borrow the cash in the U.S. Given AAPL's unmatched stealth financial position and historically low interest rates, AAPL would likely be able to borrow funds at extremely low rates. Eventually, AAPL could use the foreign cash to pay off the massive debt it would incur. Alternatively, if no repatriation tax holiday occurs, AAPL could just use its earnings power, $40 billion+ annually, to pay off the debt.
Conclusion
Given current circumstances surrounding AAPL, historically low valuations, tax induced selling, a record $120+ billion in cash, and a likely increase in dividend tax rates make a massive stock buyback program the best way for AAPL to return money to shareholders. Of course, even if AAPL announces a $100 billion buyback program, the company will still have ample funds to make any deal it sees fit, namely Netflix, which currently has a market cap of $5 billion. Also, AAPL will still have plenty of cash to invest into the valuable R&D needed to come up with products such as iTV.
Disclosure: I have no positions in any stocks mentioned, and no plans to initiate any positions within the next 72 hours. I wrote this article myself, and it expresses my own opinions. I am not receiving compensation for it (other than from Seeking Alpha). I have no business relationship with any company whose stock is mentioned in this article.