Investors looking to climb the great investment wall of China should consider the iShares FTSE China 25 Index Fund (NYSEARCA:FXI). The ETF is comprised of the stocks of China's large-cap companies. The fund pays a decent dividend of 2.49%. The ETF is attractively undervalued with a trailing P/E ratio of only 9 as compared to the S&P 500's trailing P/E of 14. China stocks have sold off in 2011 with news that China's rate of growth was slowing. However, this news has been baked into the price of China stocks and a rebound has been underway in recent months.
The decline and subsequent rebound in the price of FXI has corresponded with the China GDP growth rate. With the growth rate showing increases, FXI's price has also appreciated.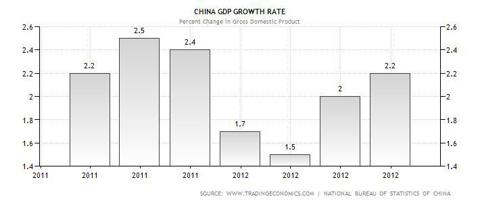 The price of FXI has not yet returned to its 2011 highs. The ETF also has a way to go to get back to its 2007 highs. I think if the GDP growth rate remains steady or increases, then FXI should perform well for investors. The worst factor for the fund would be a decline in the GDP growth rate. That would cause a decline in the price of FXI. Forecast information for China's GDP growth rate from tradingeconomics.com calls for a continuing increase, so this should be positive for FXI.
Here's a look at the top four companies in the fund which make up 34.5% of the entire ETF.
| | | | | |
| --- | --- | --- | --- | --- |
| | China Construction Bank | China Mobile (NYSE:CHL) | Industrial & Commercial Bank of China (OTCPK:IDCBY) | CNOOC (NYSE:CEO) |
| Weight in Fund | 9.53% | 9.51% | 8.84% | 6.58% |
| Trailing P/E | 6.65 | 11.62 | 6.89 | 9.67 |
| Price to Book | 1.38 | 2.16 | 1.48 | 2.15 |
| Profit Margin | 46.29 | 23.29% | 47.5% | 26.76% |
| Operating Margin | 60.4% | 28.37% | 62.93% | 35.28% |
| Total Cash | $224.06B | $62.78B | $328.86B | $16.99B |
| Total Debt | $56.48B | $4.57B | $326.89B | $8.77B |
| Current Ratio | N/A | 1.42 | N/A | 2.28 |
| Operating Cash Flow | -$146.15B | $36.58B | -71.98B | $16.25B |
In addition to being undervalued with low trailing P/E ratios, the top four stocks in the fund are also well priced in relation to their book value per share. All four trade at less than three times their book value per share.
The two most undervalued companies of the top four holdings, China Construction Bank and Industrial & Commercial Bank of China provide financial services for businesses, individuals, and government agencies. China Mobile offers mobile telecommunication services to over 650 million customers. CNOOC operates as an oil and gas producer with proved reserves of $3.19 billion barrels of oil.
Financial companies make up 55.93% of FXI. Telecommunications and the Oil and Gas sectors make up 17.64% and 15.07%, respectively. Basic materials and industrials comprise 8.91% and 1.92% of the fund respectively.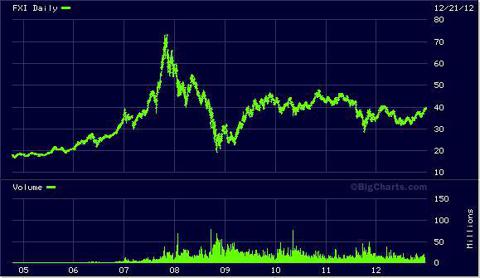 As of September 30, 2012, FXI had a total return of 10.6% annually since inception in October 2004. The fund has an expense ratio of 0.74%.
Assuming that Europe doesn't collapse, the World Bank expects China's economy to grow by 8.4% in 2013. This is up from a previous projection of 8.1%. The World Bank cited stimulus measures and the approval of infrastructure projects as reasons for increasing the forecast. There have been two interest rate cuts since June and the approval of infrastructure projects totaling over $150 billion.
With a dividend of 2.49%, an undervaluation, and a renewed positive outlook for China, the FXI ETF looks like a good investment for the long-term.
Disclosure: I have no positions in any stocks mentioned, and no plans to initiate any positions within the next 72 hours. I wrote this article myself, and it expresses my own opinions. I am not receiving compensation for it (other than from Seeking Alpha). I have no business relationship with any company whose stock is mentioned in this article.