In this article, I will make the case that a beaten down junior mining sector is fundamentally cheap, and technically ready to start a new uptrend toward new highs. While this particular sector of mining offers a very limited field of equity opportunities - especially in terms of viable investments that will actually have positive cash-flow within the next 24 months - there is one company that looks set to turn into a 20-50 year cash-flow machine. The company I am referring to is Northern Graphite Corporation (OTCQX:NGPHF).
In this article I will cover:
The future of Graphite demand and prices

Why the after effects of overblown optimism can leave behind wonderful opportunities

Cutting edge technologies that can drastically increase demand for graphite

The NAV for Northern Graphite's Assets and why professional analysts see huge upside potential

Why Northern Graphite's projected cash-flow and project scalability make it "dirt cheap"
The Big Picture - Another Speculative Rally and Aftermath of the Bust
In my recent article on investor psychology, I covered some of the basics of crowd behavior, the driving factors behind bubbles and busts, and a great place to look for long-term opportunities in emerging technologies.
Rare earth elements took investors for a wild ride in 2011, exhibiting an "echo effect" of the commodities bubble blow-off and crash in 2008. (This is something I will be covering in an article in the near future, along with a few post-pop opportunities that now have deep value due to improving fundamentals detaching from price movement.)
Up, up, and... right back down again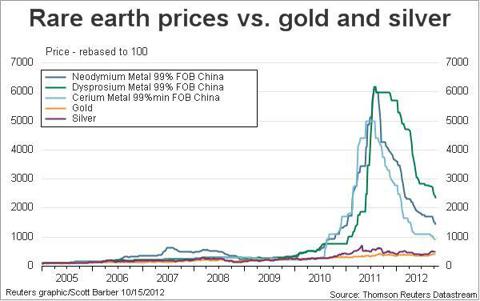 The mineral I want to focus on, even though it is not part of the Rare Earth Elements complex, is graphite. It also experienced similar price patterns to rare earths, albeit not as exacerbated, through 2012. Latecomers who bought up graphite equity shares during the hype 8 months ago have seen share values drop by more than 2/3 in that short time, while graphite prices have cooled off in the neighborhood of 40%.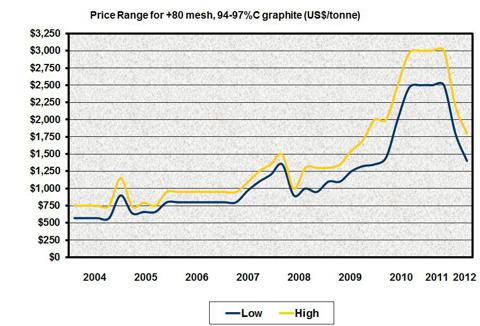 While graphite had an impressive run up alongside other specialized commodities in yet another liquidity driven rally, the price is returning to more reasonable levels.
Cutting Edge Technology and New Uses for Graphite
We heard a great deal about graphite back in 2010. The Nobel Prize for Physics was awarded to Andre Geim and Konstantin Novoselov for figuring out how to do something amazing with graphite. They re-introduced a substance that, while discovered in the 1960's, wasn't really feasible to work with until 2004, when they developed an easier method to create it. I am of course referring to graphene, a single-atom-thick layer of graphite that is arranged in a honeycomb shape.
It's impressive stuff, as this short video demonstrates. With the widespread adoption of nanotechnology over the past 10 years, the possibilities that graphene can offer are beginning to look a lot more like future realities.
Will graphene itself translate into a huge boon for graphite miners? It's hard to say. Unless we literally start using it in tens of thousands of different consumer products, it probably will not affect demand significantly, because the amount of graphite used in graphene is miniscule.
That being said, graphene may revolutionize the battery by drastically decreasing charging times and increasing total charge held. This would make technology that already uses significant amounts of graphite (lithium-ion batteries and others) that much more effective. It could end up being the catalyst that ushers the electric car into an era of real, non-subsidized feasibility against the combustion engine. Such developments would not only increase demand for value-added processes that make graphene manufacturing easier, but would also greatly add to the demand for the very expensive spherical graphite. For producers who get into the value-added processing game early, there are very wide margins to be had; Spherical sells for 3-4 times the price of the highest quality large flake graphite.
Much of graphene's future uses are theoretical at this point, because it is such a new and widely-applicable substance. That hasn't stopped a massive collaborative project with over $1 billion in funding and nearly 600 various institutions from coming together to develop practical uses for graphene. There are also over 200 companies currently engaged in R&D on creating products from, or improving them with, graphene.
Demand is Growing While Production Is Stagnant
Total worldwide demand for graphite is expected to increase dramatically over the next decade, creating a deficit in supply by 2014. This is especially true for the large-flake, rarer graphite deposits that have already seen the largest increases in demand. Graphite has also been declared a key strategic mineral by both the U.S.A. and EU.
These are all factors that look primed to make graphite a major worldwide story over the next decade, and I always recommend getting in on a fundamentally improving situation after the speculator wave has moved on from the story, to whatever the next greener pasture is. Patience is a virtue for a deep value hunter.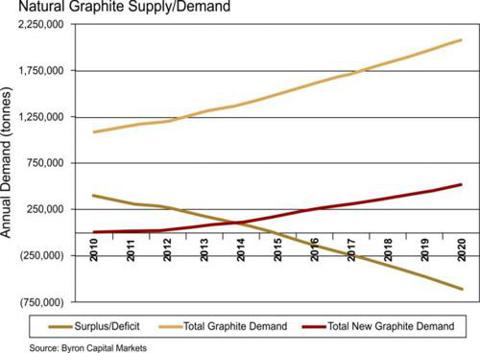 Investor Interest Has Waned and Moved On
As with anything that gets a lot of publicity and hype, we saw a huge run-up in graphite stocks, which drastically outpaced their fundamentals. Graphite was hyped up earlier this year, and equity investors who jumped the gun are nursing serious losses.
This has led to the opportunity for contrarian investors to pick through the remains and check out whether the underlying fundamentals of graphite equities have changed. We are trying to answer the question - what has happened to fundamentals in light of large decreases in share prices and a significant drop in the price of graphite itself?
Northern Graphite is the Best Pure Graphite Play Out There
Northern Graphite trades under the symbol NGC on the TSX Ventures, and NGPHF.PK on the Pink Sheets. I believe the company is the deepest value play within the junior mining graphite sector, as well as the most viable.
NGC experienced a speculative run-up earlier this year, from a low at $.71/share in October 2011, to peak of $3.42 in April of 2012, an increase of almost 500%. It subsequently plummeted right back down to where it started, and even lower, making a recent low at $.58/share.
Location, Location, Location
So many investors overlook the impact that geography and the political system have on a company's viability. With stories coming in of nationalization, permit denials, new regulations, etc., investors need to focus on companies that are geographically located in a country that doesn't treat them like low-hanging fruit. NGC is one of the safer graphite plays - it is located in Ontario, Canada, a very geographically and politically stable region, friendly to the mining industry. Its Bissett Creek project is situated next to major infrastructure, resulting in a very reasonable capex price to net projected cashflow and reserve size/quality. Graphite is a bulk mineral, not a specialty metal, that sells by the ton - shipping costs factor in significantly into a company's viability to profitably mine and sell graphite - NGC has a significant cash-cost advantage of not having to move its product very far to reach major international shipping venues.
Project Statistics, Progress, Reserves, Timeline and Cash-Flow
From Northern Graphite's website, corporate presentation, and fact sheet, here is a breakdown of the Bissett Creek Project:
It is located only 15km from the Trans Canada Highway - the main shipping route for that region of Ontario.

It is located next to major natural gas pipeline and close to major electrical infrastructure.

Full NI 43-101 completed - 26,000,000 tons indicated, 55,000,000 tons inferred.

Exploration phase is over - Bissett Creek is now considered pre-development, with a new bankable feasibility study completed in early Q3 of this year, and permitting expected to be completed at any time (projected Q4 2012-Q1 2013).

Bissett Creek's graphite reserves are almost entirely 94%-97% concentrate purity, and over 90% of production is expected to be +80 mesh or larger in size, which fetches the highest price premiums.

Total capex on the project is appraised at $103 million, including a $9 million contingency fund - an extremely low figure for a mine that is expected to span 2-5 decades.

Total cash costs of $851/ton with an estimated 19,000 ton/year production baseline (total mine life costs decreasing down to $785/t, as seen here) - production is also scalable to the ease of access of the reserves, and NGC estimates it can increase annual production by 300-400% if the market warrants it.

Indicated resources show a 23 year mine life, with inferred resources extending this out by another 40-50 years (a great long-term cash-flow generating investment).

With graphite prices at $1800/ton, annual net cash-flow is estimated at $19.9 million. Graphite prices of $2800/ton increase annual net cash-flow to $34.8 million.
Management Is Key
Northern Graphite has 10% Insider Ownership by management, giving investors the boon of a leadership team that has large financial incentive to see this project go from the planning and permitting through to production and positive cash-flow. This will also provide extra incentive to find financing methods other than equity offering and dilution of existing shareholders.
NGC's management team are veterans within the mining industry, with extensive development experience, which is crucial to this stage of NGC's operations.
Management estimates it will take one year from receipt of financing to actually build the mine, and are estimating that production will begin in Q2 2014 if they can secure financing in Q1 2013. Its preliminary assessment can be viewed here.
Value-Added, Shareholder-Rewarding Opportunity
Another shareholder-friendly project that NGC has going on, in parallel with its actual mining operations, is a value-added process by which flake graphite is converted to spherical graphite. This spherical graphite is used within the battery industry, and usually sells for at least three times the price of high quality flake graphite. This value-added process would serve to drastically increase net margins on production from Bissett Creek, further rewarding shareholders with high net cash-flow. The natural spherical graphite that NGC wants to process can be sold with a high margin for $7,000.00 / ton, versus the synthetic equivalent at $10,000/ton - significant savings for battery producers who are sourcing spherical graphite.
Professional Analyst Ratings
Mackie Research has a price target of $2.10 per share and a buy rating, and Union Securities issued a price target of $3.95 and basic EPS for 2014 of $0.35/share, as of July 2012. Union also issued a buy rating. The Bissett Creek Project has been valued at $269.5 million (with a 10% discount rate), with a total Net Asset Value for NGC of $4.96/share, making this company very undervalued at its current price.
Potential Downsides
Thinner Volume - As with most small companies, you can expect volatility - outlying spikes in volume that move the price much more than a blue-chip stock (average 3-month volume is 60,000 shares traded per day). While I think the future looks extremely bright for NGC, speculators don't need a ton of capital to make this stock move around. Be prepared for some swings if you are buying this as a long-term cash-flow generator. The last few days have seen just such a move, with a drastic jump on an internal divergence and a rapid increase in total volume traded.
Underlying Commodity Price - Because Bissett Creek is a single stream project (no secondary minerals to be sold), it is 100% sensitive to graphite price movements and how well it negotiates with its buyers. Graphite is sold directly to buyers, and does not trade on the COMEX or any other futures market - buyers cannot use futures to hedge against increases in supply costs, and producers cannot shield themselves against large price declines for graphite by selling futures. It is up to each graphite mine to find customers and negotiate pricing and terms with them. This leaves Northern Graphite more vulnerable to the market than most multi-stream miners or traditional mining companies who can use futures to help with forecasting and locking in a profit margin.
Macroeconomic Environment - If we see another credit crisis worldwide in 2013, as some economists are calling for, commodity prices in general could collapse as they did in 2008. If this is the case, it would make Bissett Creek a lot less feasible and could hamper the project coming online.
A scenario like that would also drastically affect the question of obtaining the $100 million required to build the mine and begin production.
Financing of Construction -many small miners have had trouble raising necessary capital in Canada this year, with junior miners managing to raise only half of the funding they did in 2011. Much of 2012's project financing has been through bought deals, in which a single institution purchases a large block of shares issued by the company, generally at a discount to current market value, in order to resell them to individual investors. A bought deal to fully finance the project would seriously erode value held by current shareholders, increasing the number of existing shares by up to an additional 200%.
Analysts see a hybrid finance/equity deal as most likely, and are calling for some dilution of shareholders. Keep this in mind as a risk going forward.
The Technical Case For Going Long
NGC has exhibited classical internal momentum divergence on mid-term basis, signaling a probable trend change. It has broken out on serious volume over the past week, increasing dramatically in price. There hasn't been any major news, and I am not aware of any particular large investment letter touting it again. However this jump, for whatever reason it has occurred, has quickly brought NGC to overbought territory. We should see a bit of cooling off, sideways-down consolidation here before we get another leg up. A cross of the 20 day Moving Average over the 50 day Moving Average will confirm the divergence signal for a mid-term trend change.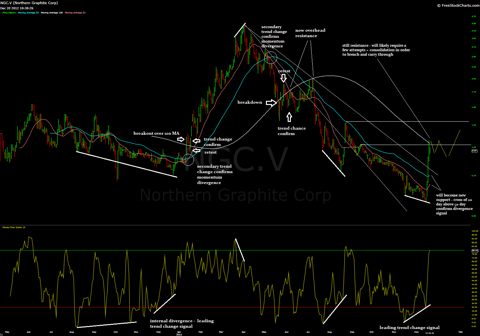 Shares are still deeply undervalued at these levels, and NGC is a great long-term play on graphite's future, especially compared to its peers. If you are seeking a long-term mineral project that will generate superior cash-flow over time, take a good look at Northern Graphite. If we see a real take-off in widespread graphene use, and even more adoption of graphite within the rapidly expanding nanotech industry, NGC becomes a huge growth story in tandem with a move toward net asset value. Once the Bissett Creek project is up and running, expect much wider interest, and share prices to reflect more traditional multiples against net cash-flow and earnings. At $20 million per year of conservatively predicted cash-flow, this stock is very, very cheap.
Disclosure: I am long OTCQX:NGPHF. I wrote this article myself, and it expresses my own opinions. I am not receiving compensation for it (other than from Seeking Alpha). I have no business relationship with any company whose stock is mentioned in this article.
Additional disclosure: I am long Northern Graphite via its shares on the TSX Ventures, traded under the symbol NGC.V. Either listing is fairly liquid with a rolling 3-month average daily volume of about 60,000 shares.