Although we have demurred with regards to taking a position in Pitney Bowes Inc. (NYSE:PBI) until February 2013 at the earliest, we can see why a number of notable institutional investors currently hold a position in the company. We have been attracted to PBI's dividend yield, which is approaching 14% and we can see that its free cash flow yield based on its TTM free cash flows of $450M is 23% (34.6% based on its forecasted FY 2012 FCFs of $750M). Pitney Bowes has increased its annualized per share dividend for the last 30 years and although the company is not necessarily guaranteed to increase or maintain its dividends going forward, we believe that there is no fundamental reason for management to cut PBI's per share dividend for the foreseeable future. Although four out of PBI's seven largest institutional shareholders are bulge-bracket institutional asset management firms (SSgA, Vanguard, BlackRock and Mellon Capital Management) with large index-oriented asset management models, we have seen about five managers holding PBI that have caught our attention amongst PBI's largest 20 institutional shareholders.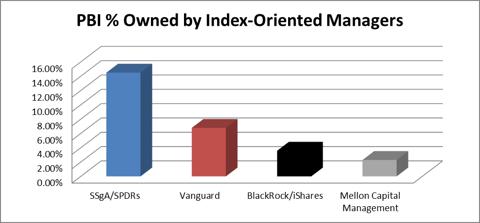 Source: Morningstar Direct
Although index-oriented managers own about 30% of Pitney Bowes's shares we have seen a number of active managers that own Pitney Bowes's bonds and shares. The Thompson Bond Mutual Fund has earned a five-star rating from Morningstar and it is the largest individual bond holder of PBI amongst mutual funds according to Morningstar. Thompson holds $25.11M of Pitney Bowes's debt and the bulk of its holdings are in PBI's 5.25% January 15th, 2037 bond issue. Other notable PBI bond holders include the JPMorgan Core Bond Fund (Morningstar rating of 4 Stars-Silver and $13.17M in PBI Bonds), Vanguard Wellesley Income (5 Stars-Gold and $10M) and PIMCO Total Return (5 Stars-Gold and $6.3M).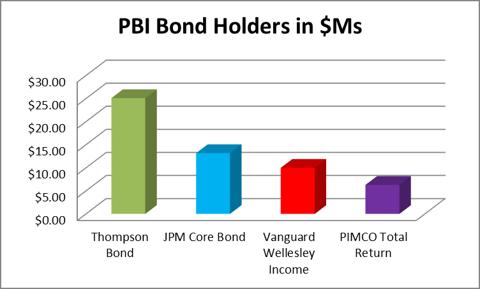 Source: Morningstar Direct
In Q2 2012, PBI's largest actively managed institutional shareholder was NFJ Investment Group. NFJ is an investment management subsidiary of Allianz Global Investors and an affiliate of PIMCO. NFJ had 14.65M shares representing 7.3% of Pitney Bowes's outstanding shares as of Q2 2012. The good news for Pitney Bowes is that NFJ is still the 19th largest shareholder with 1.6M shares as of Q3 2012 (0.80%). The bad news is that NFJ sold 13.05M shares in Q3 2012. Maybe NFJ decided to sell out then because it was expecting PBI to have softer results in Q3 2012 and H2 2012? We can't speculate on the motivations of NFJ's 89% position reduction but we can see that it was pretty good timing because PBI reached a near-term low of $12.64 after it reported its Q2 results on August 2nd but bounced back to $13.61 on August 24th (when we began increasing our coverage on PBI) and $13.82 as of the end of Q3 2012. PBI is now trading at $10.89 as of December 7th.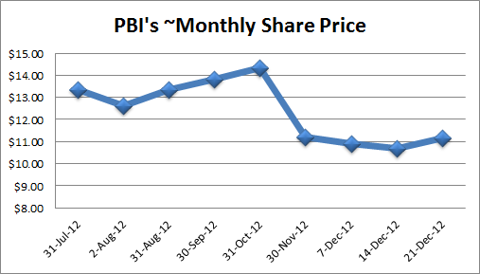 Source: Morningstar Direct
Nuveen's NWQ subsidiary is PBI's largest single active institutional manager with regards to investment management boutiques and hedge fund/alternative asset managers. NWQ has 6M shares of PBI as of Q3 2012. This represents 3% of PBI's outstanding shares and NWQ sold off 800K of its PBI position in Q3 2012. Epoch Investment Partners is the second largest boutique/alternative manager with 3.6M shares (1.8%) and added nearly 79K shares to its position in Q3 2012. Epoch was founded in 2004 by Bill Priest and David Pearl, who were longtime portfolio managers of Credit Suisse Asset Management and its predecessor firm BEA Associates. Epoch has $24.2B of AUM as of November 30th, 2012 and provides sub-advisory services to the John Hancock Global Shareholder Yield Mutual Fund and 6 mutual funds from the NYLIM/Mainstay Family of Funds.
Other notable institutional managers other than bulge bracket US Mutual Fund firms include PGGM Investments (2.99M shares, 1.49%), DePrince, Race & Zollo (2.06M shares, 1.03%) and WEDGE Capital Management (1.72M shares, 0.86%). PGGM Investments is a Dutch pension fund investment management co-operative with ~€125B in AUMs. DRZ is a Florida-based institutional asset management boutique with ~$6.6B in AUMs as of 2011. DRZ focuses on companies with above average dividend yields and we can see why it holds shares in PBI even though PBI has had soft, somnolent sales performance. WEDGE Capital Management has $9.2B in AUMs as of its most recent reporting period and the firm focuses on value-based investing strategies for equity and fixed income.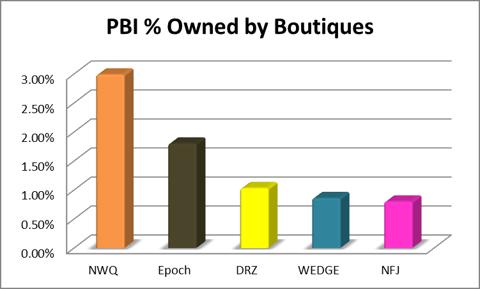 Source: Morningstar Direct
In conclusion, we are pleased to see that leading institutional equity managers have a large commitment to Pitney Bowes. While we have decided not commit to a stake in PBI ourselves not yet, we believe that we have enough information to have made a fair and balanced decision as of right now. If we see something that will change our mind in the future, we'll be ready to pounce regardless of what direction the stock price takes. We like that Pitney Bowes replaced its former CEO Murray Martin with Marc Lautenbach from IBM and we believe that if we see more potentially positive catalysts going forward, we'll be ready to pounce on Pitney Bowes. A couple of positive items of interest included the US Postal Service selecting Pitney Bowes to begin providing support and maintenance of its network of postal meters and that Debbie Pfeffier is the new President of Pitney Bowes Presort Services. Pfeffier was previously the Vice President of US Sales and Client Services for Pitney Bowes Presort Services and is replacing Jay Oxton upon his February 2013 retirement.
Disclosure: I have no positions in any stocks mentioned, and no plans to initiate any positions within the next 72 hours. I wrote this article myself, and it expresses my own opinions. I am not receiving compensation for it (other than from Seeking Alpha). I have no business relationship with any company whose stock is mentioned in this article.
Additional disclosure: This article was written by an analyst at Saibus Research. Saibus Research has not received compensation directly or indirectly for expressing the recommendation in this article. We have no business relationship with any company whose stock is mentioned in this article. Under no circumstances must this report be considered an offer to buy, sell, subscribe for or trade securities or other instruments.