According to the 2007 Online Banking Report, approximately one in three US adult consumers monitors or checks their credit score in some form or another. A search on Google (NASDAQ:GOOG) shows a competitive landscape with dozens of affiliates offering virtually the same product. Each site has "FREE" in bold letters, but upon closer inspection the score is usually only free if you enroll in a credit monitoring service. In this margin-rich industry with more and more competitors, it's not surprising to see the big players lose market share.
FreeCreditReport.com and TrueCredit.com, the consumer direct sites of Experian and TransUnion, respectively, all show monthly declines. (Equifax (NYSE:EFX), the third major credit bureau, doesn't run a separate site.)
That's were a little known start-up, Credit Karma steps in. Unlike the big players, Creditkarma.com provides free credit scores based on advertising rather than a subscription model. They generate revenues from advertisers who can target users based on their credit profile. So far the model looks like it's working to drive traffic. Compete numbers show month over month growth in the 30-40% range.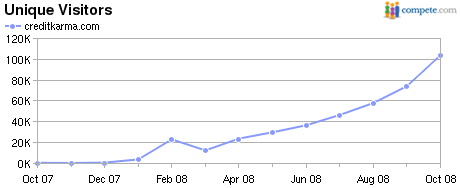 In addition to the free credit score and monitoring, the site is loaded with statistics and content to help consumers understand and manage their credit. Credit Karma also boasts many web2.0 elements like user comments and voting. Many of the features and tools are interesting if you want to get under the hood of how credit scores work.
At this point, it's too early to judge whether Credit Karma will succeed, or whether the advertising revenue will be there to support them. But today in a tightening credit market where consumer credit is closely scrutinized, firms like this may be well-positioned for growth.