In this past weekend's edition of The Wall Street Journal, there is an article that discusses stock buybacks -- an increasingly popular topic as the "Fiscal cliff" looms. Columnist Brett Arends cites Berkshire Hathaway's (NYSE:BRK.B) plan as "A model." Though there certainly are some strengths to the program, aspects of it may not be fully competitive with what other corporations are offering. Given the precarious situation involving our national budget, debt, and deficit, some scrutiny is advisable.
According to Berkshire Hathaway's Third Quarter Report, as of September 26, 2011, its Board of Directors has authorized the repurchasing of Class A and B shares at prices no higher than 10% over book value. The report says that no shares were bought back during the first nine months of 2012. A December 12, 2012 news release informs that the price limit has been increased to 120% of book value (and that $1.205 billion has been spent buying back 9,200 Class A shares (NYSE:BRK.A). The program does not obligate the company to repurchase any dollar amount or number of shares (page 38 of 45).
Price to book value is a popular metric for consideration of Berkshire Hathaway. The chart below shows that the business's value has steadily declined by it. Thus, it appears that the time is right to buy back stock. The graphic also shows U.S. Gross Domestic Product ("GDP"), a figure that is relevant to our budget problem, over the same time. The grey-shaded area shows that during the recession, GDP declined and shares traded much lower.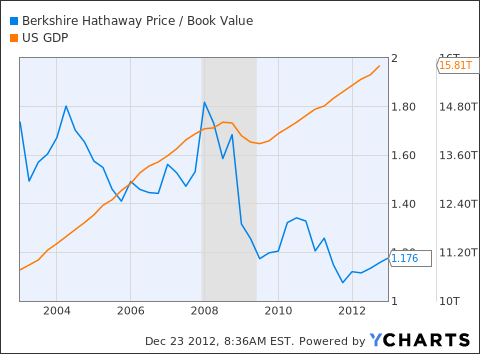 BRK.A Price / Book Value data by YCharts
As of September 30th, Berkshire Hathaway lists its book value at $111,718 per Class A share, and using this figure as an approximation, the buyback is authorized at a Class A share price of up to $134,061. The stock is currently priced at $134,800. The company does not repurchase shares if its consolidated cash equivalent holdings drop below $20 billion. It lists $47.776 billion in its most recent Consolidated Statement of Cash Flows. Therefore, in consideration of the recent news release, roughly $26 billion could be used to buy back stock if it cheapens--such as in the event of automated federal tax increases and budget cuts.
Buying Berkshire's stock is more of an investment in management's ability to run the business, as opposed to taking a stake in a shareholder-friendly program that continuously and meaningfully returns capital to those who own equity. Mr Arends, who has some remarkable credentials, writes:
When a company spends surplus cash buying back its stock on the open market, it reduces the overall share count. That gives every remaining investor a slightly bigger proportionate stake in the company. With a lower share count, earnings per share increase.
His endorsement of the plan emphasizes the fact that the company uses available money without increasing its debt, and also the limitation tied to book value. He does not discuss problems such as authorization that does not result in buying, or management merely using a program to meet a quarterly earnings estimate.
Dividends are another way for investors to be paid. When a stock goes ex-dividend, market makers typically adjust the price down by the payable amount in order to accommodate for a share's lost value. Contrastingly, when a company buys back its stock, upward pressure is exerted on its price. An imminent increase on dividend taxes contributes to the case for repurchasing, and is mentioned in Mr. Arend's article. However, a central concern is that when a share price is relatively high, such as Berkshire Hathaway's, it is not typically an advantageous time for a company to buy back stock. There are plenty of examples of corporations that have carried out miserable programs that overpay. A dividend is often preferable to a poorly-timed repurchase plan.
Now, let's consider Berkshire's businesses in light of the wider economy. It is involved in insurance (underwriting and also investment income); railroads, utilities and energy; manufacturing, service, and retailing; finance and financial products; investment and derivative gains and losses; and other operations. At least three of these lines could be particularly hard hit in a "Fiscal cliff" scenario. According to The Economist magazine, the budget cuts and tax increases are worth up to 5% of GDP in 2013, and begin on January 2. The Congressional Budget Offices estimates a lower impact at 0.5% GDP; and adds that unemployment would to rise to 9.1%. Many pundits are unequivocal that if nothing is done, a recession is to result. Insurance investment income; manufacturing, service, and retailing; as well as finance and financial products businesses could all struggle.
The following chart shows Berkshire Hathaway's stock price and the U.S. unemployment rate. They exhibit inverse correlation: when unemployment has gone up, BRK.A has lost value. With unemployment at 9% or higher, the stock has tended to trade at under $120k.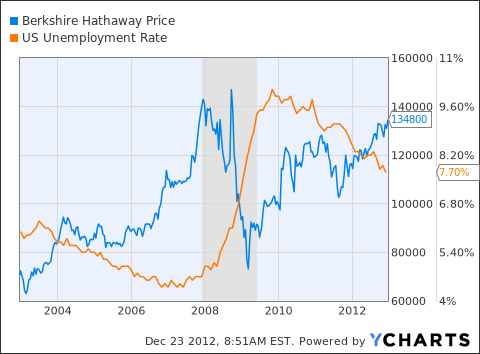 BRK.A data by YCharts
Some companies that should hold up during a downturn have established track records buying back shares and shrinking their floats year after year. Consider these carefully selected stocks in light of current events. Their buyback programs are not in place because management is trying to comfort shareholders ahead of what could be significant short-term losses.
Many would like to entrust their money to Warren Buffett, Berkshire's CEO. Indeed, they may do well buying BRK shares now; however, it just makes far more sense to look for a pull back. The CEO knows not to purchase stock when at its higher prices. If BRK.A trades down $14,800, or 10.9%, to $120,000, macroeconomic problems would be at least partially priced in, and then repurchasing may be beneficial--provided it is executed. If, incredulously, they are buying shares back at $134,000, investing in the company could be questionable, even though a case can be made on price to book value.
Yahoo Finance lists Berkshire's market capitalization for its Class A stock at $223.23 billion. In an extreme case, if all authorized funds are utilized, approximately 11.65% of outstanding shares could be reacquired. Then the program would be over. Whether an investor can count on a full expenditure of buyback funds is an open question. The probability would increase with a lowering share price. Given that the company has waited until the end of 2012 to repurchase any stock, an investment is a vote in management's discretion, as opposed to a way to immediately be paid.
Yahoo analysts ratings include a strong buy and a buy for a mean of 1.5. Stock outstanding, as of October 25, 2012, comprises 919,298 Class A shares , and 1,099,792,631 shares of Class B. Net earnings are reported per share for Class A stock, while Class B earns 1/1,500 as much and has 1/10,000 of the voting rights. So, there are choices as to how to invest in a fine, diversified company.
Given the economic perils ahead, caution is needed. Berkshire Hathaway has made a timely announcement as dividend taxes are set to increase while the economy may abruptly decline. The company's buyback program shows consideration to valuation and available cash. However, other stocks have good positioning at this time and can be counted on to continuously and meaningfully return capital to shareholders.
Disclosure: I am long AZO. I wrote this article myself, and it expresses my own opinions. I am not receiving compensation for it (other than from Seeking Alpha). I have no business relationship with any company whose stock is mentioned in this article.