Christmas sales this year, critical to retailers' bottom line, are no doubt surrounded in question marks. Sales numbers have been impacted by everything from hurricanes, the tragedy in Connecticut, Washington's inability to solve the fiscal cliff, and an economy that no doubt remains challenged. Macy's, Inc. (NYSE:M) is America's Department store with about 850 locations in 45 states and seamlessly appealing to a wide range of entry level to upscale customers. I believe Macy's presents an opportunity for investors this holiday season and into 2013. The company has twice increased earnings guidance for this year and I believe this guidance could still be conservative as the company was unsure of the effects of Sandy when they last updated guidance.
Among the reasons to be bullish on this Christmas season is that there are two extra days between Thanksgiving and Christmas this year versus last. Also Macy's decision to keep stores opened 24 hours in this key weekend before Christmas could provide a last minute boost to revenues. I believe the decision to stay open for 48 continuous hours is based on the success of extended hours at some locations this holiday season. Macy's has also made a bigger push this year to bring less inventory into the 4th quarter in an effort to create more newness in the stores throughout the holiday season. There is also more focus on newness in the stores for the week between Christmas and New Years which has become an import week for the quarter.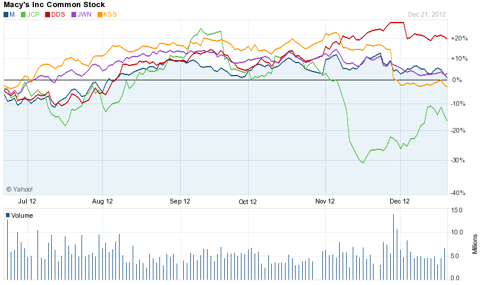 Macy's has been one of the biggest gainers from J.C. Penney's (NYSE:JCP) expanding troubles. This Christmas season has the potential to further highlight this. Over the course of the year Penney's has driven away customers as they attempted to create sweeping changes to their stores. Macy's has no doubt provided shoppers with plenty of coupons every day this holiday season. While it remains to be seen what becomes of Ron Johnson's attempt to turn Penney's around in the short term Macy's is no doubt a winner.

Macy's is also trading at a discount to many of its peers. Only Kohl's Corp. (NYSE:KSS) currently has a lower EV/EBITDA and forward P/E ratio than Macy's does. While Macy's EPS estimates have fallen less than 3% over the past 90 days, Kohl's earnings estimates for the current quarter have fallen from $2.16 per share 90 days ago to just $1.93 today, a drop of almost 11%. When looking at the PEG ratio Macy's is by far the best value at .87 with the next closest being Nordstrom Inc (NYSE:JWN) at 1.21. While Nordstrom may look appealing with estimates for 7.5% sales growth next year I would point to their higher P/E and EV/EBITDA ratio and a dividend yield only equal to that of Macy's. Both companies also have strong share repurchase programs, and Macy's board just a few weeks ago added $1.5 billion to their share repurchase authorization.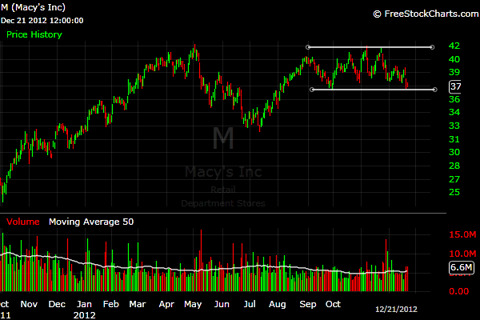 The chart of Macy's shows the company has been trading in a range from $37 to $42 per share since the end of this summer. If Macy's holds at the lower end of this range it could prove to be a great buying opportunity. Even if they stock only moves to the higher end of the range as a result of the holiday season it would still provide a 13% gain. This article also points to the strength Macy's stock has seen over the past few years in the week fallowing Christmas.
Data sourced from: Company filings, and Yahoo!Finance. Chart from: Freestockcharts.com
Disclosure: I have no positions in any stocks mentioned, and no plans to initiate any positions within the next 72 hours. I wrote this article myself, and it expresses my own opinions. I am not receiving compensation for it (other than from Seeking Alpha). I have no business relationship with any company whose stock is mentioned in this article.