I would like to begin this piece with a shout out to fellow Seeking Alpha author, Ashraf Eassa. Mr. Eassa made a detailed and persuasive case for Qlogic (NASDAQ:QLGC) "Qlogic: 72% upside potential with minimal risk", a beaten down $10 tech company whose stock has seen happier days. It gained a well-deserved "Editor's Pick" designation from the editors of SA. The article went into great granularity on Qlogic's products and prospects so I will only provide a brief summary on why the stock looks like it has substantial upside. The article convinced me to research the shares further and I have a strong feeling that the stock has better times ahead. However, I am going to use a bull market call spread to leverage my gains while minimizing my downside. I think this is a lucrative and underused strategy especially given the low volatility/premiums available despite the uncertainty surrounding the prospects for the market in 2013.
First, less summarized some of the value metrics for QLGC and why it is undervalued at under $10 a share:
The company has over $480mm in net cash on the books, which represents over 50% of its market capitalization.
Subtracting cash, QLGC is selling for less than 6x forward earnings and at six times operating cash flow.
After falling by nearly 15% this year, revenue is projected to post a slightly positive rise in 2013 via consensus estimates right now.
The stock is selling at the very bottom of its five year valuation range based on P/E, P/CF, P/S and P/B.
Most importantly for my option strategy, the stock looks like it has formed a bottom at a long term technical support level (See Chart).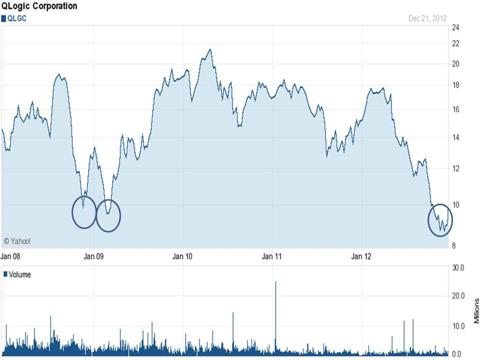 Mr. Eassa put a price target range on QLGC of $12.60 - $16.80 near the end of his extensive case. I am going to take the lower end of that range to craft an option policy to make over 250% should he turn out to be correct on this unloved tech equity. I am going to buy some bull call spreads with the July $10/$12.50 option call pair for a net debit of 70 cents. If stock rises to $12.50 by July 20th, I make a net $1.80 ($2.50 - $.70). If Qlogic never gets above $10 a share, I lose my 70 cents. If it ends within the $10 to $12.50 range, I make somewhere in between.
Disclosure: I have no positions in any stocks mentioned, but may initiate a long position in QLGC over the next 72 hours. I wrote this article myself, and it expresses my own opinions. I am not receiving compensation for it (other than from Seeking Alpha). I have no business relationship with any company whose stock is mentioned in this article.