Shares of home goods retailer Bed Bath & Beyond (NASDAQ:BBBY) had declined from a June 2012 high of $75.84 to a tad above $60 just before last week's earnings release.
Fiscal Q3 (ended Nov. 24th) came in at $1.03 versus $0.95, an all-time best for this segment of the year. EPS were two-cents below estimates. That was likely due to lost business related to Hurricane Sandy's multi-day business interruption on the East coast.
Management guided full FY 2012 expectations down to about $4.52. Fiscal year 2013 is now looking to come in closer to $5.00 than the previous $5.20 consensus estimate.
In a classic over-reaction BBBY plunged briefly to a 52-week low of $54.33 before rebounding. The stock closed Friday at $55.72, down 26.5% from this year's peak.
This has created one of the best buying opportunities on this high-quality company in more than a decade.
Company officers certainly believe their shares are undervalued. They just announced an additional $2.5 billion buy-back authorization.
BBBY is completely debt-free. They have no defined benefit pension plan to worry about. They merit Value Line's highest rating for financial strength. Earnings estimates have a high confidence factor.
BBBY's only relatively poor grade comes in the 'price growth persistence' category. That is simply a reflection of the very high valuation that they commanded 10-years ago.
The shares touched $37.90 in 2002 when FY EPS came in at just $1.00. It's no wonder that P/E compression occurred from that overpriced and unsustainable 38 multiple.
It was that factor alone, rather than poor operations, that caused the past decade's less-than-spectacular share price appreciation.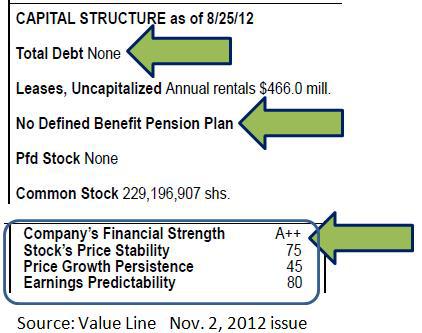 Judged on the company's results - not the stock's action, management did a great job. They negotiated boom times, recession and beyond, all with aplomb.
The surprise factor is that BBBY is available at such a historically low valuation. The shares trade for less than 12.3x the already-reduced estimate of $4.52 for FY 2012.
BBBY's 10-year median P/E is 18x. Post-recession it has averaged 14.9x. A rebound to just their lower-tier average of about 15 could push the stock quickly back to about $68.
That same multiple on FY 2013 numbers might support an 18-month target north of $75.
Those are very reasonable goals. Morningstar sees present-day fair value as $70. Standard & Poors thinks $74.70 would be reasonable right now while looking for $77 within a year.
Higher tax rates on cash distributions are expected in 2013. That may add luster to non-dividend paying stocks with good prospects for capital gains.
BBBY could ride the tailwinds from that trend next year.
Downside appears minimal. Excepting the exact bottom in 2008-09, the dead low valuation set during the past decade looked almost identical to today's.
BBBY represents excellent value with solid upside. That could translate into big gains when combined with its above-average safety factor.
Disclosure: I am long BBBY. I wrote this article myself, and it expresses my own opinions. I am not receiving compensation for it (other than from Seeking Alpha). I have no business relationship with any company whose stock is mentioned in this article.