Shares of Coca-Cola Company (NYSE:KO) have returned 6.1% over the past 12 months. At $36.89 per share, the stock is currently trading at around the mid-point of its 52-week range between $33.28 and $40.66 and offers a decent dividend yield of 2.8%. Is the stock worth buying at the current valuation? In this article, I will elaborate on my value analysis that may help your in formulating the investment decisions.
Relative Valuation
KO appears to be reasonably valued based on the company's strong financial performance relative to its peers (see comparable analysis chart below). Sell-side analysts on average predict the firm's revenue, EBITDA, and EPS to rise by 3-year CAGRs of 4.6%, 6.6%, and 8.8%, respectively, over the current and next 2 fiscal years. The consensus growth estimates slightly underperform the averages of 5.1%, 7.2%, and 8.4%, respectively, for a peer group consisting of KO's primary competitors such as Pepsico (NYSE:PEP) and Monster Beverage (NASDAQ:MNST). However, KO's EBITDA margin is forecast to expand by 1.6% over the same period, slightly higher than the peer average of 1.2%. On the profit side, KO has demonstrated its superior margin performance as all of the company's profitability metrics are markedly above the par. The company's capital return measure such as ROIC and ROE are below the averages, but the gap is only marginal. KO carries a relatively higher level of debt as reflected by its above-average debt to capitalization and debt to EBITDA ratios. In terms of liquidity, KO's trailing free cash margin is considerably above the group average. Due to strong profitability, the firm was able to maintain a healthy interest coverage ratio. Both KO's current and quick ratios are above the par, reflecting a healthy corporate balance sheet.

To summarize the financial comparisons, KO's solid global presence as well as its overall strong financial performance in growth, profitability, and cash flow generation should justify a premium stock valuation relative to the peer-average level (i.e. 10% to 20% premium). The current stock valuations at 12.8 forward EV/EBITDA (next 12 months), 27.1x trailing EV/FCF, and 17.4x forward P/E represent an average premium of 9.8% over the peer-average trading multiples, and the stock's PEG ratio of 1.9x is only 5.3% higher than the peer average at 1.9x (see chart above), suggesting an inexpensive stock price.
DCF Valuation
To support my above conclusion, I also performed a DCF analysis with conservative but reasonable assumptions (see DCF chart below). The DCF model incorporates the market's consensus revenue and EBITDA estimates from fiscal 2012 to fiscal 2016. Other free cash flow related items (i.e. depreciation, tax expense, capital expenditure, and net working capital investment) are forecasted based on their historical ratio to the overall revenue given the ratios' stable trend over time. It is noted that the terminal year EV/EBITDA multiple is implied to be 12.1x, which is slightly below the current valuation at 12.8x.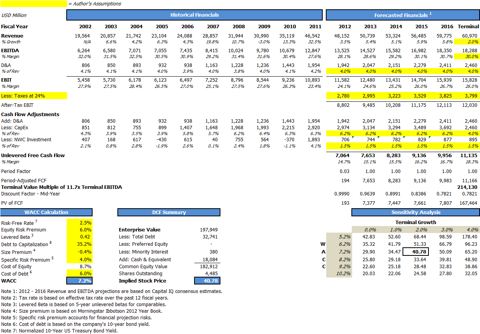 To be conservative, a 4.0% company-specific risk premium is applied in the cost of equity calculation to account for the financial projection risk. Also, a normalized 10-year risk-free rate is used and the cost of debt is assumed to be 6.0%, which is higher than the company's existing debt yield. As as result, the DCF model yields a stock value of $40.78, which represents 10.5% upside from the current share price and supports my above conclusion that the stock valuation is not expensive.
Dividend Valuation
KO currently offers a 2.8% dividend yield. Given the current low-interest market environment and KO's robust free cash flow margin, I believe the dividend yield should be a support to the stock price as the yield's upside is somewhat limited given the market's strong demand for high-yield assets. Since 2010, KO has increased its dividend 3 times by 7.3%, 6.8%, and 8.5%. Assuming a target dividend yield range between 2.5% and 3.3% (KO's dividend yield has never exceeded 3.0% since the end of 2010), and supposing that the annualized dividend per share would be raised by only 5.0% from the current $1.02 level to $1.07 in the March 2013 payment period, this very conservative scenario would suggest a stock value range between $32.95 and $42.84, or an attractive price return range from -10.7% to 16.1% without considering the 2.8% dividend return.
Recent Development
Aside from the inexpensive valuation and the solid price support by the dividend payments, KO's recent divestment of its Philippines bottling operations also likely positions the stock for further upside potential. Deutsche Bank's Research Analyst, Bill Schmitz, expressed his bullish view in a recent research note (sourced from Thomson One, Equity Research):
"…In our view, further bottler divestitures represent discrete catalysts for margin expansion and ROIC enhancement, which should support or even extend the current trading multiple. With most of the acquired bottlers largely rehabilitated and the company lacking a big, catalyzing event next year like the 125th anniversary or the Olympics, now seems like a good time to clean up the balance sheet and P&L by jettisoning these low margin, low return businesses. Depending on the EBITDA multiples the company gets for these assets, some earnings dilution is possible, but pushing them from the nest is a timely strategic move similar to bringing them in-house in the first place."
Bottom line, in the light of KO's inexpensive valuation, limited price downside, and healthy corporate development, I recommend acquiring this quality dividend investment for stable income and gradual capital appreciation.
The comparable analysis and DCF charts are created by the author and all of the historical and consensus estimated financial data in both the article and the charts are sourced from Capital IQ.
Disclosure: I am long KO. I wrote this article myself, and it expresses my own opinions. I am not receiving compensation for it (other than from Seeking Alpha). I have no business relationship with any company whose stock is mentioned in this article.