There are three kinds of stocks. Those you buy, those you short and those you avoid. 95% of the articles on Seeking Alpha and other financial websites deal with long ideas, with the other 5% dedicated to short positions. Few, if any articles focus on those stocks that investors should avoid even though they constitute the vast majority of the investing universe. However, they can cause your portfolio to underperform the market if you have too many of these "dead money" stocks in your account.
In this article, I am going to profile a couple of companies that are American icons. Both have great managements and have been stellar performers compared to the overall market over the last five years (See Chart). Unfortunately, their stock prices have gotten ahead of their fundamental growth prospects and intrinsic value. This means these stocks will either underperform until these fundamentals catch up with their stock prices, or the stocks will sell off until they are back in alignment with their true value. Neither outcome is a good one for their investors. Please note if these stocks pull back 20% to 30%, I will probably be submitting an article advocating picking up the shares and there are certainly better short candidates in the market.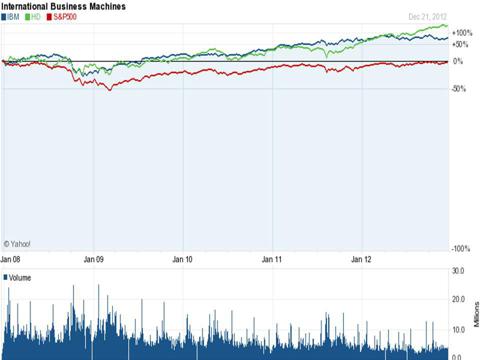 International Business Machines (NYSE:IBM) - The company has done a marvelous job of transforming itself from a hardware manufacturer to a services provider. The stock seems like a reasonable buy on the surface selling at under 12x forward earnings. However, there are several things investors should be aware of before they pull the trigger on IBM.
Revenue growth - The company has done a great job in shifting more sales to its higher margin services businesses (80% of revenues). However, its overall sales growth has been anemic (See Chart). The company has limited ability left to move more of its revenues to services and it has little organic growth.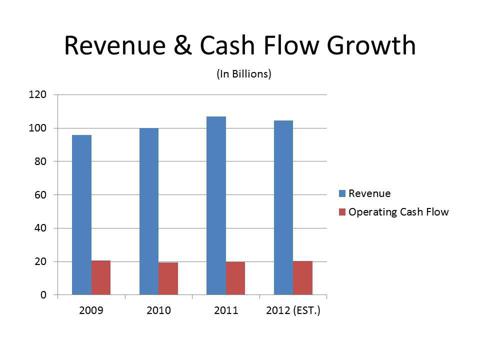 Operating Cash Flow (OCF) - As one can see from the same chart, the company has not grown OCF in four years. IBM has managed to increase net income by cutting costs and moving more of its overall sales to services. Both of these trends are going to be harder and harder to maintain. The company recently changed its 401K match so that it only happens at the end of the year. I would submit that when a company has gotten to this point, there are very few costs left to cut.
Miscellaneous - Unlike Apple (NASDAQ:AAPL), Google (NASDAQ:GOOG), or Microsoft (NASDAQ:MSFT), IBM does not have a huge net cash position. It actually has approximately $20B of net debt. Investors looking to increase their exposure to the tech sector should consider another American icon, Microsoft, over IBM. It has a lower valuation (under 7x forward earnings after subtracting net cash versus 11.6x for IBM), pays a higher dividend (3.3% vs. 1.7%) and faster 2013 revenue growth (8% vs. 2%).
Home Depot (NYSE:HD) - The company has been a stellar performer this year as the housing market has started to recover and Home Depot has also benefited from the aftermath of Hurricane Sandy. That being said, the stock is now selling at the very top of its five year valuation range based on P/E, P/B, P/CF and P/S. At the current price level, investors are paying some 18x forward earnings and five times book value for a retailer that is likely grow revenues 5% to 6% and earnings 12% in 2013. This seems steep and the stock also looks like it might be topping at recent levels after gaining more than 50% in 2012 (See Chart).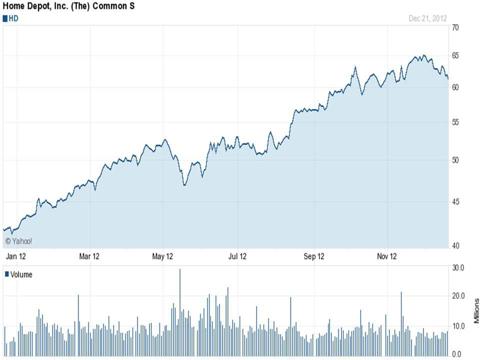 Disclosure: I am long MSFT. I wrote this article myself, and it expresses my own opinions. I am not receiving compensation for it (other than from Seeking Alpha). I have no business relationship with any company whose stock is mentioned in this article.