Long the darling of emerging market bulls, Brazil is now struggling to cope with slowing global growth, particularly from the slacking demand of China for its resources. But in the midst of this, the South American nation seems to have overextended itself in terms of credit expansion and public indebtedness. Brazil's lunge forward might have to reconcile with a step or two backwards.
Since 2006, the Brazilian Treasury has flooded its government-controlled banks with over $390 billion. This will continue, as finance minister Guido Mantega announced the release of an additional $100 billion in 2013 to BNDES, Brazil's development bank.
Mantega, former chairman of that bank and long-time Workers' Party functionary, has largely been responsible for these transfers. A self-styled "social-developmentalist" and reputed to have coined the phrase "currency wars," Mantega holds no punches. Appointed by former-President Lula da Silva, he has been a vocal critic of Federal Reserve Chairman Ben Bernanke's quantitative easing policies. Mantega's cavaliering promotion of Brazil during heady times is understandable. But it remains to be seen if the wizard can weather a global slowdown.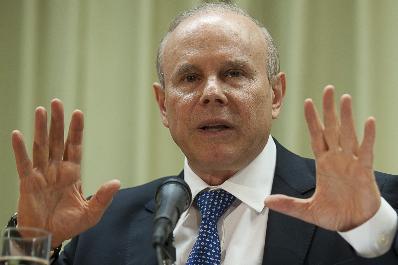 Brazilian critics are noticing divergences. Austin Rating's Luis Miguel Santacreu argued, "the credit is walking in front of the economy, when the ideal is that the two walk together." In the 12 months ending in October, total credit in Brazil grew 16.6 percent, while estimates for GDP for 2012 are around 1 percent. These proportions are in no way sustainable.
Disbursements to state banks have raised concerns among Brazilian economists regarding increased public debt. "If this policy is maintained indefinitely, it may lead Brazil to have solvency problems in the future," said Felipe Salto, analyst at Tendencias Consultoria Integrada. Salto noted that the Brazilian gross debt should end 2012 close to 64 percent of GDP.
On average, emerging countries maintain debt levels around 35 percent of GDP. The advanced economies, whose actions are already limited by this very debt, average 111 percent of GDP. Gauging these rates, it would seem that Brazil is half way between an emerging and advanced economy. But a realistic view would be that Brazil has jumped the gun. Former director of Brazil's central bank, Jose Julio Senna, insists the government must change strategy. "The rise of public credit was acceptable at the time. But today we live in the chronic phase of the crisis, there needs to be another kind of medicine." He added that loans made by private financial institutions tend to be better allocated due to lack of political interference.
This credit expansion and increased public indebtedness are of greater concern given Brazil's woeful third-quarter GDP print. Growth of 0.6 percent from the second quarter halved market estimates of 1.2 percent. Neil Shearing, chief emerging markets economist for Capital Economics, opined, "The really disappointing thing about today's data is that despite all the policy stimulus over the past year, it's clear the economy is still struggling." Others had similar concerns about the ineffectiveness of government policy. "After so much stimulus, investment is even worse than in the second quarter," said Pedro Tuesta, senior Latin America economist at 4Cast. "If investment doesn't rebound, then we are in trouble in 2013."
The surprisingly poor third-quarter GDP sums could reduce inflation estimates from present levels and encourage Copom, the central bank's monetary policy committee, to increase stimuli. Itau's Chief Economist Ilan Goldfajn believes that Copom will cut interest rates next year, as long as other factors are maintained, particularly the exchange rates for the Brazilian Real. But Copom's hands could be tied by pressure on the Real.
There seems to be greater political sentiment to devalue the Real. President Dilma Rousseff said the government was "looking for an exchange rate that is not this one, with a devalued dollar and an over-valued real." There is great temptation to inflate the Real in an effort to bolster manufacturing competitiveness, which has suffered during the global slowdown. The rhetoric of "currency wars" might subside now that Brazil's resources have less demand. Minister Mantega was adamant that the government will maintain its 4 percent growth estimate for 2013. This could certainly be achieved on paper through devaluation, but it is highly unlikely in real terms.
Given that credit expansion and increased public indebtedness are not synchronous with Brazil's macro data and revenues, corrections can be anticipated. iShares MSCI Brazil Index (NYSEARCA:EWZ) is perhaps the most convenient instrument to implement a Brazil strategy. This fund, which trends inversely to the USD/BRL rate, is liquid and has reasonable option spreads.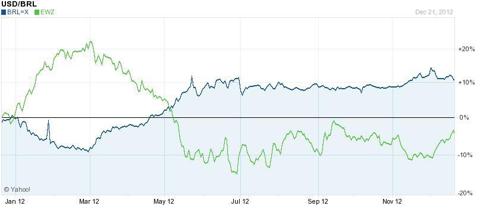 Click to enlarge
While Brazil's gains over the past decade have been impressive, there are doubts that its model can be sustained through lean times. Without clear indications of global economic improvements, Brazil should be viewed with caution as an investment possibility. Mantega is a political realist. If he jumps ship or is forced to walk the plank, then look out.
Disclosure: I have no positions in any stocks mentioned, and no plans to initiate any positions within the next 72 hours. I wrote this article myself, and it expresses my own opinions. I am not receiving compensation for it (other than from Seeking Alpha). I have no business relationship with any company whose stock is mentioned in this article.