I'm searching for good investments to make in 2013. In this article we'll take a look at Altria (NYSE:MO). Altria's financial performance is being driven by increased product prices and expense management. That said, given the recent decline in the valuation, investors should consider taking a long-equity position.
Net revenue for the nine months ending September 30, 2012 increased 4 percent compared to the year-ago period mainly driven by product price increases. Operating income increased 16.5 percent as outlays were managed effectively. Net income increased 20.4 percent to $3.1 billion as the provision for income tax declined 11 percent.
The book value of equity increased to $3.9B from $3.7B as cash declined from $3.3B to $2.2B.
The firm expanded the share repurchase program by $500 million. The expanded share repurchase program should be completed by the second quarter of 2013. During the third quarter, the firm spent $262 million repurchasing shares. The firm has about $550 million remaining under the expanded share repurchase program.
When the firm reports earnings in the fourth quarter, there is the chance of an asset write-off. The firm compares the current expected income discounted cash flow valuation to the expected income discount cash flow valuation at the time of purchase.
Third-quarter diluted EPS decreased 43.9 percent to $0.32. Adjusted for special items, EPS increased 3.6 percent to $0.58. The firm reaffirmed 2012 full-year adjusted diluted EPS guidance growth to be in the range of 7 percent to 9 percent. The dividend increased 7.3 percent.
The cost management program should reduce spending by an annualized $400 million by the end of 2013. The remaining $25 million restructuring charge should occur in the fourth quarter of 2012.
The firm plans to continue to pay roughly 80 percent of adjusted diluted EPS in dividends.
The company lowered coupon payments by issuing lower rate debt and repurchasing higher coupon rate debt. Roughly $2B of debt was retired and about $3B was issued.
Unadjusted diluted EPS is expected to grow 24 percent to 26 percent. Adjusted diluted EPS is expected to grow 7 percent to 9 percent.
Third-quarter reported diluted EPS decreased 43.9 percent because of the loss on the early extinguishment of debt. For the first nine months of the year, diluted EPS increased 22.8 percent.
If you exclude the early extinguishment of debt charge, diluted EPS increased from $0.57 to $0.60 in the third quarter of 2012 compared to the year-ago quarter.
The discount brands are driving the growth in smokeable products shipment volume. Clearly, declines in shipment volumes were offset by higher prices as net revenue from smokeable products rose.
Smokeless products net revenue increased on higher shipment volumes.
I think Altria is making a mistake not entering the electronic cigarette market. There are smokers converting to electronic cigarettes and brand loyalties should develop. By not entering a market that is, in my opinion, going to be the main form of cigarette consumption, Altria risks losing market share to competitors. Specifically, Lorillard and its Blu Electronic Cigarette could take substantial market share from Altria.
The biggest challenge facing Altria is litigation. While the firm has taken steps to reduce potential financially impinging legal risk, a major portion of cash flow is generated from the sale of tobacco products. Thus, Altria investors remain exposed to the potential adverse impact of litigation.
Technical Analysis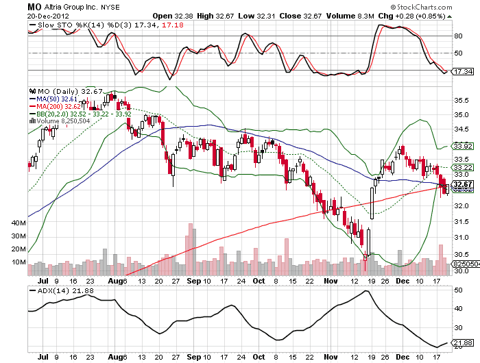 Shares of Altria are trading near the declining 50-day simple moving average: the intermediate-term trend is towards lower prices. Shares are trading above the rising 200-day simple moving average: the primary trend is towards higher prices. The share price of Altria is in consolidation mode as the 14-day slow stochastic reaches the oversold zone. From a technical perspective, you could get long for a re-test of the $36-share zone. Initial risk is at the $29 level. The potential profit target is the $40-share zone.
Disclaimer: This article is not meant to establish or continue an investment advisory relationship. Before investing, readers should consult their financial advisor. Christopher Grosvenor does not know your financial situation and ability to bear risk and thus his opinions may not be suitable for all investors.
Disclosure: I have no positions in any stocks mentioned, and no plans to initiate any positions within the next 72 hours. I wrote this article myself, and it expresses my own opinions. I am not receiving compensation for it (other than from Seeking Alpha). I have no business relationship with any company whose stock is mentioned in this article.