Parking Drilling Co (NYSE:PKD) last reported earnings on November 1st. The company earned an adjusted 10 cents per share, in line with analyst estimates and down from 18 cents per share for the same period a year ago. Revenues were $165.3 million, down from $176.6 million last year. Results benefited from increased drilling activity in the Gulf of Mexico and were hurt by a modest slowdown in US land drilling that impacted Parker's tool rental segment.
Since the earnings announcement the company has commenced drilling operations with the first of two Arctic Alaska Drilling Units. Furthermore the company remains on schedule to begin acceptance testing of the second AADU in 2013. This is a positive for the company to see this project near a successful completion. However in the short term the company expects testing of these rigs to generate losses in the US drilling segment for the remainder of the year. The arctic drilling rigs are expected start earning operating revenue next year and are under contract with BP plc (NYSE:BP) for five years. Parker Drilling hopes to continue to work with BP to further develop this technology to drill in this environmentally sensitive and harsh arctic region.
Earlier this year Parker drilling hired new CEO Gary Rich from Baker Hughes Incorporated (NYSE:BHI). Mr. Rich was most recently vice president of global sales for Baker Hughes and prior to that he served as president of Baker Hughes' European operations. Parker believes his deep experience in nearly all aspects of the oil and gas industry make him the right choice to lead the company. He stated his first two priorities for the company are getting the AADUs working in Alaska, and improving international fleet utilization. Mr. Rich is executing well on the first priority as he remains right on schedule with the completion of the AADUs. Improving international utilization will be an important step in moving the company forward. For many quarters now the company has seen very low rig utilization in the international segment, for example this quarter's utilization rate was 45%. The first step Mr. Rich has taken to improve the international segment is to sell two international rigs currently in Kazakhstan.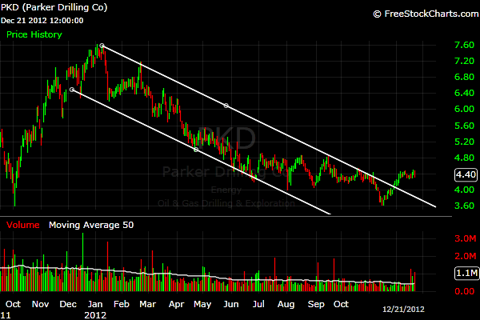 Parker has been in a sharp downtrend throughout the year and has fallen over 38% in 2012. However Parker appears to have bottomed about a month ago near $3.60 per share. I believe this bottom could mean it is time to buy Parker Drilling. However I would wait for the stock to pull back some and hopefully find support just above $4 per share. I believe new leadership at Parker will help this company focus on improving efficiency and becoming more operationally successful.
Data sourced from: Company filings, and Yahoo!Finance. Chart from: Freestockcharts.com
Disclosure: I have no positions in any stocks mentioned, and no plans to initiate any positions within the next 72 hours. I wrote this article myself, and it expresses my own opinions. I am not receiving compensation for it (other than from Seeking Alpha). I have no business relationship with any company whose stock is mentioned in this article.