On Friday December 21st, Ned Davis Research's Neil Leeson calls coal his "sleeper pick" for what seems to be a stronger 2013, based on hopes for a demand pickup in emerging markets; China in particular has strategists convinced of stronger growth next year. If it all comes together, coal is a banged-up sector that would benefit, Leeson says, bringing the battered Market Vectors Coal ETF (NYSEARCA:KOL) with it. If the demand for coal can demonstrate a significant increase during 2013, one company in particular could present a very interesting growth proposition.
Arch Coal (ACI), based in Saint Louis, Missouri, Arch Coal currently "engages in the production and sale of steam and metallurgical coal from surface and underground mines located in the United States. The company also possesses long-term leases. The company also sells steam coal to power plants and industrial facilities, and metallurgical coal for use in steel production worldwide". (Yahoo! Finance)
Fundamentally speaking shares of Arch Coal have fallen 52.00% on the year, carry a market cap of $1.55 Billion and currently trade at 1.95% premium to their 50-DMA and a 6.87% premium to their 200-DMA. It should also be noted that ACI also reduced its dividend from $0.11/share in March to $0.03/share in May, and if profits continue to falter another reduction or temporary suspension could occur.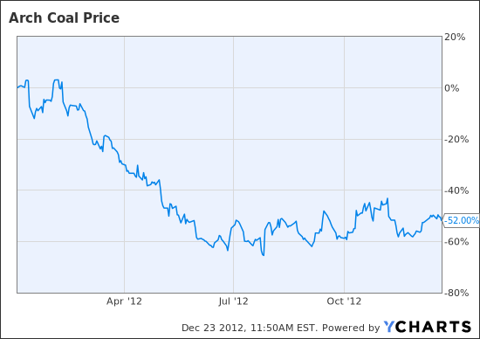 In my opinion there are three key catalysts to consider when it comes to Arch Coal. First and foremost the company will benefit from an improved thermal coal market. According to Jefferies, ACI will benefit from an improved thermal coal market next year because of declining inventories and a more competitive pricing environment. Peter Ward, an analyst at Jefferies, noted to investors that "production cuts made by companies this year should result in smaller inventories of thermal coal, which is used as a fuel by utilities and other companies. That should lead to better coal prices and a stronger coal stock performance". If production cuts do in fact occur, and inventories are reduced, prices will rise and shareholder value will increase. According to John McCoy, "Rising natural gas prices should help increase demand for thermal coal this winter, and increased demand for steel should in turn help increase demand for metallurgical coal".
The second of the three catalysts to consider comes in the form of the company's most recent debt offering. On November 21st it was announced that the company has closed on its previously announced $375 million senior unsecured notes offering and $250 million incremental secured term loan. According to John Eaves, President and CEO of Arch Coal, "This plan provides Arch with excess liquidity in case the current market weakness lasts longer than expected, and adds long-term, pre-payable debt to help the company achieve its de-levering goal as markets recover". As coal markets are expected to improve by early 2013, the company's plan to de-lever itself may in fact be accelerated and as a result shareholder value could also improve.
The last of the three catalysts deals with the company's earnings over the next six to twelve months, which I think is going to be a crucial time for the company's shareholders and potential investors. Why? I believe quarterly results demonstrate an element of sustainability and if the company can continue to build on its third quarter numbers things could be headed in the right direction.
On October 26th the company reported Q3 EPS of $0.20/share which beat estimates by $0.36/share, and also announced Q3 revenue of $1.09B which surpassed estimates by $80M. For the fourth quarter analysts are expecting ACI to post a loss of -$0.15/share in revenue of $1.0 billion, which seems a bit conservative consider the company's beat on both the top and bottom lines last quarter. If ACI can beat estimates by an average of at least 10%-15% in terms of EPS and by at least 5% over the next four quarters I see no reason why share should be trading above the $9/share mark.
Negative Catalysts
Are there any negative catalysts to consider before establishing a long-term position in Arch Coal? Sure there are, and the main concern for not only the coal mining sector but for names like Arch Coal, James River Coal (JRCC) and Alpha Natural Resources (ANR) deal with 2013 production guidance.
On October 26th, ACI said that it believes "global coal markets are in the process of correcting - with the domestic thermal market building some momentum while metallurgical markets are bottoming out". If the markets fail to correct themselves and such things as the domestic thermal market miss growth expectation the entire sector could begin to experience a near-term sell-off of at least 10%-15%.
Final Analysis
For potential investors looking to establish a position in Arch Coal, I'd take a closer look at the company and keep in mind the primary goals and catalysts moving forward. Given the fact that Arch Coal seems to be making considerable strides, I'd look to establish a small to medium position at current levels and add to that position once future developments are announced.
Disclosure: I am long ACI, JRCC. I wrote this article myself, and it expresses my own opinions. I am not receiving compensation for it (other than from Seeking Alpha). I have no business relationship with any company whose stock is mentioned in this article.