Even though Baidu, Inc. (NASDAQ:BIDU) is far from its all time high price, it has managed to outperform the Shanghai Composite over the last two years. And given its current valuation and growth prospects, it is likely to be one of the main beneficiaries of the recovery of the China stock market. The Shanghai Composite gained ground recently, and we are now looking for further signs of improvement. The index rose 10% since bottoming in late November, on signs of China's recovery gaining momentum. Industrial output and retail sales growth hit 8-month highs in November, as industrial output rose 10.9%, and retail sales were up 14.9% over the same period last year.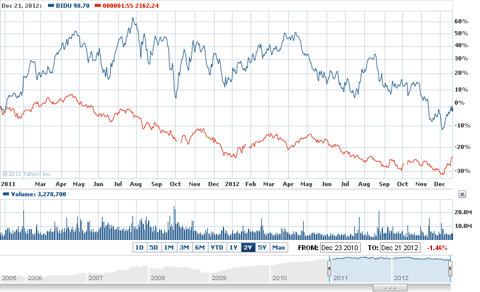 Source: Yahoo Finance
Baidu was the leader of two previous bull market cycles, with price, earnings and sales surging. However, there is clear evidence of growth slowing down, but the earnings multiples are already deflated below the projected growth levels. Trailing PE is 22.33, forward PE is 16.40, and the PEG ratio is a very low 0.54, according to Finviz. EPS and the sales growth rate for the previous five years were 85.64% and 76.87%, respectively. Projected 5 year EPS growth rate is 41.89%.

Source: StreetInsider and Yahoo Finance
Revenue and EPS increased 51.92% and 63.10% respectively in the most recent quarter. EPS is slated to rise 36.84% and revenue 40.56% in the fourth quarter of the year. Return on Equity is a very high 53.50%. The company also has low debt levels, and a substantial cash and short-term investments position.
There are some issues that are to be noted, and they are well explained in this article: Heightened Risks Could See Baidu At $70. My main concerns are these two:
1. SEC and audit risk, since many of the stocks from China face delisting from the US exchanges, and auditors from China face scrutiny. However, it is less expected for such a large company to have accounting issues, but it would not be unusual, as lot of unexpected things happen.
2. Qihoo 360 Technology (NYSE:QIHU) entered the search engine market this year, and grabbed a significant starting market share. On the other hand, that market share was taken from Google (NASDAQ:GOOG), and Baidu's market share actually increased recently, from 58% to 61%, while Qihoo's share decreased from 9.4% to 9.1% in October compared to a month earlier.
In the October conference call, Chairman and CEO Robin Li noted a few things:
1. Mobile traffic is continuing to surge, and the company is investing aggressively to cement leadership with users. The company is also working very hard to close the mobile monetization gap, but Mr Li noted that this will inevitably involve a period of transition.
2. The company achieved record net customer adds of 38,000 in the last quarter, which is a 28% customer growth year over year.
3. The company managed to bring in more traditional advertisers, from sectors like food and beverage, cosmetics and retail.
4. The China online video industry is enjoying rapid growth, and iQiyi is to benefit from that trend. Monthly user time spent increased by over 100% year over year in August, and iQiyi has established itself firmly as a premier player in the market. Monthly unique visitors reached 407 million in Q3 compared to 250 million in a quarter earlier.
5. Mobile and cloud products. Baidu has rolled out Seven Weapons, which will enable developers to build, distribute, manage, store and optimize their apps on the Baidu cloud platform. There are over 100,000 developers registered on the Baidu platform, and the company expects that as more of them come aboard, Baidu cloud users will increase exponentially.
Price of the stock remains in a downtrend for now. The stock rose to the 50 day moving average, and has not managed to close above it since late August this year. That level serves as strong resistance at the moment.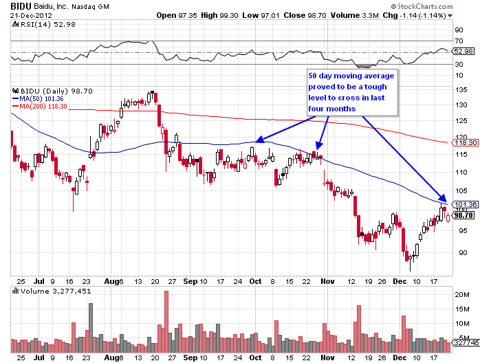 Source: stockcharts.com
Summation
Baidu offers very nice growth prospects and is deeply undervalued, taking into account those prospects. With a long-term projected EPS growth of 41.89%, trailing PE of 22.33, forward PE of 16.40 and PEG ratio of 0.54, it presents a compelling valuation. However, we should look for further evidence of the Chinese economy and stock market recovering, and the stock itself to get better technically. The stock is likely to lead the recovery for the Chinese stock market.
Disclosure: I am long QIHU. I wrote this article myself, and it expresses my own opinions. I am not receiving compensation for it (other than from Seeking Alpha). I have no business relationship with any company whose stock is mentioned in this article.