The Fed's announcement of $45 billion per month in unsterilized quantitative easing on December 12th was marked with a couple of odd responses to what was obviously the most inflationary piece of news to come out of the Fed since the announcement of QE2 in 2010. The most telling counter-intuitive move was the swift rise in 10-Year TIPS yields which moved from -87% to -66% in just 7 trading days (12/10/2012 to 12/19/2012). I watch the 10 Year TIPS yields to get the surest signal of the day-to-day inflation bias of bond and currency traders.
So, TIPS yields were rising along with long-dated bond yields - the iShares Barclay's 20+ Year Treasury Bond ETF (AMEX:TLT) dropped 3.2% over that same period - sending a signal out of phase with the rest of the market. Bond prices fell and the equity markets rose - the SPDR S&P 500 Trust ETF (AMEX:SPY), while volatile, gained 1.27% -- which is normal and consistent with market expectations for QE. So, what was up with the TIPS market? And why did Gold - and the SPDR Gold Trust ETF (AMEX:GLD) by proxy -- get shellacked by more than $100 since the QE 4 announcement?
The answer a lot of people want to default to these days is manipulation. I'm not averse to saying that the Gold market is being leaned on by the Fed and its proxies, but the uglier truth than Fed manipulation of the price of Gold is that as the U.S. approaches this so-called fiscal cliff, markets are under a lot of pressure to resolve issues before the end of the calendar year, and will not react normally because of it. And simply put, the 10-year TIPS has been a good investment this year. Long-term inflation expectations have been rising all year.
The 10-year TIPS started 2012 yielding a very mild -0.04% and with the QE 4 announcement was yielding, as I said previously, -0.87%. That's some serious DV01 gains for the banks' Tier 1 capital reverse ratios and excellent returns for fixed income investors in a zero-interest rate environment. With the fiscal cliff looming and likely higher capital gains taxes coming with it, it makes sense for some year-end profit booking and raising cash to be on the safe side in case the politicians in Washington D.C. do not sort things out.
The same goes for Gold and leaning on gold is made easier when the TIPS market is signaling deflation. But, that said, anyone calling for the end of the gold bull market over this move back to $1640 with TIPS yielding -0.7% and the Fed adding more than $41 billion in new credit last week - the 2nd highest weekly credit injection into the market since June 2010 - should really have his head examined. Since QE 2 ended in June 2011, the Fed has held total Fed Credit between $2.78 and $2.92 trillion dollars. The current number, as of 12/19/2012, is $2.899.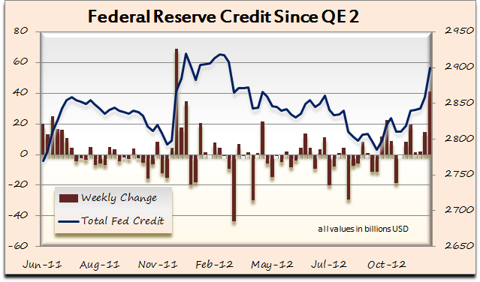 In my mind, the Gold bull market will resume once this number goes over $2.92 trillion. It took just a few weeks of The Fed injecting that kind of credit into the system to boost Gold from $1525 to $1800 in two-and-a-half months - and that credit was being sterilized. The new stuff isn't. There will be balance sheet expansion along with new record levels of credit sloshing around.
If you want further inflation signs that are a little more transparent and a lot less technical, how about a rundown of last week's closes in the currency and commodities futures markets:
Let's start with Cattle Futures and a closing price of $133.64 on the February contract, which was just $0.10 below the high for the week. Last week, prices cleared the February high but could not put in a higher closing price -- $130.36 versus $130.89 (week of 2/18). This week, however, they opened above last week's close at $130.41 and put on another $3+ before the end of the week and have a high probability of adding to that before year end.
Then there's the EUR/USD cross which put in a weekly close above the quadruple top at $1.317, closing at $1.319. This is the highest weekly close since the week of 4/21, and represents, in my opinion, a major breakout from a 3-month consolidation that began after the QE3 announcement in September. If you want a reason why this is happening regardless of what most of the U.S. financial press will tell you it's as simple as this. Unsterilized QE is more inflationary than the E.U.'s sterilized O.M.T. - which for all intents and purposes has not even been used yet. Spain and Italy still have not asked for a bailout. Whatever is left of the problems in Greece can be dealt with much more easily now that the ECB has greater authority to deal with the problem and placate bond holders. Hence, capital can flow out of the U.S. Dollar (and Gold, by the way) and into the Euro.
The Euro is not fundamentally strong but it is, at this point in time, built on a slightly more buoyant pile of quicksand than the U.S. Dollar. This weekly close clears a path to challenge the pre-Greek election top near $1.35. I'd be a buyer of the CurrencyShares Euro Trust ETF (AMEX:FXE) here, but only for a play to $1.35. The path to the $1.40 or $1.50 on the EURUSD will not be a straight line like it's been for the past 6 months.
In the end, I believe that the U.S. Congress and President Obama will come to an agreement on a plan to avoid the Fed's worst nightmare. The Fed has done its job by providing the funds needed to monetize most of 2013's deficit -- when one factors in the $40 billion per month in MBS buying that is ongoing. This will free the banks up to buy enough Treasury bonds to keep the lights on in Washington until fiscal 2014, at which point, the whole process begins anew. And that is the most inflationary signal of them all.
Disclosure: I have no positions in any stocks mentioned, and no plans to initiate any positions within the next 72 hours. I own physical gold. I wrote this article myself, and it expresses my own opinions. I am not receiving compensation for it (other than from Seeking Alpha). I have no business relationship with any company whose stock is mentioned in this article.