Valassis Communications, Inc. (NYSE:VCI) is a consumer-driven, future-focused media company. Since George Valassis founded the company more than 40 years ago, Valassis Communications' focus is to deliver savings to consumers on behalf of advertisers looking for an exceptional return on investment. Today, VCI delivers through its RedPlum Media Portfolio, including newspaper, in-the-store display, and online. The media sector is not poised for strong growth for 2013, but VCI offers solid fundamentals with improving cost structure and has an edge in Internet media by focusing on delivering savings to users and high investment returns to advertisers.
Basics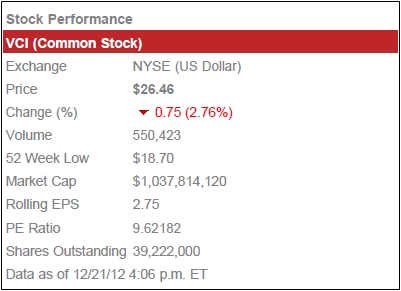 Source: Valassis Communications Website
Major Revenue Models
RedPlum's media portfolio delivers value on a weekly basis to over 100 million shoppers across a multi-media platform, in-home, in-store, and in-motion. The digital offerings include redplutm.com and save.com, where consumers can find compelling national and local deals.

Shared Mails and Variable Data Postcard
This product combines individual promotional inserts from various advertisers including national and local grocers, restaurants, specialty stores and more into a single shared mail package. By delivering through the U.S. Postal Service, it reached approximately 70 million U.S. Households weekly. Valassis enables advertisers to select areas they want to service and distribute and different versions of the targeted advertisements can reach their desired consumers. Shared mails segment contributes to more than 63% of VCI's revenue and 88.8% of profit for the last reported quarter ending on September 30, 2012.
Variable data postcard is the latest innovation and offering to the shared mail customers, where the personalized direct mail postcard is delivered on top of the shared mail package. This gives advertisers high visibility, targetability and measurability.
Inserts, Run-of-Press, and Sampling and Direct-to-Door
Valassis won 9 Gold Ink Awards in 2011 and was recognized for excellence for printing. Inserts provide clients with print and media placements in solo insert format, as well as specialty print promotion products in various customized formats. Run-of-Press service allows clients to run their promotional advertising directly on the pages of newspapers in VCI's network of over 15,000 publications. This service is attractive for last-minute clients due to its short lead time and broad reach. Lastly, the targeted newspaper-delivered and direct-to-door sampling products offer manufacturers the ability to cover 60 million U.S. households. Direct-to-Door programs can be targeted at radios, ZIP or block group level and reach up to 53 million homes.
Co-op Free-Standing Insert
RedPlum booklets were printed at VCI's own facilities, which were then distributed through newspapers and Shared Mail. As of September 30, Free-Standing Inserts generated $72.2 million revenue, which was 1.8% less than in 2011. The profit, however, improved to $7.6 million in 2012 from a loss of $0.8 million in 2011.
International Digital and NCH Marketing Services
Digital products are offered through Online Display Ads, which can effectively reach consumers with flexible advertisement formats and rich media including video and mobile ads. In 2011, VCI introduced a new proprietary secure print technology, making it even easier for consumers to print coupons from redplum.com and across the Internet including the RedPlum network of over 6,500 websites, blogs and social media links. As quoted from VCI's annual report,
"Valassis' coupon-to-card/ID functionality, delivered via our award-winning proprietary technology platform, provides advertisers access to the largest digital coupon retailer network capable of reaching over 140 million retailer loyalty cardholders across 45 retail banners and 12,000 stores nationwide."
VCI's main websites are redplum.com and save.com. According to Alexa ranking,
"Redplum.com is ranked #14,362 in the world according to the three-month Alexa traffic rankings. The fraction of visits to the site referred by search engines is approximately 5%. The site has a relatively good traffic rank in the cities of Phoenix (#1,242), Tampa (#1,614), and Philadelphia (#1,759). Save.com has a three-month global Alexa traffic rank of 317,218. It has a relatively good traffic rank in the cities of Santa Barbara (#5,860), Wilkes Barre-Scranton (#6,648), and Cincinnati (#7,530)."
Latest Revenue Breakdown
Compared to 2011, VCI's 2012 quarter result ended September 30, showed a -0.9% revenue decline and 20.2% profit increase. Only the shared mail segment achieved 0.3% revenue growth and all other segments recorded declining sales. The segment profits were improved for shared mail and free-standing inserts segment, were more than enough to offset the profit decline in neighborhood targeted and international, digital media and services segments.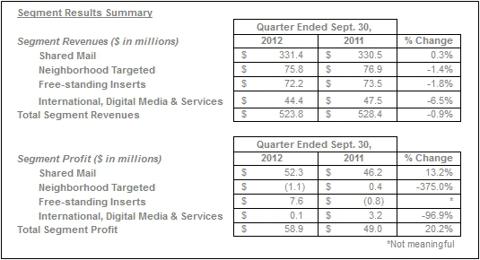 Source: Valassis Q3, 2012 Report
Highlight for Q3, 2012 Earnings Report
Third quarter 2012 net earnings were $36.7 million, an increase of 33.5% from $27.5 million in the prior year due to previously announced cost reductions and a favorable income tax adjustment resulting from the expiration for certain tax reserves. Third-quarter 2012 diluted EPS was $0.90, an increase of 55.2% from $0.58 in the prior year quarter due to improved earnings coupled with a lower share base as a result of share repurchases. Third-quarter 2012 adjusted EBITDA was $75.2 million, an increase of 7.7% from $69.8 million in the prior year quarter.
Investors need to note that Q3 2012 SG&A costs were down 8.8% compared to the prior year quarter due to restructuring and other cost reduction that took place at the end of the second quarter. $21.2 million or 0.8 million shares of common stock at an average price of $25.34 per share were repurchased by the company. Year to date, VCI had repurchased $87.1 million, or 4.1 million shares of our common stock at an average price of $21.08 per share under a stock repurchase program.
VCI also recently declared a quarterly dividend, which is scheduled for Tuesday, January 15th. Investors of record on Monday, December 31st, will be given a dividend of $0.31 per share. This represents a $1.24 dividend on an annualized basis and a yield of 4.51%. The ex-dividend date of this dividend is Thursday, December 27th. This is an increase from Valassis Communications' previous quarterly dividend of $0.09.
2012 And 2013 Guidance
For 2012, VCI reiterated the full-year 2012 diluted EPS guidance of $2.98 and capital expenditures of between $20 million and $22 million. The management was restating the guidance for adjusted diluted EPS to $3.11 (previously $3.23) to exclude the impact of the favorable income tax adjustment of $0.12 previously disclosed in the third quarter earnings release.
For 2013, VCI is expecting diluted EPS of $3.50, calculated based on an estimated 39.7 million in weighted average fully diluted shares outstanding for the year ending December 31, 2013. The 2013 guidance also includes the expectation of adjusted EBITDA of approximately $315.0 million and capital expenditures of approximately $25 million, primarily for our digital business and process improvements. As stated by Robert Mason, Valassis President and Chief Executive Officer,
"We are confident that the actions we have taken throughout 2012 have set the stage for growth of both revenue and diluted EPS in 2013. Our commitment to driving shareholder value will be enhanced through an expected combination of improved earnings, continued stock repurchases, a thoughtful approach to capital expenditures and the adoption of a cash dividend policy."
Management Change
Alan f. Schultz retired as President and CEO in 2011 after 27 years of service. Mr. Schultz remains Chairman of the Board. Richard P. Erick also retired as Executive Vice President, Strategic Initiatives, at the end of 2011 after over 33 years at Valassis.
Robert Mason, VCI's President and CEO, is a long-time veteran in the media business and had held a variety of positions within the newspaper and printing industries before joining Valassis in 1995. Mr. Mason has been President and CEO since January 2012. Prior to that, he served as Executive Vice President, Sales and Marketing, since January 2011. He served as Chief Sales Officer from January 2008 until January 2011. Mr. Mason has a strong background in sales and marketing and should be a positive driving force to lead the company into rapidly changing the digital media business environment.
Key Stats Comparison And Valuation
By using the data compiled from Morningstar, VCI's key stats will be compared to its peers, including News Corporation (NASDAQ:NWS) and Harte-Hanks, Inc. (NYSE:HHS). The industry average had a -2.4% revenue growth (3 year average) and VCI managed to hold relatively better with a -2.1% decline. VCI has demonstrated higher operation efficiency with a 9.4% operating margin, ttm, and 5.5% net margin, ttm, which are both higher than the industry averages of 7.3% and 1.0%, ttm, respectively. VCI also generated stronger ROE of 25.6, comparing to the average of 4.0, with a healthier debt-to-equity of 1.2, as compared to the average of 4.3.
VCI currently has a market cap of $1.04B and an enterprise value of $1.55B. VCI has total cash of $90.34M as reported in the most recent quarter. The book value is $11.88. VCI has an operating cash flow of $188.24M with a levered free cash flow of $167.48M.
VCI has a P/E of 9.6, which is lower than the industry average of 93.5, S&P 500 average of 15.1, but higher than VCI's 5 year average of 7.1. VCI's P/B of 2.2 and P/S of 0.5 are both lower than the industry averages of 5.0 and 0.8. The P/Cash Flow of 6.1 is also lower than the industry average of 7.0, as seen from the table below. VCI currently has a Forward P/E of 7.1, which is lower than the S&P 500's average of 14.2. The PEG ratio is 0.5. VCI is under-valued compared to its peers.

Source: Morningstar, Inc.
Analysts Calls
On December 21, Zacks lowered VCI from an outperform rating to a neutral rating with $29.4 target price. On December 17, JPMorgan reduced its rating on VCI from Overweight to Neutral while reiterating its previous $30 price target. As noted by JPMorgan,
"We are downgrading shares of VCI to Neutral from Overweight following strong outperformance YTD and this quarter (up 41% YTD and 10% QTD vs. S&P +15% YTD and -1% QTD). We continue to find valuation attractive at 8x our 2013 EPS and a 16% FCF yield, and believe its recently introduced dividend-yielding 4.6%-provides a good base to the stock while supplementing a healthy buyback. However, with the company's favorable capital allocation now established and 2013 earnings guidance set for modest EBITDA growth, we believe shares lack a near-term catalyst."
Downside Risks
While most of the VCI's EPS growth came from cost reduction and profit growth from shared mail segment as last reported, the upside on EPS growth for 2013 could be capped by the economic growth. While global ad expenditure growth is forecast to strengthen over the next two years, rising from 3.8% in 2012 to 4.6% in 2013 and 5.2% in 2014, the US will only contribute 29% of advertisement spending growth between 2011 and 2014. As reported by ZenithOptimedia,
"Developing markets to contribute 59% of adspend growth between 2011 and 2014, and increase their share of global adspend from 33% to 36%. The Internet's share of expenditure to rise from 16.0% in 2011 to 21.4% in 2014, exceeding 30% in seven markets."
While global ad expenditure growth is expected in the low single digits for 2013, VCI's earnings growth could be greatly impacted or decline if the economy goes even more sluggish than expected or if the near-term fiscal cliff cannot be averted. VCI also needs to expand continuously into Internet media and enhance its revenue and profit contribution from that segment, which recorded declined revenue and profit in the last reported quarter.
Conclusion
With improving cost structure, continued share buyback and a diversified media products offering, VCI continues to enhance shareholder value and is a solid investment candidate for investors who are interested in the media sector. VCI is also under-valued compared to its peers and consistently generates positive cash flow with an attractive 4.69 dividend yield. In the near-term, VCI lacks a strong catalyst to boost its share price with an expected low ad spending growth in 2013, but should be a safe harbor for media investors who are comfortable collecting the dividend while waiting for US ad spending to improve.
Disclosure: I have no positions in any stocks mentioned, and no plans to initiate any positions within the next 72 hours. I wrote this article myself, and it expresses my own opinions. I am not receiving compensation for it (other than from Seeking Alpha). I have no business relationship with any company whose stock is mentioned in this article.