Last week, Mohawk Industries (NYSE:MHK) finally announced the acquisition of Marazzi Group, the fifth largest producer, in volume, in the ceramic tile industry. The combination of Mohawk's existing ceramic tile division, Dal Tile, and Marazzi Group creates the largest ceramic tile company in the world as far as revenues.
The first rumors about the deal spread out about one month ago, when the Italian financial magazine "Il Mondo" reported that advanced negotiations were in the works (link, in Italian). Seeking Alpha was the first English speaking source to talk about the deal, also supplying added information about the acquisition target, soon followed by Reuters and other news feeds.
The market reacted positively to the acquisition, and the stock gained 4.88% on Friday, on a down day for most securities.
The most popular flooring product in the world
Currently, about 9% of U.S. flooring consumption (in value) is made of ceramic tiles, a much lower percentage than in most other nations around the globe. The average for Western Europe is roughly 30%, and countries like Italy reach numbers in excess of 60%. Ceramic tile use is also very significant in Central and South America.
While it may be difficult for the average U.S. consumer to realize it, ceramic tile represents the most popular flooring product in the world, with expected annual growth in the 5% to 6% range for the next few years.
Of the top six U.S. producers, four used to be owned by Italian companies (Marazzi USA, Florida Tile, part of PanariaGroup, Florim USA and StonePeak Ceramic), while Dal Tile and Crossville are U.S. based. Italy has historically dominated the sector, and remains at the forefront of technical and design innovation.
Shedding some additional light on Marazzi Group and the Italian Ceramic Tile Industry
Marazzi enjoyed a tremendous revenue increase from 1994 to 2007, which was a clever combination of organic growth and spot on acquisitions.
In general, the ceramic tile industry in Italy was in very good shape in those years, with several companies exceeding EBITDA margins of 15%, and an industry average of 12%, as shown in this analysis dating back to 2004 and highlighting some of the best performers: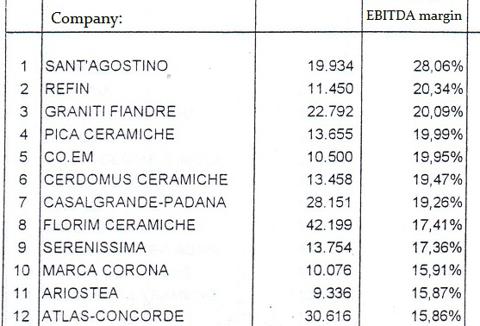 As we will see in a minute, the situation has changed quite dramatically since those years.
Back to Marazzi, here is a summary of their performances throughout the latest years, with added emphasis on their listing and delisting from the Italian stock exchange: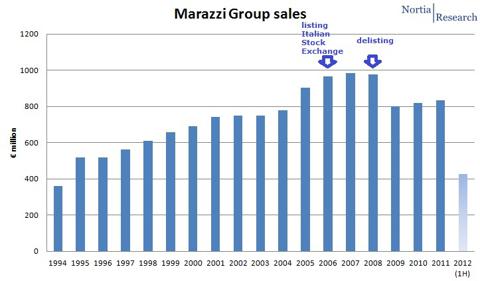 As you may notice, the delisting happened exactly at the time when the economy and world markets started to fall apart and the sector suffered a related crisis, made worse, in Italy, by competition from cheaper sources and overproduction problems.
In 2009 FinTiles (owned by Marazzi family [51%] and Permira & partners [49%]) invested €50 million ($66 million US) to recapitalize the company, that broke some financial covenants with long time supporter Mediobanca.
Since the company went private again, it has been a bit more difficult to dig into Marazzi's data and strategy - however, we'll try to analyze the company's successful evolution, within the industry's crisis.
European Ceramic Tile Industry crisis - some background (2007 - 2010)
To understand better what the Italian and Spanish ceramic tile industry went through in the last few years we need to look no further than the European Community.
In February 2012, the European Commission announced the initiation of an anti-dumping proceeding with regard to imports into the European Union of ceramics originating from China. In November 2012, the EU imposed a provisional anti-dumping duty ranging from 18% to 59%.
Going through the analysis that the European Commission run to impose these duties, we get a clear picture of how the situation for the European industry deteriorated in just a few years.
Let's start with a quick look at how stock, as a percentage of production, increased from 43% to 56% (on average) in just a couple of years: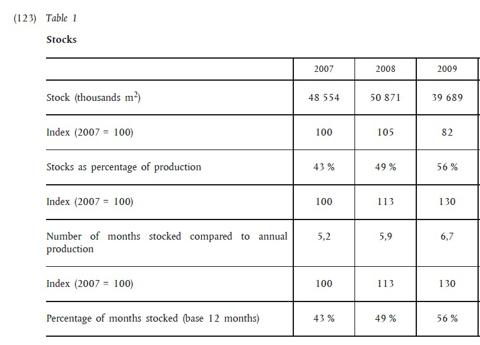 Production in the European Union decreased by 15% over the period considered, more than the decrease in consumption. Employment in the sector decreased by roughly 21%.
Profitability was also at its lowest point in 2010 when the magnitude of the fall reached 4,1 percentage points between 2008 and 2010.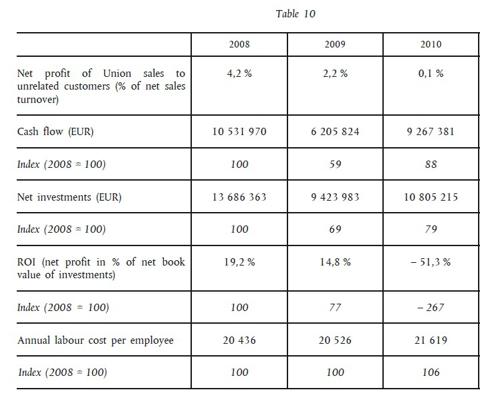 Marazzi Group's evolution - from leadership in Italy, France and Spain to strong presence in Russia and USA
Marazzi Group was selling about 50% of its production into just three major markets (Italy, France and Spain) in 2005. In 2008, the company had already started to move to a more balanced revenue mix: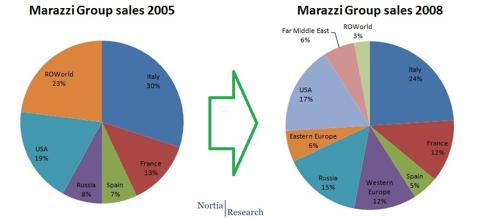 Fast forward to 2012, you would hardly believe we are talking about the same company. In the P/R about the acquisition, Mohawk Industries underlines that Marazzi Group has mainly been acquired for its Russian and US assets:
Marazzi has the number one position in the Russian ceramic market, which is similar in size to the United States. Marazzi operates a unique model that optimizes its total supply chain from manufacturing to distribution to retail. Marazzi operates two manufacturing sites and 21 regional distribution centers. Marazzi owns and franchises more than 300 retail stores that carry only Marazzi products. About 50% of the Marazzi Russian business is sold directly to end users, and the retail advertising done by the stores has created a strong consumer brand. We expect to continue the growth in Russia by expanding company owned and franchised stores, other distribution channels and increasing our geographic reach.

In the U.S., Marazzi's products are sold through independent distributors, home centers and a few company service centers. Leveraging the combined manufacturing expertise, design capabilities and distribution systems, we will enhance our ceramic business.
According to "Il Mondo," over 2/3 of Marazzi s 2012 EBITDA margin will be achieved thanks to its Russian and U.S. assets. During the post-acquisition conference call, Mohawk's management stressed that it expects a decline in revenue, in the short term, related to the European assets. However, while a market recovery may still be a few years away for the European Tile Industry, Mohawk's move to own production plants, especially in Italy, is strategic for many reasons.
Potential synergies
Imported product still represents an important part of Mohawk/Dal Tile presence in the US market. Most of it comes from Italian companies (other than Marazzi), and channel checks indicate that it represents a turnover of several million dollars for the company.
After acquiring Marazzi Group, Mohawk Industries addressed a letter to its partners reminding the important role they play in delivering supply chain services to Mohawk's customers. While it makes perfect sense, at this stage, to maintain these relationships, we believe that, in the longer term, Mohawk will be able to transfer some of these ranges to Marazzi, which is currently far from full utilization of its existing production plants. While a product by product analysis will be necessary, we do not really see major obstacles to the move.
In relationship to some of the Italian acquired assets, it should also be noted that Marazzi Group submitted a €14.5 million ($18.9 million) insurance claim to Assicurazioni Generali for the damages caused by the May 2012 earthquake in Northern Italy. The production plant located at the epicenter of the quake is running smoothly.
Financial impact from the acquisition
The Marazzi acquisition is expected to be funded with roughly $900 million of new debt, $300 million of cash and $325 million of Mohawk stock.
Here is how Fitch commented on the deal:
Fitch expects the company's credit metrics to weaken in the near term due to the debt incurred from the Marazzi acquisition. Debt to EBITDA as calculated by Fitch will be roughly 2.8x on a pro forma basis (including EBITDA from Marazzi and Pergo) for 2012 compared to 2.2x for the latest-12-month ((NYSE:LTM)) period ending Sept. 29, 2012. Fitch currently expects leverage will decline below 2.5x at year-end 2013, assuming full year results of the Pergo and Marazzi acquisitions.

Interest coverage is also expected to weaken to 6.5x-7.0x during 2013 compared with 7.6x for the LTM period ending Sept. 29, 2012.
The rating agency assigned a "BBB-" rating to Mohawk, with a stable outlook, thanks to the company's leading market position in most of its major business segments, strong brand recognition, and end-market diversity.
Conclusion
Although ceramic tiles may not be very appealing to U.S. customers, investors should not make the mistake to understate the strategic importance of Mohawk's move toward becoming the worldwide leader in the sector.
The several synergies possible between the acquired assets and the existing Dal Tile ones, Marazzi's strong presence in Russia and USA combined with its technical capabilities, and the strategic importance of acquiring a physical presence in the key Italian ceramic tile district, where innovative technologies and design trends are launched, are some of the reasons why we believe that the merger could end up being a positive for the company and accretive to its long term value. Execution will obviously be key for a positive outcome of the merger, and a recovery in Western Europe may represent a plus that might push EBITDA margins even higher.
Disclosure: I have no positions in any stocks mentioned, and no plans to initiate any positions within the next 72 hours. I wrote this article myself, and it expresses my own opinions. I am not receiving compensation for it (other than from Seeking Alpha). I have no business relationship with any company whose stock is mentioned in this article.
Additional disclosure: I own shares of PanariaGroup, listed on the Italian stock exchange.