These are tough times for investors who seek a steady source of income. The cash flows coming from their fixed income investments have been impacted adversely as the Federal Reserve continues to keep the short term rates at low levels to stimulate economic growth. Moreover, with the Fed insistent on its plans to keep the rates at these current low levels, investors have no choice but to look elsewhere. One option for them is equity. Even though it is typically more volatile than the fixed income investments, good stocks can compensate for the drop in yields. However, the key is to find the stocks with attractive yields, without taking on too much risk. These would be stocks of high quality, companies with strong balance sheets, operating cash flows and a history of consistent dividend growth. I will discuss three such companies here.
Verizon Communications Inc. (NYSE:VZ)
Verizon provides broadband, video and other wireless and wireline communication services to its clients that include consumers, businesses and governments. The company has the highest coverage in terms of its 4G LTE network, available to more than 250 million people across the U.S. It has a market capitalization of approximately $124 billion and the stock currently boasts a lucrative yield of 4.7%.
Verizon has a history of consistent dividend growth as is visible in the chart below.

Despite the drop in revenues from its wireline segment, the company's wireless segment has shown good growth over the years. This telecom has generated steady cash flows on a consistent basis, which is a positive sign for investors seeking companies with strong operations. Operating cash flows are on an incline and have grown at a 4-year CAGR of 3%. Moreover, Verizon has historically produced cash flows in excess of its capital expenditures and dividend payments, which indicates that the company is well capable of financing the dividends from its operations. Verizon recently raised its quarterly dividend to $0.515 per share.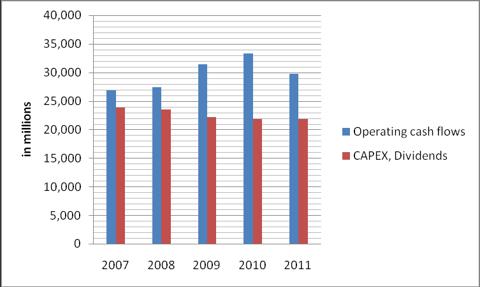 The company has a strong balance sheet, with total assets of over $230 billion, including cash and short term investments of $10 billion. Verizon carries a significant amount of debt on its balance sheet, however, it is a norm for the capital intensive nature of the telecom industry. Moreover, a very healthy interest coverage of approximately 10x suggests that its finance costs are well covered.
Check out my detailed analysis on Verizon Communications Inc. here.
CenturyLink Inc. (NYSE:CTL)
CenturyLink is the third largest telecommunication company in the U.S. with a market capitalization of $24 billion. The company provides a variety of services that include local and long distance voice, network access, broadband and managed hosting services. Through its acquisitions over the years, it has diversified its operations into cloud computing and data center services for enterprise customers. CTL's prism TV has become a popular choice among its subscribers and is proving to be the engine of growth for the company.
CenturyLink, like Verizon, has also consistently returned capital to its shareholders in the form of dividends and share buybacks. Moreover, it has brought about a modest growth in its payouts as well. Currently, it is paying a quarterly dividend of $0.725 per share, higher than Verizon's payout of $0.515 and AT&T's $0.45. In the financial year ended 2011, the company generated $4.2 billion in operating cash flows while incurring $3.9 billion in CAPEX and dividend payments, which signals the comfortable margin of safety for dividend investors. The stock is currently yielding 7.4% which is well covered by its operating cash flow yield of 18%. Operating cash flows have persisted on their upward trajectory with a 4-year CAGR of over 40%.
The company has enough financial strength as reflected in its balance sheet. Debt to equity is high at 102% as of the most recent quarter end, however, it has enough financial flexibility as reflected in its operating cash flows that have shown good growth over the years as well as an interest coverage of almost 3x.
For a detailed analysis on CenturyLink Inc., click here.
AT&T Communications Inc. (NYSE:T)
AT&T is the second largest telecom company in the U.S in terms of subscriber count and the largest in terms of revenue generation. In the year 2011, it reported total revenues of $127 billion. The company is also the industry leader as far as smartphone sales are concerned. In the quarter recently ended, the company sold 6.1 million smartphones which led to an impressive growth in its wireless data and services revenues. AT&T is a $191 billion enterprise with its shares trading near $34.
AT&T is another telecom that has brought about a constant growth in its dividends over a number of years. Even though the growth in dividends is modest, the company has rewarded its shareholders with a yearly hike in its payouts. It currently pays a quarterly dividend of $0.45 per share which has grown by a 5-year CAGR of 2.4%.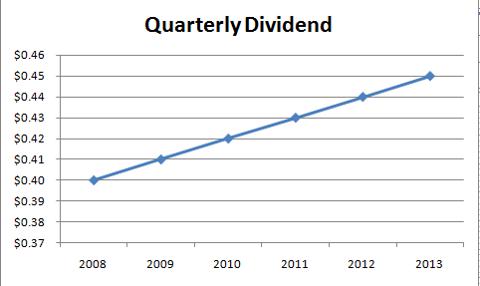 The company's dividend paying capability and sustainability can be judged from the fact that it generated approximately $35 billion in operating cash flows in the year 2011. The company has historically produced cash flows in excess of its CAPEX and shareholder payouts. In the financial year ended 2011, the company was set back by $30 billion in CAPEX and dividends, while it generated operating cash flows of almost $35 billion. The stock currently offers a yield of 5.4% which is well supported by its operating cash flow yield of 18%. This telecom giant has total assets of $270 billion, with cash and cash equivalents of over $2 billion as of the most recent quarter. Debt level is moderate at 63%, with a healthy looking interest coverage of 8x.
Check out my detailed analysis on AT&T here.
In conclusion, the above mentioned names are sound telecom companies with strong operations diversified across various business segments. Despite high payout ratios, they have brought about a consistent growth in their dividends to shareholders. The sustainability of their dividend payouts is confirmed through their upward trending cash flows. The stocks of these telecom carriers present a good investment opportunity with attractive dividend payments as well as the potential for price appreciation.
Disclosure: I have no positions in any stocks mentioned, and no plans to initiate any positions within the next 72 hours. I wrote this article myself, and it expresses my own opinions. I am not receiving compensation for it (other than from Seeking Alpha). I have no business relationship with any company whose stock is mentioned in this article.