Recently John Tamny wrote an article, Pull the Plug on General Motors (NYSE:GM), in which he discusses the various reasons why it is essential to let GM fail. So we thought we would give you a graphical representation of GM's historical ability to create shareholder value, along with a Value Expectations scenario of what GM must generate to sustain its current price.
The Economic Margin chart below displays GM's consistent inability to earn its cost of capital and continuous destruction shareholder value.
Click to enlarge

Given such poor levels of Economic Margins there is no surprise its relative returns to the market have plummeted.
Click to enlarge

So what does this mean for current shareholders?
Yesterday, GM's stock price closed at $3.59. So to put things into perspective, the graph below of our Value Expectations application displays the type of performance GM must deliver to justify its current stock price. By holding sales growth at an inflation rate of 3% and asset turns of 1.20, GM needs to generate EBIDTA's of 12.29 annually for the next five years.
Click to enlarge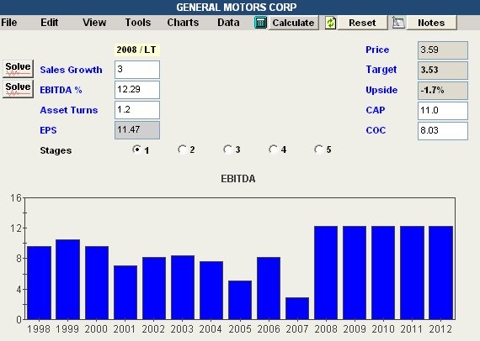 GM would have to deliver and maintain EBITDA Margins not seen since 1994.
Click to enlarge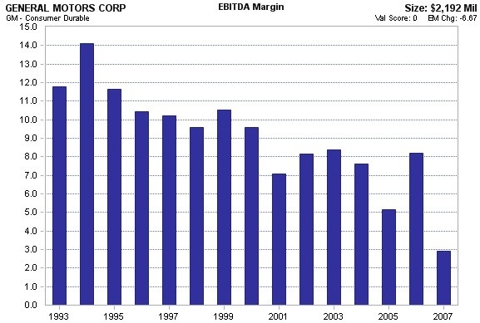 As shareholders you have to ask yourselves, will GM ever be able deliver those levels of EBITDA Margins? As taxpayers we have to ask ourselves if a bailout would just be a waste of tax payers' money. Given GM's consistent destruction of wealth and the tremendous amount of restructuring it would need, a bailout looks more like life support.
Disclosure: None