Coal had a hard landing in 2012. The Market Vectors Coal ETF (NYSEARCA:KOL) chart illustrates that very well. After reaching a 52-week high early in 2011, the ETF has steadily declined.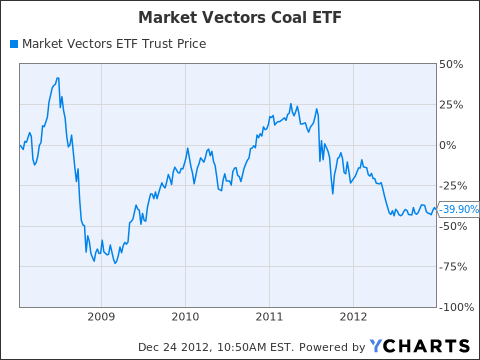 Unfortunately, more of the same is likely on tap for 2013.
According to the latest report from the U.S. Energy Information Agency (EIA), demand for coal in the U.S. is going to increase in 2013 by about 50 Million short tons. There is a lot of market enthusiasm based on this report. Unfortunately, there are other negatives pointed out in the report that have not been getting the headlines, and coal investors are perhaps engaging in hopeful complacency.
Here are the negatives:
Projected coal demand for 2013 is at 947 million short tons, which is still more than 5% down from the 2011 demand level of 1,003 million short tons
A large part of this demand will be met by inventory reductions and not new production, as power utilities utilize the built-up inventory in 2012 to meet new demand in 2013
Exports are expected to be down, from 124 million short tons in 2012 to 104 million short tons in 2013
Net-net, U.S. coal production is actually expected to go down from 1,027 million short tons in 2012 to 1,019 million short tons in 2013
Pretty much all-around bad news, in other words. The last two points -- lower exports and lower production -- are especially bad for miners. Let us examine why.
For a long time, natural gas has been putting pressure on coal as utilities switch from coal to natural gas. The panacea for the miners had been high demand for coal used in steel production. This is a different grade of coal, and fetches far higher prices than the coal used in generating electricity. Reports The Wall Street Journal:
Appalachian coal industry executives had been counting on metallurgical or "met" coal -- which is sold at a premium to steelmakers -- to offset the dwindling market for lower-grade thermal coal used by power plants. The thermal coal market has been weakening because utilities are buying cleaner-burning natural gas instead. Natural-gas prices have plummeted as energy companies used hydraulic fracturing to extract gas from vast shale formations.
China is the world's largest producer of steel, and they import a lot of met coal. In addition, China is expected to return to strong growth in 2013 as the Chinese Government takes up expansionary policies. So expectations were that Chinese imports of coal both to provide for energy and produce steel would go up sharply in 2013, and with it, the coal industry would flourish. Unfortunately, poor export forecasts puts a big dent to that theory.
More worrisome are lower production forecasts. The mining industry is extremely capital intensive. Fixed assets depreciate 24x7 and the lower their use, the worse off the financials of the company are going to look. In addition, in recent years, the coal industry has made a lot of investments in anticipation for growth, and hence, are under quite a bit of debt burden. Reports The Wall Street Journal again:
Four publicly traded U.S. coal companies made acquisitions in North America totaling $14 billion in 2011, the largest being Alpha's $7.1 billion purchase of troubled Massey Energy.
That said, coal prices are expected to be slightly up, according to the EIA:
EIA forecasts that the delivered coal price will average $2.40 per MMBtu in 2012 and $2.44 per MMBtu in 2013.
This is not enough to stave off lower exports and lower production.
The long-term trends are just as bad. Reports Bloomberg:
Global coal demand will rise 2.6 percent annually in the next six years and challenge oil as the top energy source, according to the International Energy Agency.
Trouble is, 2.6% annual growth is just going to keep pace with world population and GDP growth. By contrast, coal demand grew 4.3% in 2012, according to the International Energy Agency, and even then the market collapsed. Declining demands over the next five years would wreck havoc on this industry.
In summary, the outlook looks bleak for coal in 2013 and beyond. So, how can investors benefit from this trend? For long-term investments in coal, I would suggest shorting the KOL ETF and holding it until the global demand for coal comes up to at least 2011 levels. Right now, the IEA is predicting that will not be the case in at least five years. This will crush the miners who have invested a lot in fixed cost and need the demand to pay for it. I anticipate at least 30% downside from here on out.
For those that do not want the exposure that comes from shorting, medium-term out of the money puts on the KOL ETF will be a good compromise. The 23 strike July puts on KOL are currently trading at 1.65/1.90 (bid/ask). I am personally buying these and plan to hold them for 50% upside, which would require about a 7-10% decline in the KOL ETF.
Disclaimer: This is not meant as investment advice. I do not have a crystal ball. I only have opinions, free at that. Before investing in any of the above-mentioned securities, investors should do their own research, consult their financial advisors, and make their own choice. I am merely stating what I personally plan to do for my own portfolio.
Disclosure: I have no positions in any stocks mentioned, and no plans to initiate any positions within the next 72 hours. I wrote this article myself, and it expresses my own opinions. I am not receiving compensation for it (other than from Seeking Alpha). I have no business relationship with any company whose stock is mentioned in this article.