In 2011 Bank of America Corporation (NYSE:BAC) was the Dow Jones Industry Average's biggest loser dropping over 58% on the year. A year later the company is set to be the Dow's biggest winner, gaining over 100% in 2012. While the company is a far cry from a runaway success it has stabilized the situation and is slowly wining back some investors. As we come to the end of another year the Dow has yet another biggest loser among its ranks and, barring any disasters, that company for 2012 will likely be Hewlett-Packard Company (NYSE:HPQ), which is down about 44% year-to-date.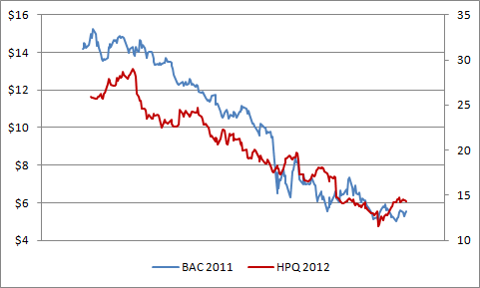 When looking at the charts of Bank of America in 2011 and HP in 2012 you can see many similarities, and if fact there is roughly a 94% correlation between the two data sets. If you look at the last few weeks of the year for each stock you can also see them breaking out of the downtrends to the upside.
While Hewlett-Packard has many problems including declining sales and past bad acquisitions, the company still had revenues of over $120 billion in the past fiscal year. The company is also among the world's largest PC manufactures and has a dominant position in printing. While the company is not likely to become a huge success by cutting costs it is helpful and could leave HP in a much stronger position. The company is also reducing debt outstanding in a hope to boost its credit rating. Furthermore, it is unlikely the company will face any cash shortfalls for some time. With over $11 billion of cash on hand and the company generating roughly $4 billion of free cash flow each year, this makes its total debt outstanding of around $29 billion seem very manageable.

When comparing HP to some of its peers you can see the market's lack of faith in the company. It has the lowest EV/EBITDA and lowest forward P/E. Even if you took analyst estimates for 2013 EPS of $3.31, below HP's guidance range, and applied the forward P/E multiple the market is giving to Dell Inc. (NASDAQ:DELL) you would get a share price of $20.69 for HP. And Dell is facing many of the same problems HP is facing. The one PC manufacturer also gaining market share along with Apple Inc. (NASDAQ:AAPL) is Lenovo (OTCPK:LNVGY) and its valuation both on EV/EBITDA and P/E is much richer than Dell or HP. Dell and HP have both seen the success of IBM (NYSE:IBM) in providing enterprise services and tried to expand into this market. You can see premium the market has placed on the enterprise services business as IBM trades at considerable richer valuation than Lenovo or even Apple.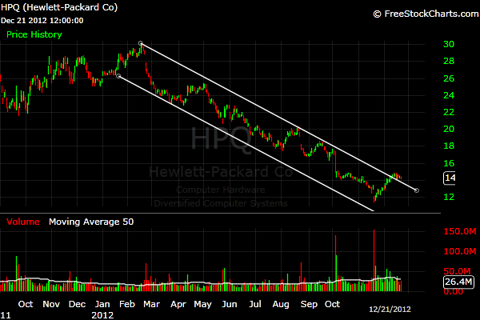 The strong downtrend that started this year can be seen clearly in the chart and the most positive sign comes over the past few weeks as the stock has broken above this downtrend. It is also encouraging that this trend reversal has come on increasing volume. While anything is possible, HP appears to have put in a substantial bottom with a low of $11.35 on November 20th. I believe it would be responsible to take a small speculative position in HP at this point on a belief in management's ability to even stabilize the situation. I believe that is all it would take to see as much as a 50% gain in the stock price.
Data sourced from: Company filings, and Yahoo Finance. Chart from: Freestockcharts.com
Disclosure: I have no positions in any stocks mentioned, and no plans to initiate any positions within the next 72 hours. I wrote this article myself, and it expresses my own opinions. I am not receiving compensation for it (other than from Seeking Alpha). I have no business relationship with any company whose stock is mentioned in this article.