Apple (NASDAQ:AAPL) has not been doing well lately. As most of you well know, it has dropped over 25% since its September high of $705.
I propose that this is a trend that may very well end abruptly on December 31, and that it provides a truly unique opportunity to capitalize on a specific, singular, historical situation.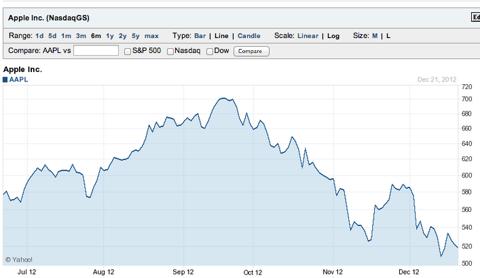 Chart: Yahoo Finance
First, a quick background.
Apple has a history of reaching new heights, only to drop back and retrench for a while. This, however, is the deepest retraction since recovering from the 2007-8 recession. What are the reasons here?
A litany of reasons have been proposed for the swoon:
Increased competition
Lowering margins
Lowering growth prospects
Fund rebalancing
The Capital Gains "Cliff"
Items #1 and #2 above are related, since it is in due to the growing competition that margins are compressed. The competition additionally takes market share. Clearly, the Android operating system from Google (NASDAQ:GOOG) has taken over as the dominant smartphone OS, and new phones from Nokia (NYSE:NOK) and HTC are running Windows Phone 8 from Microsoft (NASDAQ:MSFT), and RIM (RIMM) is about to unleash its new BB10 phones on January 30. (To see my analysis on this, see here.)
Still, however, Apple seems to be selling its new iPhone 5 as fast as it can make them, including a surprising 2 million units sold in China during the first three days.
#3 - Too Big
This has always been an argument amongst the naysayers, but with each doubling of revenue, it takes on more credibility. Has Apple reached its limit? Certainly, even with a hot new product, it cannot keep doubling forever. This is a serious question, made all the more potent by the increased competition issues.
Item #4 - Fund Redistribution
This is serious as well. When a fund has too much of its holdings (percentage-wise) in one stock, then it must trim it to meet its own internal guidelines. As Apple has grown in value, it has grown as a share of each fund that holds it. Ironically, its market cap may have put it in the extraordinary position that no one can afford it. That is to say, funds and individuals can afford to buy shares, but not enough to maintain the price level.
One more
My SA colleague, Ashraf Eassa, has recently written an excellent post on the topic. Although I do disagree with some fine points, he is correct to point out that Apple has received a lot of bad press lately. He writes:
There seems to be a concentrated media effort to "downtalk" the stock. This fuels negative sentiment…
There seems to have been a perfect storm of a run up to a big new high, overall market unease over the "Fiscal Cliff" and global economic issues, a bunch of negative press, and number 5 on my list…
Capital Gains Issue - The Crux of the Matter
In October, Bloomberg BusinessWeek wrote "Wealthy Advised to Sell for Gains Before Unfriendly 2013". They noted:
Long-term capital gains rates will increase to a maximum 20 percent from 15 percent, plus an additional 3.8 percent for high-income earners as a result of the 2010 health-care law.
Let's suppose you bought into Apple at $150 (July 17, 2009), and the current price was $550, then this would be a $400 profit. To sell one share then, the proceeds would look like this:
| | |
| --- | --- |
| Today at 15% | $490.00 |
| New rate of 23.8% | $454.80 |
| | |
| Difference | $35.20 | 9.28% |
So the tax rate change has a negative affect of $35 per share for those who got in at $150 -- even more if the stock passes $700 again. What if you own 100,000 shares? Then the difference would be $3.5 million. If the price were at $700, then the profit would be $550, and the table looks like this:
| | |
| --- | --- |
| Today at 15% | $617.50 |
| New rate of 23.8% | $569.10 |
| | |
| Difference | $48.40 |
Now a change in Capital Gains structure on your 100,000 shares will cost you an additional $4.84 million. Only 10,000 shares? Still will cost an additional half million.
Anyway you cut it, close to $50 per share in additional taxes is a very strong motivation to sell now.
BUT…
What if you believe in the future of Apple? What if you disregard all the negative hype? What if you think that Apple still has some serious growth ahead, that it will reach $1111 as predicted by Topeka Securities analyst Brian White?
If that is the case, then after you sell, you will want to get back in. Not only that, but you will want to get back in in a hurry -- before the price rises again.
Implications
If this is indeed the major cause of Apple's beaten down share price, then I believe the following will happen.
The share will continue pressure to the low $500s,
This will come to an abrupt end on December 31, and
On the first of the year, Apple will shoot up on suppressed demand.
In short...
If this capital gains issue is the main driver behind the current drop in Apple prices, then you can look to a very rapid rise back to the $700 level and perhaps beyond.
Conclusion
There are many reasons to discount Apple stock and rationalize the price drop. The question is, which of these are valid?
IF the upcoming change in capital gains structure is the driver of the current drop in price, then I would expect to see continued pressure on the price, touching down to the $505 level, until December 31. Once the new year starts, however, the "take your profits now" opportunity will have passed, and the sellers will be wanting to get back in, and this will run the stock back up very sharply. (Please note the emphasis on the IF.)
This rise should continue up to the earnings release. If the earnings release is very positive, surpassing the analysts' expectations, then the stock price will continue to soar after that to totally new levels.
This presents a unique opportunity to the investor willing to take the implied risk.
To me, this suggests a long options play. There are so many ways of doing this that I will not suggest any one particular play, but leave it to the reader to select their own personal favorite.
On the other hand, if the current price retraction is the result of other rational concerns, then we will not see this quick bounce. Thus, any long play, options or stock purchase, has its serious risks.
Let me know what you think.
=====
The other articles in this series can be found here and here.
Related Article: Apple Physics - What goes down must go up.
Disclosure: I am long AAPL and I may open new options positions in the next 72 hours. I wrote this article myself, and it expresses my own opinions. I am not receiving compensation for it (other than from Seeking Alpha). I have no business relationship with any company whose stock is mentioned in this article.