The market extended last Friday's loss with a much lighter volume due to a shortened trading day before Christmas. Dow Jones led the loss with 0.39% decline, followed by NASDAQ's 0.28% drop and S&P 500's 0.24% decrease. SPY and DIA still closed above their 50-day MAs and 200-day MAs while QQQ closed slightly below its 200-day MA and continued to hang above its 50-day MA. Only basic materials (+0.03%) and consumer cyclical (+0.63%) sectors closed with a gain while all other sectors closed in red.
The market sentiment is currently neutral with Fear & Greed Index at 51, lowered from the previous close of 58. As reported by CBOE, the total put/call ratio for Monday was 0.97, and the index put/call ratio was 1.45. The equity put/call ratio was 0.65, and the CBOE volatility index (VIX) put/call ratio was 0.46. In the following, top stock had been identified through our daily options scanning process, with the scanning criteria where the daily call volume ratio was above 3.00 (3x of the average call volume) with a call volume above 10,000.
| | | | |
| --- | --- | --- | --- |
| Name (Ticker) | Call Volume | Average Call Volume | Daily Volume Ratio |
| Alcoa Inc. (NYSE:AA) | 36,583 | 10,828 | 3.38 |
Source: Schaeffer's Research
Alcoa Inc.
AA is the largest player in the global aluminum market, producing 20% of world's alumina and 10% of its aluminum. AA engages in the production and management of primary aluminum, fabricated aluminum, and alumina combined.
Latest Development
Alcoa Power and Propulsion, a business unit of AA, announced the signing of a long-term deal with Siemens Energy, the energy division of Siemens AG (SI), to supply blades and vanes for a wide range of industrial gas turbines. Alcoa Power and Propulsion is a global leader in airfoil and structural investment castings and serves the aerospace, defense, energy and industrial markets.
Concerns
AA will be the company impacted negatively if the fiscal cliff cannot to averted, which could result in slowed global economic recovery. While Europe is still struggling, AA needs to rely on U.S. to maintain its growth. As reported from Wall Street Journal,
"U.S. lawmakers over the weekend said it remained possible to reach a deal to avert the fiscal cliff, but they noted that time was running short. The fiscal cliff refers to a combination of around $600 billion in spending cuts and tax hikes set to begin taking effect on Jan. 1 unless the White House and congressional Republicans reach a budget deal. Economists fear that going over the cliff could push the U.S. economy back into recession, dragging down growth in the rest of the world."
Earnings
As reported by Zacks,
"Alcoa witnessed strong productivity growth in its upstream and downstream businesses in the quarter on the back of higher utilization rates, process innovations, lower scrap rates and usage reductions. The company saw healthy demand across the aerospace and automotive markets in the quarter."
Analysts are estimating a current quarter EPS of $0.07 with revenue of $5.64B. Analysts are also expecting revenue of $23.37B with an EPS of $0.25 for 2012. For 2013, analysts are expecting $24.99B revenue with 7.00% increase and an EPS of $0.66, as seen from the chart below.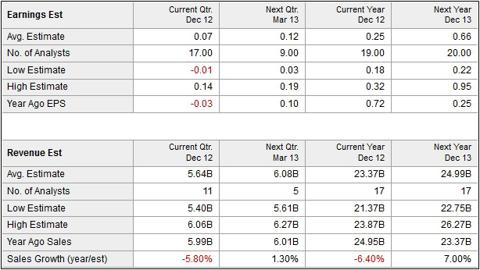 Source: Yahoo! Finance
AA is expected to release Q4, 2012 earnings on January 8, 2013 after the close of NYSE.
Key Stats
AA currently has an enterprise value of $17.29B and a market cap of $9.20B. AA has a book value of $12.66 per share and has a total cash of $1.43B. AA generates operating cash flow of $1.71B with a levered free cash flow of $569.38M.
AA currently has a negative revenue growth of -2.5 (3 year average) and EPS growth of 26.8 (3 year average). AA generates operating margin of 0.6%, ttm, and net margin of -1.0%, ttm, which are lower than the industry averages of 1.6% and -0.7%, ttm, respectively. AA has a lower ROE of -1.7%, comparing to the average of -1.5% and a debt-to-equity ratio at par with the industry average of 0.6.
Technical Analysis
AA closed at $8.62 with 0.58% gain on Monday with a light volume of 8.06M, which is 55.9% of the 30-day average volume of 14.42M. AA has a high beta of 2.04. AA had been trading in the range of $7.97-$10.92 in the past 52 weeks. The MACD (12, 26, 9) indicator had been showing a bullish sign since November 26; however, the MACD difference continued to converge. The RSI (14) is near neutral at 51.47. AA tested its 50-day MA of $8.58 and managed to close above it on Monday. If AA could not stay above its 50-day MA level, the next support will be $7.99, as seen from the chart below.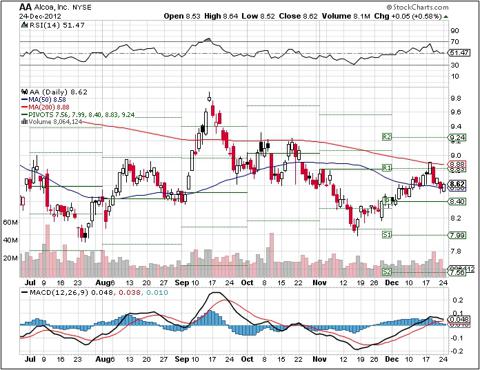 Source: StockCharts.com
Unusual Call Activities
The most active call was Jan. 18, 2013 call at the strike price of $9.00 with a volume of 118,993 and an open interest of 93,016. The implied volatility is 26.7, and the chance of breakeven is 21.11. The historical volatility for AA is 19.04 for 1 month, 23.65 for 3 months, and 27.69 for 1 year. For bullish traders, a debit bull call spread with 2 months plus term could be capped at $9.00 ($8.88 is the 200-day MA resistance) to reduce the cost and partially offset the time decay.
Note: All numbers/prices are quoted from the closing of December 24, 2012 with the data provided from Barron's, MorningStar, Schaeffer's Investment Research, Inc., Google Finance, and Yahoo! Finance. Investors and traders are recommended to do their own due diligence and research before making any trading/investing decisions.
Disclosure: I have no positions in any stocks mentioned, and no plans to initiate any positions within the next 72 hours. I wrote this article myself, and it expresses my own opinions. I am not receiving compensation for it (other than from Seeking Alpha). I have no business relationship with any company whose stock is mentioned in this article.