Walgreen Co. (WAG) is the nation's largest retail pharmacy with 8,516 drugstores in the United States. While Walgreen is expected to have a healthier 2013 as reviewed in my last article of "Walgreen Is Recovering And Will Be Healthier In 2013," an updated review on Walgreen after its Q1, 2013 earnings report will be presented.
Q1, 2013 Earnings
On December 21, WAG reported adjusted first quarter earnings per diluted share of 58 cents, compared with adjusted earnings per diluted share of 71 cents in the year-ago quarter. GAAP earnings per diluted share of 43 cents was lower than 63 cents in last year's first quarter. The company also reported a decline in same-store sales by 8%, alongside an 11% drop in same-pharmacy sales. Total sales declined in the period by 4.6% to $17.32 billion. On average, analysts polled by Factset had most recently forecasted earnings of 70 cents a share for the period ended Nov. 30. The Q1, 2013 result was compared to Q1, 2012 result, as seen from the table below.

Source: Walgreen Form 8-K
On the first glance, the GAAP diluted net earnings per share declined by 31.7%, and non-GAAP adjusted diluted net earnings per share fell by 18.3%. However, investors need to be aware of the following one-time items.
Walgreen spent $6.7 billion this year to buy a stake in Alliance Boots and $438 million on a drugstore chain operating in the mid-South under the USA Drug, Super D Drug and Med-X names. The costs tied to those deals totaled $23 million in the quarter, where Walgreen is reporting the gains a quarter after they occurred to address audit and regulatory requirements.
Hurricane Sandy caused extensive destruction along the New Jersey and New York, which cost Walgreen $24 million in the quarter as it forced the company to close hundreds of stores temporarily.
The Q1, 2013 earnings call transcript for management discussion from Seeking Alpha can be read here.
Optimism from the Management
Despite the missing earnings, the management is confident about Walgreen's turning point. Walgreen is winning back customers as fast as they were leaving during a nearly nine-month period where customers who had Express Scripts benefit plans could not get discounts at Walgreen pharmacies. As contributed by Bruce Japsen from Forbes, "Walgreen is using direct mail, coupons and a marketing barrage to win customers back but realizes consumers during the dispute left for other pharmacies such as CVS (NYSE:CVS). It could take well into next year, if ever, for consumers to switch back to Walgreen pharmacies depending on their health plan network and a variety of other factors." As stated by Walgreen's President & CEO Greg Wasson,
"In many respects, this quarter was a turning point with the increasing pace of return of Express Scripts customers to our pharmacies, as well as the enthusiastic customer response to our Balance ™ Rewards program, with more than 45 million signups since the program launched. In addition, we saw strong demand for flu shots and other immunizations, which has continued into the month of December. Given these factors, we are confident in our strategy and ability to execute going into the new year."
Analyst's Call and Earnings Estimates
On Dec. 24, 2012, J.P. Morgan reiterated its Neutral rating with a $41.00 price target on WAG. The analysts from J.P. Morgan noted,
"This morning WAG reported fiscal 1Q13 results. Adjusted EPS was $0.58, although adding back a $0.10 EPS swing related to a change in accounting for Alliance Boots equity income (moving from a 1-month reporting lag to a 1-quarter lag), adjusted EPS would have been $0.68. This compares to our $0.73 estimate and Bloomberg consensus of $0.70. We maintain our Neutral rating on the WAG shares. While the ESRX agreement removed an overhang and comps will get easier in CY13, we remain cautious based on the risks around script recapture, reimbursement pressure (especially as the generics tailwind lessens over the next several quarters) and macro risk in Europe potentially impacting Alliance Boots."
Analysts are expecting revenue of $18.98B and an EPS of $0.98 for the current quarter ending Feb. 2013. The full 2013 revenue is estimated at $73.63B with an EPS of $3.34. Analysts are also expecting revenue of $76.86B with an EPS of $3.67 in 2014. In the past 90 days, the 2013 EPS estimate was increased to $3.34 from $3.08 and 2014 EPS projection was improved to $3.67 from $3.39, as seen from the table below.

Source: Yahoo! Finance
Key Stats, Valuation
WAG currently has an enterprise value of $38.88B and a market cap of $34.48. The book value per share is $19.44. WAG has a total cash of $1.83B, mrq, and an operating cash flow of $4.22B with a levered free cash flow of $2.33B, ttm.
WAG has a P/E of 15.1, which is below its industry average of 16.8 and WAG's 5 year average of 15.2. P/B of 1.9 is at par with the industry average and below its 5 year average of 2.4. The P/S of 0.4 is below the industry average and WAG's 5 year average of 0.5. WAG has a Forward P/E of 10.4, which is below S&P 500's average of 14.2. The current PEG is 1.2.
Technical Analysis
WAG closed at $36.47 with 0.44% gain on Monday. The volume of 2.38M is 36.23% of the 30 day average volume of 6.57M. WAG had been trading in the range of $28.53-$37.75 in the past 52 weeks. The MACD (12, 26, 9) still showed a bullish sign, but the MACD difference continued to converge. RSI (14) already drop below the over-bought territory but still has a bullish lean at 59.12. WAG had been pulled back from its recent 52-week high of $37.75, and the next support will be at $35.58, its R1 pivot point, followed by the major supports at 50-day MA of $34.78 and 200-day MA of $33.54, as seen from the chart below.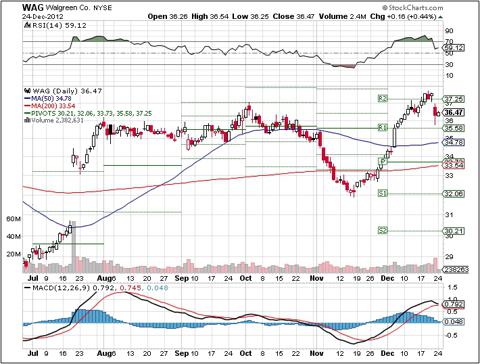 Source: StockCharts.com
Options Play
The positive view on WAG remains as per my last article. The same credit put spread will be reviewed again for bullish investors to acquire the stock at a lower price while gaining some upside potentials.
Short 1x April 20, 2013 put at the strike price of $32.00 for the credit of $0.52
Buy 1x April 20, 2013 put at the strike price of $30.00 for the cost of $0.25
The maximum profit is $0.27, and the maximum risk/margin requirement is $1.73. If WAG closes above $32.00 on April 20, 2013, 15.6% return on margin will be gained. If WAG falls below $32.00 upon options expiration, WAG stock will be acquired at $31.73, which is 13% less than the current price of $36.47. However, for investors/traders who already had established the same options pay, no recommendation is given to add the same spread to increase the risk exposure.
Note: All prices are quoted from the closing of December 24, 2012 and all calculations are before fees and expenses. Investors and traders are recommended to do their own due diligence and research before making any trading/investing decisions.
Disclosure: I am long WAG. I wrote this article myself, and it expresses my own opinions. I am not receiving compensation for it (other than from Seeking Alpha). I have no business relationship with any company whose stock is mentioned in this article.