I'm searching for good investments to make in 2013. In this article, we'll take a look at Cisco (NASDAQ:CSCO). Given the firm's solid financial performance, the projections for 2013 earnings seem reasonable. We'll take a look at Cisco's valuation, financial performance and financial position. Also, we'll evaluate Cisco from the perspective of a technical analyst.
Cisco is trading at 2.26 times trailing sales. Also, the firm is trading at 12.81 times trailing earnings and 9.46 times forward earnings. Assuming that earnings are accurate and applying a conservative valuation of 11 times 2013 earnings, Cisco has about 16% upside from the $19.86 level. If Cisco trades at 12 times 2013 earnings, there is about a 27% upside.
At the end of fiscal Q1 2013 the firm reported $45 billion of cash and short-term investments. Without doing the complex calculations of finding the market value of the roughly $16B of reported debt, net of cash, Cisco is trading at roughly 1.23 times fiscal 2012 sales and 7 times fiscal 2012 net income.
Excluding high expenses in 2011, net income is trending higher. Consolidated sales is also trending higher. Also, the firm has produced high-quality earnings since at least fiscal 2008. There is strong revenue growth across the major business segments. Cisco plans on growing services as a percentage of total sales over the next three to five years.
Cisco is utilizing a growth through acquisition strategy. There is the long-term risk that the company fails to integrate the acquired companies well; in other words, Cisco's operations could become disorganized and financial performance could suffer.
Cisco is facing some challenges from fiscal consolidation in developed countries, the U.S. and European Union member states, and slowing growth in China. Cisco will continue to face headwinds from sovereign expenditure.
The firm guided towards Q2 FY'13 revenue growth of 3.5% to 5.5% year over year. That said, I expect FY'13 revenue growth of about 6.5%; revenue should increase to $49.1 billion from $46.1 billion in fiscal 2013. Revenue growth was about 6.5% between fiscal 2011 and fiscal 2012.
At the end of the quarter ending October 27, 2012, Cisco reported about $45B of cash. The current ratio is 3.38: the firm is liquid. Accounts receivable declined while inventories increased: the firm may see increased demand for its products in the current quarter. Goodwill increased to 22% of total assets from 18.5% in the prior quarter. Long-term debt is roughly $16B which is well below the firm's reported cash balance.
Net sales from services was 21.7% of total net sales in the quarter ending in October 2012; that is a 130 basis point increase compared to the year-ago quarter. The consolidated company's operating margin was 22.3% in the October 2012 quarter; the high operating margin provides the company with a margin of safety.
The cash dividend more than doubled compared to the year-ago quarter as comprehensive income increased from $1.46B to $2.26B. Also, the earnings are high quality as cash flow from operations is larger than net income.
Cisco is making investments that are supposed to have a higher net present value or internal rate of return than returning cash to shareholders.
July 30, 2012, the firm completed its acquisition of NDS Group Limited, a leading provider of video software and content security solutions that enable service providers and media companies to securely deliver and monetize new video entertainment experiences. With the NDS acquisition, the company aims to broaden its opportunities in the service provider market and to expand its reach into emerging markets such as China and India, where NDS has an established customer presence. The company paid $5B for NDS.
The acquisition of NDS adds $1.2B to the Americas goodwill segment. That said, NDS increased EMEA and APJC goodwill by 33%. On November 18, 2012, the company announced the acquisition of Meraki Inc., a leader in cloud networking, for $1.2B in cash. The acquisition is expected to close in fiscal year 2013 second quarter.
Cisco has $3.26B of long-term debt maturing in fiscal year 2014 and $500 million maturing in fiscal year 2015.
As of October 27., 2012 Cisco reported $5.6B remaining in its share repurchase program. Between the end of October 2011 and the end of October 2012, Cisco more than doubled the size of its dividend. The key point is that the firm switched from a share repurchase program to a dividend paying policy.
Cisco's sales increased in the Americas and APJC in the calendar third quarter of 2012 compared to the calendar third quarter of 2011. Net sales increased partly because of increases in service provider video, wireless and data center sales growth. Cisco is well positioned to benefit from enterprises updating switches and routers to the smart network.
Technical Analysis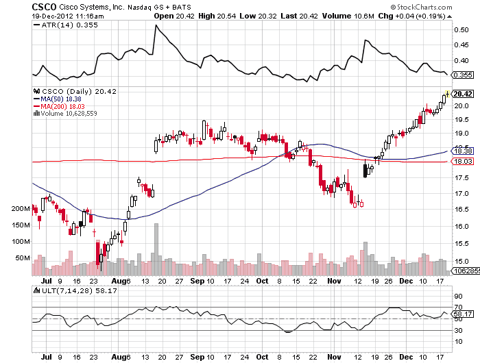 Click to enlarge
The primary trend is towards sideways prices as the 200-day simple moving average remains flat. The intermediate trend is towards higher prices as the market for shares of Cisco trades above the rising 50-day simple moving average. The short-term trend is towards higher prices. Also, the 14-day RSI is in the overbought zone suggesting CSCO is in a bull market. The market is trending, but a reversal of the trend from up to down or sideways is nearing. There are also latent signs of weakness or bearishness.
Disclaimer: This article is not meant to establish or continue an investment advisory relationship. Before investing, readers should consult their financial advisor. Christopher Grosvenor does not know your financial situation and ability to bear risk and thus his opinions may not be suitable for all investors.
Disclosure: I have no positions in any stocks mentioned, and no plans to initiate any positions within the next 72 hours. I wrote this article myself, and it expresses my own opinions. I am not receiving compensation for it (other than from Seeking Alpha). I have no business relationship with any company whose stock is mentioned in this article.