Monday's pre-holiday shortened session came and went with no surprises. The S&P 500 opened lower and traded on light volume in a narrow range to its modest 1 PM closing loss of 0.24%. As I mentioned on Friday, since the market has no expectation of a cliff-avoidance strategy until the later this week, yesterday's pre-holiday trading would be devoid of excitement.
Here is a 2-minute chart of Monday's shortened action.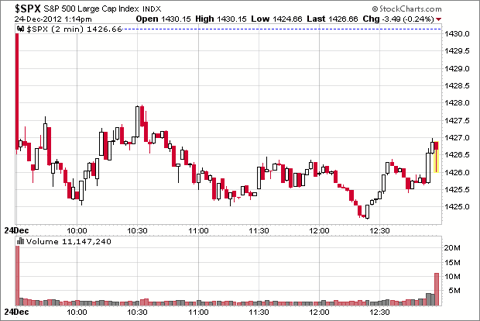 Market action should increase between now and the end of the year as we discover whether Congress swerves from the Fiscal Cliff in its game of chicken.
The S&P 500 is now up 13.44% for 2012 but 2.67% below the interim closing high of September 14th.
From a longer-term perspective, the index is 110.9% above the March 2009 closing low and 8.8% below the nominal all-time high of October 2007.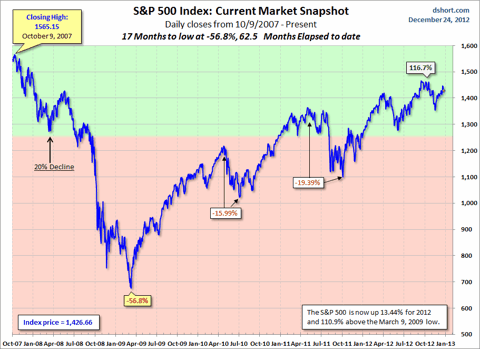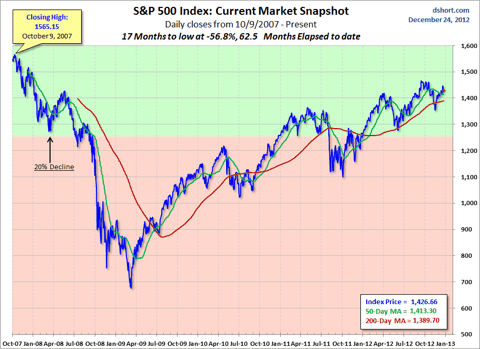 For a better sense of how these declines figure into a larger historical context, here's a long-term view of secular bull and bear markets in the S&P Composite since 1871.