Introduction
AOL Inc. (NYSE:AOL) is a diversified service company on the web, known for their Time Warner merger fiasco. After the reverse merger, AOL has come back strong, and is showing the potential to become a phenomenal investment opportunity.
Qualitative Analysis
Source: Information pertaining to AOL came from the shareholder annual report
Some of the biggest accomplishments in 2011 made by AOL include: AOL returning to ad-revenue growth for the first time in three years, reduction in subscription growth decline, reduction in expenses, acquisition of The Huffington Post, repurchase of 10% of shares outstanding.
AOL has a diversified portfolio of businesses, with the most unique properties being Aol.com, The Huffington Post, and MapQuest. Aol.com has 12 million unique visitors per day. With mapquest.com ranked number 2 in the maps category during 2011. The Huffington Post surpassed the New York Times in monthly unique visitors. The Huffington Post also surpassed 1.5 billion page views per month during the year of 2011.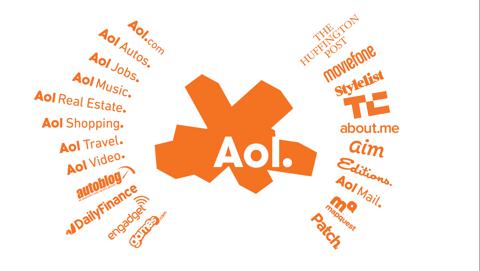 AOL is split into two different business divisions, AOL properties and AOL advertising. AOL properties are its publishing platform of content, consumer products, and services. AOL properties are primarily represented by its web properties like: MapQuest, Daily Finance, engadget, and Huffington Post.
AOL advertising generates advertising revenue, and is generated when a consumer clicks a text-based ad on their screen. AOL partners with Google in that Google is the search engine service for AOL, AOL shares a part of the search key-word ad-revenue with Google. During 2011, AOL was able to generate $335.3 million in revenue through this revenue share deal, with total revenues totaling $1.2 billion from AOL properties.
AOL aggressively competes for market share with companies like Google (NASDAQ:GOOG), Yahoo (NASDAQ:YHOO), Microsoft (NASDAQ:MSFT), Facebook (NASDAQ:FB), New York Times (NYSE:NYT), News Corp (NASDAQ:NWSA), Thomson Reuters (NYSE:TRI), CBS Corp (NYSE:CBS), NBC (NYSE:GE) among many others.
AOL has a unique, diversified, growing business portfolio. After the reverse merger, green shoots are emerging everywhere for this powerhouse. I am optimistic on the qualitative factors.
Technical Analysis
The stock has been on a continuous up-trend since 2012 January. On 12/24/2012 the stock is between a very narrow symmetrical triangle formation. I anticipate the stock to break out no later than the 26th or 27th, meaning that the stock will be forced to make a major move.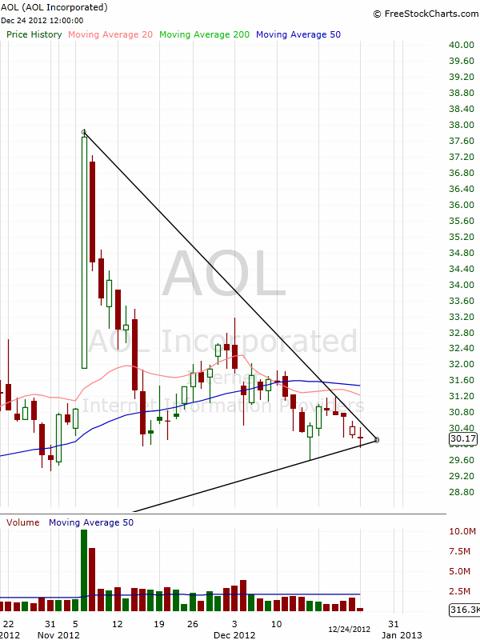 Source: Chart from freestockcharts.com
The stock is trading below the 20-, 50- Day Moving Average, while trading above the 200- Day Moving Average. The stock will experience further upside through 2013, as investors have under-bought the growth prospects of the company.
Notable support is $20.60, $23.60, and $28.50 per share.
Notable resistance is $34.50, $37.50, and $40.00 per share.
Street Assessment
Analysts on a consensus basis have atmospheric expectations for the company going forward.
| | | | | |
| --- | --- | --- | --- | --- |
| Growth Est | AOL | Industry | Sector | S&P 500 |
| Current Qtr. | 69.60% | 212.10% | 9.00% | 9.50% |
| Next Qtr. | 72.70% | N/A | 29.10% | 15.30% |
| This Year | 9166.70% | 30.90% | 5.30% | 7.20% |
| Next Year | -87.20% | 40.20% | 5.10% | 13.10% |
| Past 5 Years (per annum) | -41.99% | N/A | N/A | N/A |
| Next 5 Years (per annum) | 116.05% | 16.65% | 14.16% | 8.72% |
| Price/Earnings (avg. for comparison categories) | 2.74 | 34.8 | -6.94 | 14.69 |
| PEG Ratio (avg. for comparison categories) | 0.02 | 2.01 | 0.3 | 1.41 |
Source: Table and data from Yahoo Finance
The company shows phenomenal growth as analysts on a consensus basis have a 5-year average growth rate forecast of 116.05% (based on the above table). This growth rate is above the industry average for next 5-years (16.65%).
| | | | | |
| --- | --- | --- | --- | --- |
| Earnings History | 11-Dec | 12-Mar | 12-Jun | 12-Sep |
| EPS Est | 0.16 | 0.07 | 0.1 | 0.17 |
| EPS Actual | 0.23 | 0.22 | 10.17 | 0.22 |
| Difference | 0.07 | 0.15 | 10.07 | 0.05 |
| Surprise % | 43.80% | 214.30% | 10070.00% | 29.40% |
Source: Table and data from Yahoo Finance
The average surprise percentage is 95.8% above analyst forecast earnings over the past four quarters (based on the above table).
Forecast and History
| | | |
| --- | --- | --- |
| Year | Basic EPS | P/E Multiple |
| 2009 | $ 2.35 | 8.54 |
| 2010 | $ (7.34) | - |
| 2011 | $ 0.13 | 100.23 |
| 2012 | $ 11.12 | 2.71 |
Source: Table created by Alex Cho, data from shareholder annual report
The EPS figure shows that throughout the 2009-2012 period, the company earnings have recovered significantly after the Time Warner reverse merger deal. The $11.12 in earnings per share was due to a one-time patent sale to Microsoft and should not be figured into the long-term growth forecast.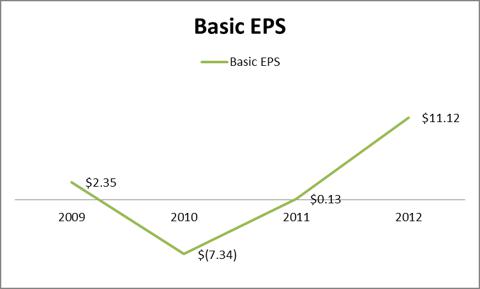 Source: Table created by Alex Cho, data from shareholder annual report
By observing the chart we can conclude that the business has had historical issues with management. Therefore one of the largest risk factors to AOL is the daily management of the company. So as long as the executive team is able to re-produce the earnings beats it has done over the past year, the stock holds a lot of potential.

Source: Forecast and table by Alex Cho
By 2018 I anticipate the company to generate $7.64 in earnings per share. This is because of earnings growth, product development, recent acquisitions, improving global outlook, earnings management and continued development overseas.
The forecast is proprietary, and below is a non-linear chart indicating the price of the stock over the next 5-years.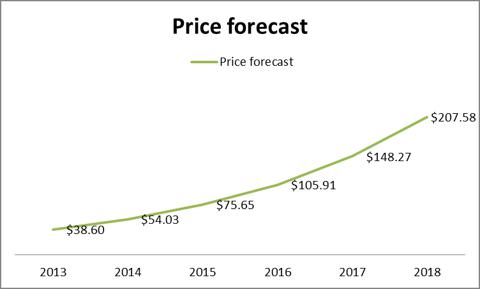 Source: Forecast and chart by Alex Cho
Below is a price chart incorporating the past 4 years and the next 6 years. Detailing 10 years in pricing based on my forecast and price history on December 31st of each year.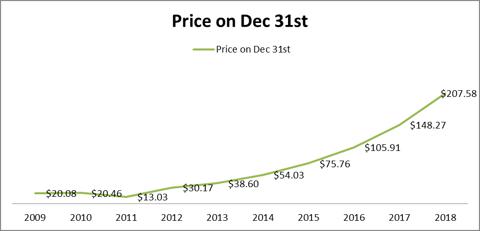 Source: Forecast and chart created by Alex Cho, data from shareholder annual report, and price history is from Yahoo Finance.
Investment Strategy
AOL currently trades at $30.17. I have a price forecast of $38.60 for 2013. AOL is in a long-term up-trend. I anticipate fur momentum in the price of the stock, as the growth rate offers compelling stock appreciation for the foreseeable future.
Short Term
Over the next twelve months, the stock is likely to appreciate from $30.17 to $38.60 per share. This implies 28% upside from current levels. The technical analysis indicates an up-trend (break above the symmetrical triangle formation). While the previously mentioned price forecast using fundamental analysis further supports the trade set-up.
Investors should buy AOL at $30.17 and sell at $38.60 to pocket short-term gains of 28% in 2013.
Long Term
The company is a great investment. I anticipate AOL to deliver upon the price and earnings forecast despite the risk factors (macroeconomic, competition, etc.). AOL's primary upside catalyst is product development, international development, and earnings management. I anticipate the company to deliver upon my forecasted price target of $207.58 by 2018. This implies a return of 588% by 2018. This rate of return is exceptional, considering AOL has a market capitalization of $2.5B. The lack of liquidity makes this a compelling growth investment for small investors. But will be a sore spot for larger institutions that require more liquidity.
Conclusion
Buy AOL on short and long-term growth. AOL has not died off the surface of the earth. The company is making a strong comeback.
Disclosure: I have no positions in any stocks mentioned, and no plans to initiate any positions within the next 72 hours. I wrote this article myself, and it expresses my own opinions. I am not receiving compensation for it (other than from Seeking Alpha). I have no business relationship with any company whose stock is mentioned in this article.