In the summer of 2011, I started a series called the "Commodity Crash Playbook" designed to take advantage of the bargains created from what, at that time, seemed to be a coming collapse in commodity prices. The primary catalyst was a slowdown in China's economy. While the crash never occurred, the concept of pinning buys around pre-QE2 prices turned out to be a golden, even if originally unintended, pivot point. I have not yet revised that playbook to take into account QE3, but since QE3 has to-date had almost no impact on the U.S. dollar or commodities, it seems I still have time.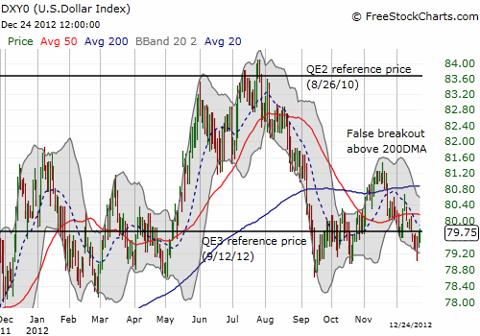 The dollar has gone nowhere since the Federal Reserve announced QE3.
In the meantime, the potential damage of the Fiscal Cliff is much more immediate than a slowdown in China's economy. In a worst case scenario, a trip over Fiscal Cliff could have an even more damaging impact on asset prices of all kinds given the ripples from America will emanate far and wide (if you have any doubts, just read the statements on monetary policy from any major central bank). I remain optimistic that sufficient incentives are in place to motivate the political machinery to find a compromise somewhere; however, it also makes sense to prepare to take advantage of any sell-offs driven by Fiscal Cliff fall-out. With opportunity in mind, I am launching this series "Over the Fiscal Cliff Lies Opportunity Valley" as an investing meme. The first candidate investment is SAIC, Inc. (SAI). It is actually a two-layered opportunity - first from the Fiscal Cliff and next from a proposed split of the company into a services business and a solutions business.
SAI sells high-tech solutions and services, mostly to U.S. government agencies, including the defense department. SAI is a large company: over 40,000 employees and projected revenue for its fiscal 2013 of $10.9B to $11.4B. With a market cap of only $3.88B, SAI has a very attractive valuation: the 0.36 price/sales ratio is the lowest on annual basis since SAI started trading publicly in 2007; the 1.6 price/book ratio has not been this low since 2007; the trailing P/E of 21 is at the top of SAI's historical range but its forward P/E is only 8.7. The stock is also trading only about 10% off its all-time low set back in May of this year.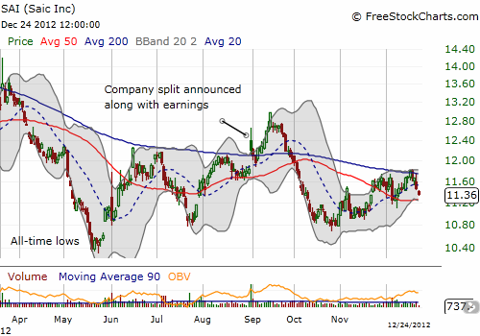 SAI continues to struggle since hitting all-time lows in May.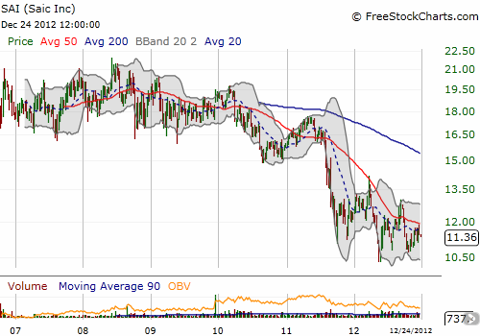 The weekly chart shows how SAI was a stable stock right through the recession based on promises of government spending. The promise turned into a dread of cuts starting in 2010.
Source for charts: FreeStockCharts.com
No doubt, hurting the stock is a stagnation in revenues over the last four (fiscal) years between $10B and $11B. EPS actually went slightly negative for the first time on an annual basis in the previous fiscal year. The good news is that long-term debt has been held under control and the company continues to generate positive cash flow. Going forward, it seems the market is already pricing in a hit from big cuts in government spending. SAI has indeed spent considerable time and effort preparing for impending cuts. From the Seeking Alpha transcript of the last earnings call on December 5, 2012:
"Since the seasoned management team began our journey together in March, we have emphasized the steady pace of preparation for the budget pressures that surround us now. In previous calls, Stu Shea has reminded us of actions that date back more than 2 years to consolidate activities and realign functions to achieve a more competitive posture."
On the surface, it does not seem the Fiscal Cliff will create a significant impact to the business. SAI's business does not depend on the big-ticket items that will get immediately impacted by Fiscal Cliff cuts. Base closures might have some effect but likely not major. However, management has spent time worrying about the Fiscal Cliff as well as lobbying for compromise amongst government officials:
"As we continue to accelerate toward the fiscal cliff, from our perspective, the fog is getting thicker. In several sessions with high-ranking officials in the executive branch, we and industry have had ample opportunity to make our opinions known. I must say that our senior defense officials do understand the industry's concern and have applied ample energy to encourage a legislative compromise we know must prevail in the end.

While those of us who are engaged in this dialogue hope that the most onerous scenario of mindless slashing will be avoided, there's little doubt that any scenario will - in the future will include additional cuts to the federal budget, hopefully decided through reasoned debate and compromise."
As part of its preparation, SAI has restructured its business to get more competitive and to reduce costs. SAI announced a reduction of 700 jobs impacting indirect overhead work and jobs or functions no longer required for SAI's success. This will remove approximately $100M/year of indirect costs (and incur a onetime $15M cost).
Most importantly, during the late August earnings conference call, SAI announced plans to split into two companies: a solutions company ("blueco") and a services company ("whiteco"). The plan is called "Project Gemini." Seeking Alpha author David Zanoni summarizes the information SAI provided on the strategy and the benefits of this split in "How Dividend Paying SAIC Will Benefit From Splitting In Two." In the last conference call, management attempted to reassure analysts, investors, and employees that this split is not intended to spin off a bad business from a good business:
"We have approached this separation as if SAIC was being separated into twins: 2 unique, dynamic, strong and capable companies trading ideas, working in collaboration and partnership, yet recognizing that the duality of the different business models within SAIC needed to be separated. There was no primary and secondary, retain or divest, or right or wrong. But instead, 2 equals, twins from the same parent, SAIC."
This is an important claim. In "You Can Be A Stock Market Genius," author Joel Greenblatt explains how investors can profit from corporate splits and one of his scenarios is the "bad versus good business": "The 'bad' business may be an undue drain on management time and focus. As separate companies, a focused management group for each entity has a better chance of being effective." In a related scenario, the good company may not be able to sell off the bad company and instead loads up the spinoff with debt.
Instead, SAI appears to be a case where "separate businesses can be better appreciated by the market" and where the split solves "…a strategic, antitrust, or regulatory issue, paving the way for other transactions or objectives." SAI claims that resolving conflict of interest issues will generate an incremental $63B in revenue over the next five years. This all means that BOTH parts of the corporate split represent attractive investing opportunities as tremendous shareholder value gets unleashed.
There could be yet another kicker when the split occurs. SAI is a component of the S&P 500 (NYSEARCA:SPY). Greenblatt explains that institutional investors who only invest in components of the S&P 500 will be forced to dump whichever part of the split business gets dropped from the index (probably both). This artificial selling represents the second layer of the opportunity in SAI. However, since the split will likely not occur until the second half of 2013, it does not make sense to wait that long to buy SAI if the Fiscal Cliff generates a sufficient buying opportunity to buy SAI on the cheap.
While the Fiscal Cliff is a government dynamic that could harm SAI in the short-term, SAI has a large opportunity to benefit from the implementation of ObamaCare. SAI has businesses in health services and IT. SAI has made two acquisitions in this space and claims that the integration and the opportunities look extremely attractive:
"…the integration of maxIT is progressing on schedule, with 1,600 maxIT professionals now operating as full members of our broader health care services organization. We will continue to leverage our strong maxIT brand with a strong vitalized brand to win new business in the upcoming quarters…

We believe that we are in the early stages of the modernization of health care IT as containment of health care delivery cost and improved patient outcomes are of strategic importance to the public and private market clients, both here and abroad…

We expect the combined entity of Vitalize and maxIT to generate over 35% revenue growth in fiscal year '13, well ahead of our acquisition plans. This growth is a testament to our successful integration of the acquired companies. Combined operating margins for the maxIT and Vitalize before amortization were double digit in the quarter. It is this combination of above-trend growth and healthy margins that gives us confidence that we're creating shareholder value with our health strategy."
As if all these accumulated goodies are not enough, SAI even offers a healthy dividend yield now at 4.2% thanks to the drop in the stock. SAI will pay out 12 cents/share on January 30, 2013 to holders as of January 15, 2013. This represents fortuitous timing in relation to a potential Fiscal Cliff sell-off. SAI's yield could approach 5% at that point.
Overall, SAI is a dual opportunity. First, it is a business that is likely to get unfairly sold off if the Fiscal Cliff negotiations end disastrously. Second, when the company splits, one or both resulting companies could get dumped by institutional holders forced to sell because of investing rules. Investors should keep both dynamics in mind when deciding whether and when to invest in SAI. However, for all the reasons described above, I am providing a firm encampment for SAI in "opportunity valley."
Be careful out there!
Disclosure: I have no positions in any stocks mentioned, but may initiate a long position in SAI over the next 72 hours. I wrote this article myself, and it expresses my own opinions. I am not receiving compensation for it (other than from Seeking Alpha). I have no business relationship with any company whose stock is mentioned in this article.