Background
Two directories companies Dex One (DEXO) and SuperMedia (SPMD) are facing a liquidity crisis whereby they are unable to meet their principal repayments as they come due. Fortunately, their lenders are reasonable people and are allowing them to merge, equity interests remaining intact, and refinance their debt. Thus, I am bullish on the merger. The merged entity is to be called Dex Media. I have been waiting to see what percentages of their various credit silos were in support of the Chapter 11. Results are in.
Voting has been taking place over the past two weeks. This morning, we announced that the companies now have received sufficient support from their lenders to approve a voluntary pre-packaged reorganization plan under Chapter 11 of the U.S. bankruptcy code, should it be necessary to proceed with this path in order to accomplish the merger. While neither the SuperMedia nor Dex One boards have voted to authorize a pre-packaged bankruptcy filing and it would not be our first choice, if that path is chosen it would simply be a tool to implement the merger, and day-to-day operations would continue without interruption with little to no effect on our employees, customers and other stakeholders.
The Debt Vote is In - Chapter 11 Here We Come (If You Ask Me)!

I highly recommend that you read the 8-K yourself. You can find that by clicking here. What this does is, it signals that the lenders are on board for the merger of two companies, Dex One and SuperMedia to form Dex Media. Before this, all we knew is that their lending steering committee was on board. With this new information, I think that this Chapter 11 will be successful because we have 2/3 of each silo.
This Chapter 11 is a huge win for equity holders. It's not your normal Chapter 11, as the equity interests remain intact.
Kyle Bass - Buys 10% of both SPMD and DEXO
Kyle Bass, a famous hedge fund manager, is very bearish about the global economy in general. The point is that for him to want to own anything, it has to be a considerable opportunity in the face of a global liquidity crisis a few years out. Not only did he buy 10% of just one company, but he bought 10% of both companies, indicating that he believes in the merger, and is on board on both the equity and debt sides.
This wasn't a surprise to me. He had already pitched the debt as investment worthy at a conference last month. What was surprising to me is that in doing so he didn't even budge the price of either noticeably. These companies are still trading as if an equity-wiping bankruptcy is a foregone conclusion with price to free cash flow ratios of less than 0.25. This is in the face of a pre-pack non-dilutive Chapter 11. Let's take a look at other investors on board.
George Schulze - Still My Favorite 13D
George filed a 13D for SuperMedia that actually was actionable and the company has taken steps to put it into place. As you can see, the merger process is well underway. George cited that he expects the intrinsic value of the entire company to be around 4-5x EBITDA. I think that this is fair, but right now the prevailing market uncertainty is giving anyone willing to own equity, the deal of a lifetime.
I was able to get in contact with George. All I have to say is that I am impressed.
Safety in Numbers?
Do I feel more confident with the addition of Kyle Bass? No. Is it surprising to me that he sees value here? No way! This is the most undervalued situation in the world right now. If you look at the lender slides at the bottom of their 8-K filed on December 5th, you have a merged company coming out with a Debt/EBITDA ratio of 2.1 and EBITDA of $719M in 2016, significantly less leveraged than they are today as their revenue decline flattens out. I would imagine that some point in the next 4 years, we see this happen and the company actually trades on a fair earnings multiple. The upside calculates out to around 100% a year for the next 4 years if the lender deck is to be trusted --- and the creditors support the merger! I advise that you read my instructions below to get even more than that.
Trade the Merger Numbers
My last note is that if you are a small investor that you can make very easy money here trading the merger ratios. A Dex One share converts at 0.2 shares to a Dex Media share per the initial merger plan. A SuperMedia share converts at 0.4386. Thus, when you multiply Dex One's stock price by 2.193, you should arrive at the estimated SuperMedia stock price. Right now Dex One is trading at $1.67 and SuperMedia's estimated price is therefore $3.66. That said, SuperMedia is trading at $3.34. What this means is that SuperMedia is trading at a 9.65% discount to Dex One, assuming that the merger is pulled off. In this case, if you own Dex One, you should sell it to buy SuperMedia if you are assuming the merger is going to go through.
In the last 2 days, I have sold all of my Dex One and bought SuperMedia instead. I intend to continue to switch back and forth taking advantage of whichever group of shorts (Dex One or SuperMedia shorts) are being forced to cover.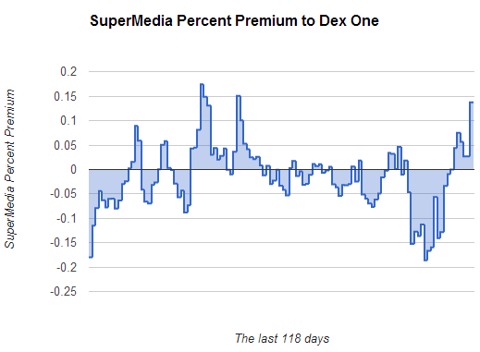 Identifiable Reasons I Could Be Wrong
Decline in print business accelerates beyond that provided in the lender slides.
Acceleration in digital business in lender slides is not realized.
Various merger synergies identified are not realized.
The court system prevents a refinancing and forces a restructuring.
The merger is not approved by shareholders and falls through.
Overall, I think that most of the risk of owning is priced in. Fact is that the lenders are agreeing to a refinancing and that in and of itself talks a great deal about their confidence about the future of a post merger Dex Media.
Disclosure: I am long SPMD. I wrote this article myself, and it expresses my own opinions. I am not receiving compensation for it (other than from Seeking Alpha). I have no business relationship with any company whose stock is mentioned in this article.
Additional disclosure: I intend to sell SPMD and buy DEXO when the merger premium reverses sides.