Ford Motor Company (NYSE:F) rose about 5% this Monday to $12.40 per share. After falling as low as $8.82 in July, Ford has been on an absolute roll lately. I have been behind Ford all along and even after this latest pop, I remain extremely optimistic with Ford. This bullish trend is just a precursor to 2013.
Ford is set to report its next earnings on January 22, 2013. These earnings will most likely foretell the direction that Ford's stock will go in 2013. If Ford reports decreased debt in Europe, from $404 million in the previous quarter, share prices will most likely continue on this bullish trend. However, if European losses do not improve, we can probably expect 2013 to have smaller expectations.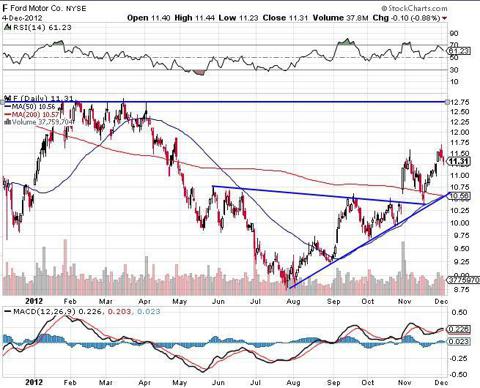 Ford has already pushed above the $12.00 mark quicker than I had previously expected. I thought that Ford would remain bullish due to the 50-day moving average crossing the 200-day, but I did not expect such a sudden increase in share price. Ford's share price rose Monday without any news being released. I would hold off on purchasing Ford stock for the time being because I think it will return back into the $11.60-11.70 range, where a new support level will begin to form.
I remain long on Ford and still think it's a better value than any of the other car companies such as General Motors (NYSE:GM), Tesla Motors (NASDAQ:TSLA), and Toyota Motor Corp. (NYSE:TM). Once again though, it will be crucial for all Ford stock owners to tune into the next conference call to see if Alan Mulally's new European strategy has helped Ford's profitability in Europe. Hopefully, this conference call will show that the debt has been slashed significantly.
Ford currently has a P/E ratio of 2.8 and yields 1.61% annually. For a short-term investor that bought Ford around $11.00, I would sell Ford at these levels and expect a pullback shortly to about $11.70. Once again I reiterate that for Ford, the conference call on January 22, 2013 will ultimately push this stock further along in its bullish trend or slow it down, depending on what happens in Europe. Perhaps, Monday's pop was a signal of what 2013 will bring for Ford's stockholders, only time will tell.
Disclosure: I am long F. I wrote this article myself, and it expresses my own opinions. I am not receiving compensation for it (other than from Seeking Alpha). I have no business relationship with any company whose stock is mentioned in this article.