The December 20th's earnings release for Research In Motion (RIMM) caused an intense sell off of over $3 per share. Or, In other words, a 23% plunge to the downside. Was this a result of the earnings numbers, or comments made by RIMM management in the subsequent conference call? Or lastly, can this simply be blamed on some profit taking after such a significant recent run up in share price?
This article will explore, and attempt to put these questions into perspective.
The drop is presented visually using a 3 day RIMM chart below.
3 Day Chart of RIMM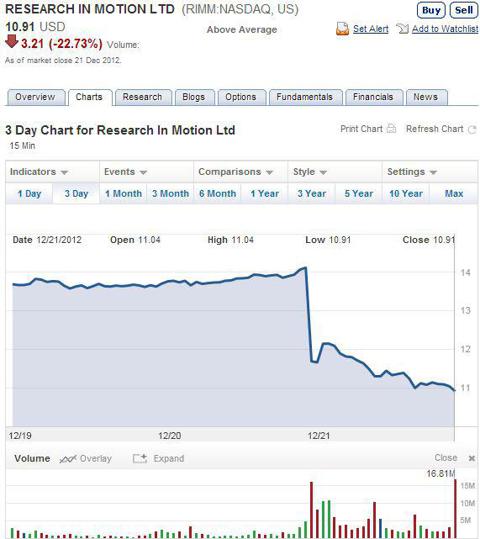 Chart courtesy of RBC Direct Investing
The reader will notice the significant sell off volume right away on the 21st, going from $14 to just under $12 per share. There was an attempt at a price recovery at just above $12, as some buyers jumped in, only to be crushed again with additional selling pressure. What was interesting is that initially after hours trading of RIMM was a positive 9%, only to switch ways and go down after more information, and headlines were digested.
As for the total volume, almost 150 million shares traded on the NASDAQ December 21st. This is nearly 3 times the average daily volume of 50 million shares. Considering that there are 415 million floating shares, it translates to roughly 1 in 3 shares trading hands on a single day.
During the pre-earnings teasers before the official conference call, many news outlets were split on their spin doctoring of RIMM. CNN Money for example posted negatively slanted articles with titles such as BlackBerry maker Research in Motion's sales tumble 47%, and Research in Motion shares plunge 17%. This was a sharp contrast to other media outlets, such as the Globe and Mail, which had tried to put a positive spin on the news, and focused on the growth of cash to almost 3 billion, and the beat of consensus estimates. You could also look at the news that squeaked in about RIMM settling its patent dispute with Nokia, which was a piece of negative news prior, that is now resolved.
The point here is, I don't think that the media knew which way they wanted to go with RIMM this time around. Or perhaps some outlets did, and they weren't quite done with the RIMM bashing, in which we have all seen in the past.
In my recent RIMM article here, I did mention that RIM would approach its tangible book value of $12 near the BB10 launch. Moreover, I also stated that if the BB10 launch goes well, RIMM should see a near book value of $18 per share. Even I, a disclosed RIMM bull, was surprised to see RIMM hit $14 so early before the BB10 launch. So in my opinion, it makes sense that RIMM has come too far too fast, and this is some investors/traders taking profit off the table.
To put things into further perspective, I find it hard to believe that some people were expecting subscriber numbers to continue an uptrend this close to the launch of the BB10. We have all seen this show before when other companies are close to releasing a new product. For example, when Apple (NASDAQ:AAPL) is about to release a new iPhone, the current models sales slow in anticipation for the new release. Moreover, consider that in the previous earnings release, analysts were expecting the subs to drop then, only to be shocked with an increase of 3 million additions.
As a result, isn't a 1 million attrition loss this close to the BB10 launch, and during the holidays acceptable? Most likely phones as gifts, or upgrades will be purchased during the holiday season, and older BlackBerrys might be passed over in North America as options. This 1 million loss now, could possibly be made up and/or exceeded during the launch of the B10, just due to the newness factor of the BB10.
An additional concern was the proposed changes in RIMM's service charges. The proposed change in RIMM's high margin unique offering has scared some investors and analysts. However, this was already known and proposed for sometime. Furthermore, I think that RIMM is doing this to appease some North American carriers, which have recently changed their attitudes towards RIMM. This is interesting, and appears to be a convenient coincidence that RIMM would make the service modification announcement shortly after the positive reception of NA carriers.
The very fact that RIMM can still charge for the usage of their network, in some form or another, is a competitive advantage in comparison to its peers.
In my opinion this is short-term profit taking, and a reemergence of short selling on the negative RIMM headlines. I wish that I could actually have daily numbers on short selling, so that I could prove this point. Moreover, I also think that this was a potential run-on-the-stops. It will be interesting to see just how much repurchasing there is closer to the BB10 launch. I suspect that there will be another run up.
Many analysts have predicted volatility up until the launch of BB10, nothing has changed, even with this earnings release. The only things that have changed is an acknowledgment that the BB10 is actually a good product. So in the end, it still all hinges on the success of the BB10 launch. Information in regards to the launch has not changed, so a 23% drop in the stock is not warranted in my opinion. Even some other RIMM bulls such as SA author Kurt Windibank, commented that he sold prior to this release, only to state that he will be looking at another entry point. I suspect that Kurt is not the only one with these thoughts, and hence you will see more buying interest in RIMM at a later dates.
In closing, when I read between the lines, I see that RIMM's management is accomplishing what they set out to do. As a result, that shows that RIMM is still on the right path, moving forward and making progress. As a result, RIMM would at least warrant long-term investment consideration.
Disclosure: I am long RIMM. I wrote this article myself, and it expresses my own opinions. I am not receiving compensation for it (other than from Seeking Alpha). I have no business relationship with any company whose stock is mentioned in this article.
Additional disclosure: Long RIMM CALL 2014.