When shares of Fusion-io (NYSE:FIO) had a startlingly huge run up after earnings two quarters ago, I had kicked myself for selling out at the $21 level before the report. The stock rocketed to $32/share, where it traded in a fairly narrow range until the next report, in which the firm merely "met" estimates, took the stock back down. In a previous article, when the stock traded at the $24 level, I penned a piece in which I concluded the following:
After this drop, more aggressive investors may want to consider starting a position. More conservative and risk averse ones may want to wait to see if the gap from the $21 level is filled before starting to buy.
It turns out that the stock trades like clockwork and the gap indeed filled. So now that we're back again at a hair above $22, I believe that investors interested in high growth technology stocks should get back in (I purchased an initial lot of shares at $22.36).
It's Hard To Find Cheap Growth These Days
It's hard to find cheap growth these days. Whenever you see a stock trading at a 10-to-1 P/E, you know that growth has stalled and is not expected to resume anytime soon. Conversely, when you find a stock with a 70 P/E , 15 P/S ratio, and at a 52-week high you know that investors have already caught on to the growth story.
My goal is often to find unloved growth stocks that still have plenty of steam left in their engines. While past performance is certainly not indicative of future performance, it's comforting to see a company that has seen mid-to-high double-digit organic growth over the last several years. Combining historical growth rates with a broad view of the industry is probably one of the better ways to spot a good opportunity.
Why, Fusion-io, then?
Fusion-io: What Do They Do?
First, it is critical that investors understand the product. Fusion-io's products are very simple: very high performance, low latency PCIe flash caching products. What is "caching"? The best way to explain it is with the following analogy:
Suppose you are a student at a university and you're in the library studying. The library has a bunch of books on its shelves. Now, you can only read one books one at a time, and for the work you're doing, you maybe need only 3-5 books available for you to read at any given time. So what makes more sense?
Only use one book at a time, returning a book every time you need to get information from a new one
Keep the 3-5 books you will probably need at your desk and only returning a book to the shelf when you need to get information from a book that is not already at your desk
Clearly, it makes more sense to keep as many of the relevant books at your desk as possible to minimize the time spent going to the bookshelf. However, it wouldn't really be feasible to have all of the books on the shelf at your desk because...well, not only is that wildly impractical, but desk space is expensive (other people need to use the library, too).
While this analogy is not perfect, you can see the basic mappings to the data center environment:
Desk -> Flash Cache
Bookshelves -> Traditional hard disk storage
You -> Processor
The idea is quite simple: all-flash storage in a datacenter is simply not practical, so the best way to really speed things up is to introduce a flash cache - it gives you most of the speed of an all-flash solution at a mere fraction of the cost.
And that, in a nutshell, is what Fusion-io provides: the flash cache.
Why Fusion-io?
There are several solid reasons to consider adding Fusion-io to your growth portfolio:
Secular Growth Drivers - As the datacenter scales out and requires more performance to handle more intense traffic, the need for cost-effective speed becomes increasingly clear. The company grew 82% in the previous fiscal year and is on track to grow over 50% during the current year.
Strong Competitive Position - Among Fusion-io's major clients are Apple (NASDAQ:AAPL) and Facebook (NASDAQ:FB). While the secular growth will certainly continue to draw in competitors such as EMC (EMC), Fusion-io's strong competitive positioning should allow it to continue to see growth, however.
Stock Is Near IPO Open Price - Fusion-io has a 52-week range of $17.45 - $33.87, so we're near the bottom of the range. Keep in mind that the price at the open on IPO day was $22.5. Sure, Zynga (NASDAQ:ZNGA) and Groupon (NASDAQ:GRPN) may have shown us that bubbles pop, but Fusion-io has a real product with clear demand, strong growth drivers, and strong management. Should Fusion-io continue to perform well, I see the IPO price as fairly solid long-term support.
A Word About Options
Fusion-io is extremely volatile, likely due to the immense short interest. This actually creates a very interesting opportunity to reduce risk with covered calls to significantly reduce cost basis.
Take a look at the call option chain for June 22, 2013: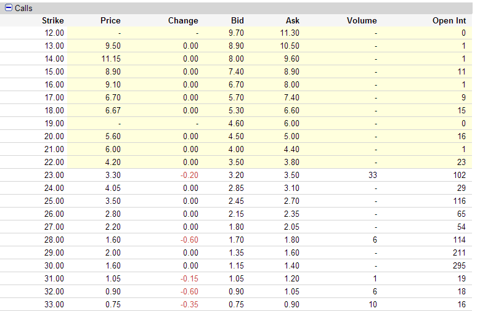 A reasonable strategy would be to buy shares at the $22.5 level today and then immediately write $26 calls and pocket a premium of $2.45. What are the possible outcomes?
Pocket The Premium - If the stock closes at or below $26 by the expiration date, you keep $2.15, a nearly effortless 9.5% gain in 6 months plus whatever potential capital gains (or losses)
Your Stock Gets Called Away - Say Fusion-io closes above $26 by expiration. Then you are forced to sell your shares at $26, and you keep the $2.15 premium. This represents a 25% return on your investment over the span of 6 months.
The risks with this strategy are the following:
Missing Out On Gains - So, if Fusion-io goes to $50 over the next 6 months, then you will miss out on significant capital appreciation
Premium Only Buffers Losses So Much - The $2.15 premium lowers your cost basis from $22.5 to $20.35, so if the stock depreciates below that level, then the options premium did not protect you from losses, but merely mitigated them
A final note: you need not do buy-write at purchase time. It is generally more opportune to sell covered calls when the stock has had a significant run up. If you believe there is near-term upside, you should wait until that target is reached before writing the calls.
Disclosure: I am long FIO. I wrote this article myself, and it expresses my own opinions. I am not receiving compensation for it (other than from Seeking Alpha). I have no business relationship with any company whose stock is mentioned in this article.