Wendy's (NYSE: WEN) is making significant operational progress since the last time I discussed the company and the share price is up about 7% over the same period, compared to losses at Chipotle Mexican Grill (NYSE:CMG), McDonald's (NYSE:MCD) and Yum! Brands (NYSE:YUM). Only Burger King's (BKW) common stock is outperforming Wendy's as it is up over 20% during the same period (see graph). This article will look at the quarterly performance of Wendy's compared to the group, the company's initiatives, and what investors could expect in the future.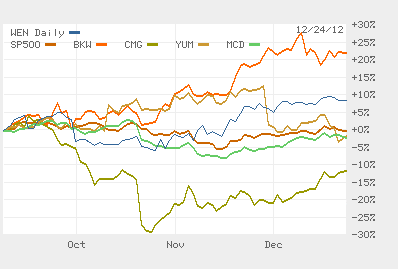 Performance
Wendy's top line growth rose 4.1% in the quarter ending September 30, 2012 compared to the same period in 2011. Year to date, the company's sales reached $1.9 billion or up 3.5% compared to last year's sales. For comparison, Yum! Brands' most recent quarterly sales reached $3.6 billion, up 9% quarter over quarter, McDonald's declined slightly by 0.2%, Chipotle's sales heated up by 18.4%, and Burger King's revenues plummeted by 25.8%. For the last available three quarters, these fast food companies sales changed by +11.3%, +2.1%, +21.4%, and -11%, for Yum!, McDonald's, Chipotle, and Burger King, respectively. The percentage increases/decreases in the latest quarter are worse for each fast food company, except for Wendy's. Wendy's quarterly revenue growth in the latest quarter (4.1%) was 14.3% faster as compared to the growth in year-to-date sales (3.5%).
In terms of number of stores, as of the latest quarter end, there were 6,543 Wendy's (of which 1,447 were company owned) compared to 6,244 (1,417 company owned) at the beginning of the year, an increase of 299 stores (or 4.8%). At the same time, Yum!, McDonald's, Chipotle, and Burger King number of stores, compared to three quarters ago, rose by 1,135 (3.2%), 500 (1.5%), 123 (10%), and 155 (1.2%). Of course, restaurant growth and revenue is difficult to compare as each company has its own dynamics, such as geographic locations and company operated vs. franchise, but it is clear that McDonald's and Burger King are increasing stores while sales are declining, a particularly bad situation.
Initiatives
Wendy's management is utilizing a number of new initiatives that should bring short and long-term shareholder value, including:
Quarterly dividend increase from $0.02 to $0.04 for a new annualized yield of 3.4%,

Share repurchase program through December 29, 2013 in the amount of $100 million,

Increased breakfast and coffee offerings,

Japan expansion, and

Social media.
Wendy's doubled its dividend while at the same time announcing a share repurchase program. These two events should bring shareholder value in the short term. Currently, Wendy's common stock offers a solid dividend yield while the share count is likely to decrease due to the share repurchase program. This is likely to make investors more comfortable with owning Wendy's common stock until the share price rises significantly causing the dividend yield to drop and the share repurchase program is exhausted.
The initiatives on the operational side would likely bring longer-term shareholder value. Wendy's is carefully and profitably expanding into the breakfast and coffee categories. This will allow it to utilize the restaurants for a larger part of the day and create a more complete customer experience. Wendy's has plenty of room to grow in this area as according to data from Nation's Restaurant News, McDonald's and Burger King generate 25% and 16% of their sales from breakfast and have about 20% and 3.3% share of the quick-service breakfast market. Wendy's breakfast sales generated 2.2% of the company's total sales and the company has 0.4% of the early morning meal market. In addition, more consumers are expected to purchase breakfast from quick-service restaurants in the future.
Japan has long been a coveted place for many fast-food chains as the country is the third largest economy in the world. In a recent article, Forbes discussed one of Wendy's franchisee's efforts to expand in this country. In addition, Wendy's is offering a higher tier menu items there such as Foie Gras Rossini and avocado & wasabi burgers. While progress in Japan is slow, Wendy's is popular in the country and its innovative menu has received significant media attention.
In addition, Wendy's is increasingly relying on newer social media to advertise. Advertising Age reports that ShareThis, a company that helps companies improve their sharing initiatives on the internet has run two campaigns for Wendy's. The campaigns have achieved significant results at an estimated 50% of what Wendy's would have spent to achieve the same results using traditional advertising. In addition, the company hired a new digital advertising agency, VML, to help with Wendy's digital and social media initiatives.
What's Ahead
In the Q3 management call, the company revealed that it expects to generate earnings before interest, taxes, depreciation, and ammortization (EBITDA) in 2013 of $350 to $360 million. Thus, Wendy's common stock trades at 8.2 times enterprise value (NYSE:EV) to EBITDA, which is favorable compared to the EV to EBITDA ratios for Yum!, McDonald's, Chipotle, and Burger King of 11.1, 10.3, 16.3, and 13.6, respectively.
In 2013, 2014, and 2015, Wendy's expects to renovate 50% of its stores with the Image Activation campaign that features urban design, flat screen TVs, and more natural light further boosting organic sales growth. This new design should improve customer experience and when combined with the new menu items (including the latest mozzarella chicken supreme sandwich and bacon portabella melt) could give Wendy's a significant advantage over its larger (and less prone to change) competitors.
Conclusion
While Wendy's share price performance in the past few months has outperformed most competitors, the common stock is still attractively priced. Wendy's has a unique position of being able to grow organic sales with a number of initiatives. The major risk comes from food inflation and the company's ability to control input costs could present a significant challenge. However, Wendy's is focused on good quality, innovative menu, and customer experience, which is evident in its Image Activation campaign as well as the new menu items. This, together with a shareholder friendly management, should generate significant stock appreciation in the future despite cost pressures.
Disclosure: I have no positions in any stocks mentioned, and no plans to initiate any positions within the next 72 hours. I wrote this article myself, and it expresses my own opinions. I am not receiving compensation for it (other than from Seeking Alpha). I have no business relationship with any company whose stock is mentioned in this article.